Swiss hotel chain enters Kenya with Sh7b deal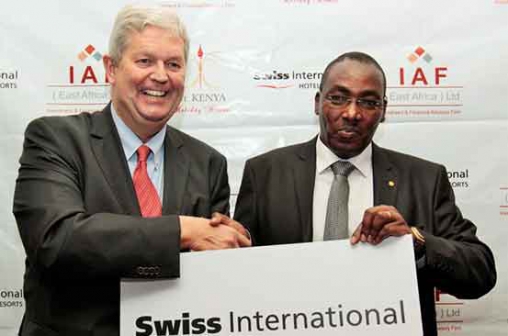 Swiss International Hotels and Resorts and Mount Kenya Holiday Homes Limited have signed a deal to co-develop a $70 million (Sh7 billion) five star resort.
The resort under development in Naromoru will have 281 villas, apartments, townhouses and an all-suite hotel. The deal was signed in Nairobi last week.
"Swiss International is fully committed to hotel expansion in Africa. Mr Ndegwa (Mt Kenya Holiday Homes developer Ronald Ndegwa) approached us via IAF East Africa to assist him in the co-development of this amazing resort. Obviously we were thrilled with the invitation and we shall share all our knowledge to make this a destination resort of exceptional class," said Swiss International Chairman and CEO Henri Kennedie (pictured with Mr Ronald Ndegwa).
According to David Massie, the chairman of IAF (East Africa) Limited the transaction and investment advisor, Swiss International was selected as the preferred partner, over other international competitors, due to their service excellence and quality of their facilities globally.
Resort manager
The resort to be known as Swiss International Resort Mount Kenya will develop 64 villas, 128 apartments and 86 townhouses and sell them to individual owners. These will be made available under fractional ownership.
The resort will have a 9-hole reversible to 18-hole golf course, Golf Clubhouse, 75 suite Hotel and two restaurants among other facilities. Swiss International will manage the entire resort.
Ndegwa said it was a great accomplishment to have Swiss International as the resort manager as this will guarantee the highest standards once the resort starts operating next year. He added that the investment would contribute towards Vision 2030 by accelerating job creation and expanding tourism opportunities in the Mt Kenya/Laikipia tourism circuit.
In the agreement Swiss International Hotels and Resorts and Mount Kenya Holiday Homes Limited will develop the remaining phases of Swiss International Resort Mount Kenya, the first Swiss International facility in Kenya.
This will be the fifth property for Swiss International in Africa. The chain is already represented in Nigeria with two hotels, Rwanda and Sierra Leone with one hotel each.
The development includes a conserved natural-forest area hosting a variety of wildlife including zebra, impala, Thomson gazelles, dik-dik, and ostrich and more than 100 bird species.