Tracking the Grevy's Zebra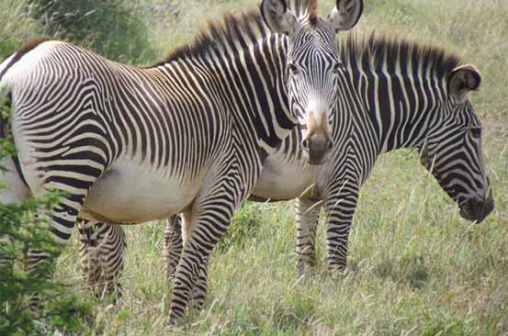 Zebras are white with black stripes. Let's get that out of the way first. Oh, and that there are three types of zebras: The plains zebra, which is the most common; the Grevy's zebra found in northern Kenya and some parts of Ethiopia and the mountain zebra found in Southern Africa.
I gleaned these from an information pack thrust into my hands as we set out to Laikipia in what my hosts said was a mock census for the Grevy's zebra. Destination? Mpala Research Centre in Laikipia. This in preparation for next week's census that will be carried out mostly in Laikipia, Samburu, Isiolo and Marsabit counties
Eager tourists
Set in the vast landscape that welcomes you to Northern Kenya, Mpala Research Centre is a conservancy with much more going on than the usual fare of 4x4 vehicles packed with eager tourists. It hosts an elaborate research centre with researchers from around the world studying different plant and animal species.
Here, you will run into fellows from Moi University, Princeton, Harvard and a host of other institutions and organisations. Mpala hosts cattle ranching, wildlife and research, a setup that allows it to be used as a "living laboratory".
When we arrive in Mpala, dusk is already falling fast over the rolling landscape. A quick sundowner and dinner and we settle down to wait for the "census" in the morning. This is the southernmost tip of the Grevy's zebra natural habitat, most having been pushed South by a declining habitat and other challenges.
In the morning, a quick briefing was waiting. The gist of it being that we would be paired with a couple of old hands and set off to track the Grevy's Zebra in the 'Ngoja Kidogo' shrubs of Mpala, hemmed in by Ewaso Nyiro and Ewaso Narok rivers.
Then the most important requirement: The teams had to get pictures of the right hand side of the Grevy's zebra. Morgan Pecora-Saipe, the Great Grevy's Rally manager with Grevy's Zebra Trust explained that just as we have unique fingerprints, each Grevy's zebra has a unique stripe pattern, making it possible to individually identify each zebra. The right side was chosen for standardisation.
Shy zebras
This of course meant that out in the field, it was a game of going around zebras that were a little shy with their right sides. This is going to be the business on January 30 and 31.
Here is what you need to know: The Great Grevy's Rally has invited both local and international citizen scientists to form teams with their own 4x4 vehicles. The number in a team may vary as long as there is room in each team's vehicle for a local ranger to sit comfortably. This will be for directions and security.
Each team will choose its preferred location for the census. And anyone can be a citizen scientist. The rally organisers define a citizen scientist as a member of the public who participates in scientific research. They won't ask you for your KCSE result slip.
So on January 30 and 31, teams will depart from their chosen accommodation sites and begin a six-hour drive through their assigned blocks within the survey area, on the lookout for Grevy's zebra. The organisers will provide each team with a GPS-enabled digital camera to take pictures of the right-side flanks of all Grevy's zebra they see.
Elegant stripes
The Grevy's zebra is easily distinguished by its thin, elegant stripes, and once freely roamed much of northern Kenya, southern Ethiopia and western Somalia. Not anymore, at least for Ethiopia and Somalia.
"Until now, it has been difficult to know exactly how many Grevy's zebra exist in Kenya. However, with the new technology, we can now accurately estimate the population," say the organisers.
"Thanks to advancement in new technology, conservationists now have the opportunity to accurately assess the impact of their interventions by gathering critical demographic data through the Great Grevy's Rally. In addition to the total population size, we need to know the health of the populations observed by finding out their age and sex structure."