Battle for the cross
BY Stevens Muendo
The stage is set and the red carpet rolled out as celebrities savour every minute of this moment. But these are not ordinary stars. They are gospel singers attending the prestigious Groove Awards.
Gone are the days when you could tell the praise singers from their drab dressing and hairstyle — from once dreary outfits and boring haircuts—gospel acts have completely metamorphosed.
One cannot easily spot a gospel artiste from any secular act these days, as beats and lyrical flow are similar as well.
The trend has been catching on like a wild bushfire as mainstream churches try to stifle contemporary gospel music and the accompanying commercialisation.
The revolution, which was predicted by American contemporary gospel singer Kirk Franklin in his 1999 hit single Revolution is finally here. And local protagonists are now saying: "You ain't seen nuthin' yet."

Juliani

From the early 1990s when Pete Odera, Tedd Josiah, Sally Oyugi and Esther Muindi of Hart group ruffled the feathers of mainstream churches with new beat, dance and swing, the barriers are still being broken.

The quartet inspired groups like Five Alive, Rapp Community (led by Big Kev, Circute, Kenja Marima and Big Ted), The Boyz (Safari), Limit X in Uganda, Izzo, MCLC and Milele as gospel music became trendy. The church could not stand their uncompromising style and contemporary music, and some of them were soon ex-communicated from those churches because they did not meet the traditional 'spiritual' requirement.

A few of these stars found home in new churches, while others went all-out secular. Pete Odera stood by his faith and continued releasing great music and opened his own ministry —Waterbrook Church.

DEADLOCK AND DREADLOCKS

Soon the likes of Gospel Fathers and Jogg C took cue from pioneers and continued with the trend as youthful trendy ministries such as A Flame and K-Krew came forth.

In 2007, all hell broke loose when Gospel Fathers released the hit single Fundi wa Mbao.The song became an urban hit in churches, airwaves and even in unfamiliar grounds like nightclubs.

They were sensational and energetic on stage. They spotted dreadlocks and when they stepped on stage during concerts, especially during school shows, their sensational and energetic dance moves got the girls screaming their hearts out – usually an indication good reception.

Gospel Fathers trio Jogg-C, Kabbz and Kerah were idolised, giving birth to gospel celebrities in the showbiz world.

The song Fundi wa Mbao was branded blasphemous in some religions quarters. The group was barred from performing (back then they used to call it 'praising') in some churches and consequently some head teachers could not let them minister in girls' schools. But it was too late. The fire was unstoppable. As they got ex-communicated from their churches, elsewhere, another group led by Kanjii Mbugua was joining the new Mavuno Church. Some remnants later joined the bandwagon and like a rollercoaster, gospel jams became the greatest youth fad, giving birth to gospel deejaying and night jams.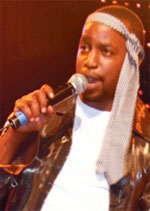 Kanji Mbugua

Right now, there is a host of gospel music singers riding on the new gospel 'riddim' and enjoying massive support from churches and fans, besides the enormous accompanying media hype, which the new comers have enjoyed in the last two years.

Names like Daddy Owen, Emmy Kosgei, Holy Dave, Juliani, Eko Dydda, Victor Mbuvi, Kambua Manundu, Kanjii Mbugua, Jimmi Gait, Ben Githae, M.O.G, Ringtone, Hey-Z, Astar and Chit Chat have bombarded the showbiz world in Kenya with hit after hit, and have invaded territories which had previously been a reserve for secular artistes.

As a matter of fact, the emergence of showbiz contemporary gospel has dealt a major blow to secular artistes who have found it hard to rally their fans around them, as they bend towards the newcomers.

Secular deejays have not been spared either as gospel deejays such as DJ Krowbar who won the first edition of Pilsner Mfalme competition, Mo, Soxxy and Riq just to mention a few battle them out of major contracts and corporate sponsored concerts which come with the big cash.

It is not just the singers and the deejays but also gospel dance groups and theatre groups, which are spicing up the showbiz arena with breathtaking masterpieces.

Now, they have the cash to show for it as leading organisations and corporate organisations sign major endorsement deals with them. Consequently, most gospel musicians charge between Sh60,000 and Sh100,000 for a major show, the same amounts which were reserved for the cream of secular artistes like Redsan, Nameless, Wahu and Amani, although these top secularists still earn six figures monthly year round.

Groove Awards alone set a new sponsorship record and standards as well, locally, with Sh22m going into it's hosting thanks to Safaricom and other supporters. This is an indication that gospel music is serious business.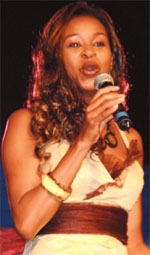 Esther Wahome
"Gospel music has proved that it is worth the clamour it has garnered. The message is positive. It is no longer boring. Things can only get better," notes Mulei.
However, the question is how realistic Mulei's dream will be and how long the unity among gospel artistes can last as new forces threaten attacks on new generation gospel music. It is no longer the opposing pastors. They say pride comes before a fall and as it now emerges, pride, money and fame are the new demons threatening to bring to end the gospel music windfall.
COLD WARS
Cold wars emerging among now rival gospel artistes, backstabbing and battles for concert are rocking the boat in the God's camp and threatening to throw a new spin to the gospel music revolution.
Disgruntled artistes who lost during Groove Awards — for example — heaped the blame on the event organisers alluding that artistes who had been working with a particular group were favourites to win and eventually went on to win.
It is also emerging that some of those artistes can no longer share the same stage with others.
Cartels are being formed as different gospel recording stables line up their stars in a case similar to the current battles facing the secular artistes.
The K-Krew group is the envy of them all, having dominated the airwaves with their shows, which have won them massive following all over East Africa.
There is also the SK Blue led Sakata Media, Lampstand Records and Moja Entertainment which are recruiting and signing up artistes in the new scramble.
"It is not possible for the whole gospel music to work together as one. Events like Groove Awards can bring us together, but truth be told, besides praising and lifting the name of God high, we are using our individual talents to make a living. It is therefore inevitable that by the end of the day, every singer is pushing for individual success," says Ringtone of the Pamela fame.
"It is almost impossible to bunch all gospel artistes together. I must admit, time after time, guys differ on ideologies. I find nothing wrong with that. The problem is that now gospel artistes are washing their dirty linen in public. They fight in the media. It's not a good picture when that happens," he adds.
"There is a slight drift. Gospel music can go so commercial that we would forget that our core calling is to glorify God with our talents" argues Bizzy B. Currently, there is a very thin line between gospel and secular music. We may not have crossed the line but we need a self check," he quips.
HUMAN NATURE
It is human — many would argue — to fall short of God's glory. Gospel artistes have in the past been found wanting with numerous cases of pre marital pregnancy and adultery becoming common in youthful church. Others have fallen to the intoxicating power of alcohol and other worldly pleasures. The number of young artistes who confess religious faith and still frequent the nightclubs is on the rise, and so the church is an apparent stepping-stone for some artistes who seemingly take advantage of the numbers in the church to get to the top.
Artistes like Esther Wahome suffered a major backlashing after she signed a contract with giant alcohol brewers, East Africa Breweries, to endorse their Malta Guinness product last year. The move was seen to be controversial and downright blasphemous. But Esther fought back and she remains a gospel darling to many fans.
Besides all the side shows, the gospel revolution is here to stay and we can only pray that the new intrigues are nothing more but teething problems which will soon be overcome. After all, from the days of John the Baptist until now the kingdom of heaven suffers violence, and violent men take it by force (Matthew 11.12).
Iteere warning on hate speech
Kenya police will monitor hate speech across the country before and after the referendum to avoid any violence as witnessed in 2007 General Elections.