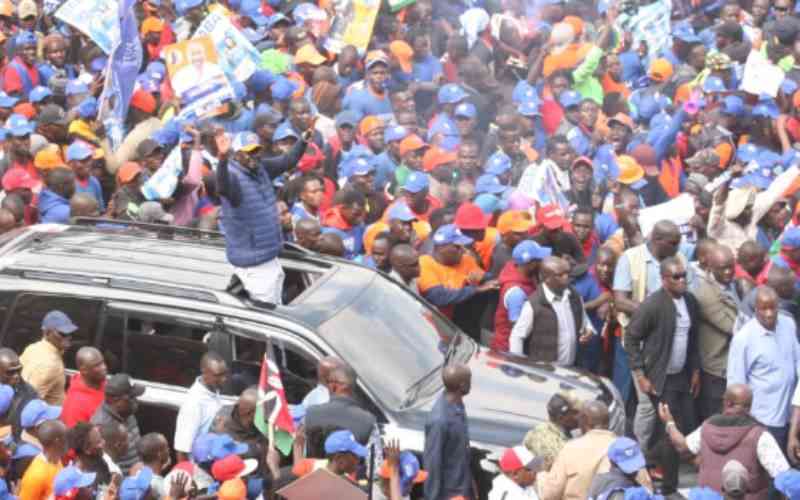 Raila Odinga said on Saturday that he'll embrace reconciliation in his government should he win the Tuesday, August 9 presidential election.
Speaking at the Kasarani Stadium in Nairobi during Azimio la Umoja-One Kenya's final rally ahead of the polls, Odinga said he has, in the past, exhibited his forbearing attribute, citing his handshake with former presidents Daniel Moi, Mwai Kibaki and Uhuru Kenyatta.
"I pledge to be the president of all people. I shook the hand of President Daniel Moi in March 2002; I also shook President Mwai Kibaki's hand in February 2008, and in March 2018, I shook hands with President Uhuru Kenyatta," Odinga said in his speech.
"I will shake the hands of my rivals. I will shake the hands if I win, and if I don't. I will do it because I love Kenya," added the Azimio la Umoja presidential candidate.
Odinga said his forgiving nature, vast experience in government, sacrifice for the nation, and corruption-free history makes him the best bet for Kenyans.
"In whose hands are your families safe? When you look at your children, who do you really think will make sure that you have the ability to give them the best that they deserve? Who do you feel will ensure the unity of the country, no matter the election results?" posed the former prime minister.
He added that in the Kenya Kwanza camp, which is led by Deputy President William Ruto, "there isn't even a single leader known for freedom fight".
Odinga said he had seen "Canaan", and was asking Kenyans to come out in large numbers on Tuesday to support his cause.
"I, Raila Amolo Odinga, have seen Canaan, the land of milk and honey. The land of no human cry. I have seen the promised land, the land of the redemption song," he said.
According to the Azimio presidential candidate, there's no better contestant in the race than him, citing his sacrifices during the fight for multi-party freedom and constitutional reforms.
Raila Odinga also reiterated his Sh6,000 monthly pledge to needy Kenyan families.
"People have asked us how we will give Sh6,000 to poor families. But that is the wrong question. The question we should be asking is how a few corrupt people got to be paid Sh800 billion per year from our budget," said Odinga.
"How did the government afford this? How did these people con us? If we could afford to pay Sh800 billion to conmen, you can afford to pay a mere Sh6,000 to known and needy Kenyans struggling with life."
The ODM leader said, should he win the presidential election, he'll roll out the Sh6,000 monthly social protection scheme within the first 100 days of assuming office.
He asked Kenyans to wake up early on Tuesday and participate in the polls.