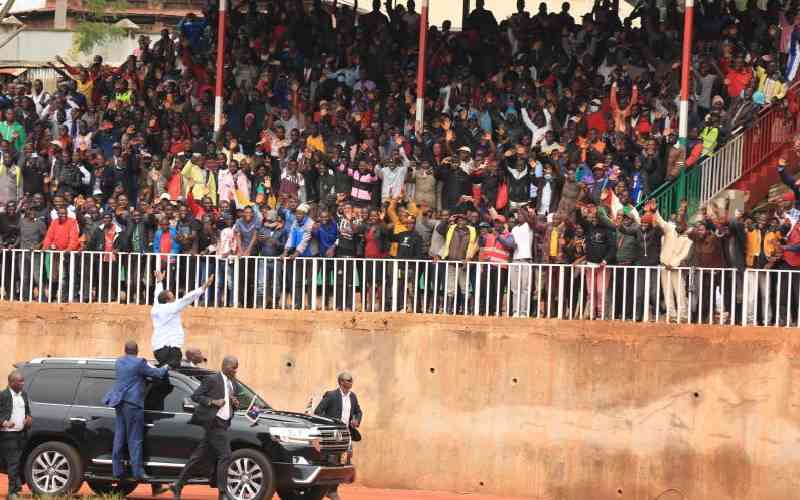 The last weeks of President Uhuru Kenyatta's tenure have been some of the busiest in his decade-long regime.
Yet, rather than a melancholy air surrounding the president, there is an aura of excitement, vigour and apparent delight as his retirement nears.
On August 1, Uhuru presided over a trooping of colours ceremony at Langata Barracks where he also opened their school of music. At the event, Uhuru took the baton and the military played to his tune.
A Kenyan on Twitter remarking to the video of the president conducting a military band, said Uhuru was enjoying his last days as president.
For a retiring president to seize the baton and control the music is symbolic, and a contrast to the end of his tenure and the transition period when some government operations move beyond his control.
In the next three weeks, Kenya could have another president in office, and Uhuru will get his wish of playing with his grandchildren at Ichaweri, far away from State House where he once asked bewildered Kenyans what they expected him to do.
State House staff have said their farewells to Uhuru. The military, to whom Uhuru is the Commander-in-Chief, are preparing their own.
Should it be anything like the ceremony of the Kenya Defence Forces (KDF) staged for his predecessor Mwai Kibaki, then it will involve a military helicopter flying the outgoing president from the lawns of State House to Moi Airbase in Nairobi to a waiting guard of honour and gifts.
Almost a fortnight ago, on July 24, State House staff organised a thanksgiving service to honour the Head of State's successful 10-year tenure.
The special thanksgiving prayer and worship service was also marked with gifts to Uhuru and First Lady Margaret Kenyatta.
"We shall miss each one of you, and will carry fond memories of working together in the service of our nation," said Uhuru.
While Uhuru could be enjoying what remains of his day, even relishing retirement, there is also a frenzy to his last days owing to the number of projects he has launched over the last two weeks. He is a man running out of time.
In the past week, Uhuru has inaugurated Kenya Shipyards Limited's Kisumu yard, witnessed flotation of the new Sh3.5 billion 1,800-tonne MV Uhuru II wagon ferry, and issued title deeds to residents of Kiambu, Samburu and Nairobi. He also commissioned Karimenu II Dam in Gatundu North Constituency.
He has also opened the National Defence University-Kenya, an export processing zone in Kisumu as well as bridges, railway stations, oil terminals - Makupa Bridge, the offshore Kipevu Oil Terminal and the Liwatoni Fisheries Complex, Kisumu, Nakuru and Mombasa railway stations and Nairobi Expressway, Eastern Bypass - all in a span of three weeks.
Uhuru is using the tours across the country to reacquaint himself with the people and for some, provide them an opportunity to meet him before his term comes to an end.
But President Uhuru has not only been making the final tours around Kenya as President but also in East Africa.
He relinquished the East African Community (EAC)'s leadership to his Burundi counterpart Evariste Ndayishimiye last month Arusha, Tanzania when he chaired the 22nd Ordinary Summit of EAC Heads of State.
In bidding them farewell, Uhuru highlighted key EAC achievements during his tenure.
They include ratification of the African Continental Free Trade Area (ACFTA), declassification of the seas along the East African coast by Kenya, Uganda and Rwanda to reduce the cost of insurance and shipping and lower the cost of doing business through the ports and waiver of visa requirements between countries.
It was also during his tenure that Kenya and Uganda endorsed the construction of the Sh7 billion Angololo Irrigation and Water Resources Development Project.
But it is not yet goodbye yet for Uhuru at the regional level where he still has a role to play as the DR Congo peace process facilitator.