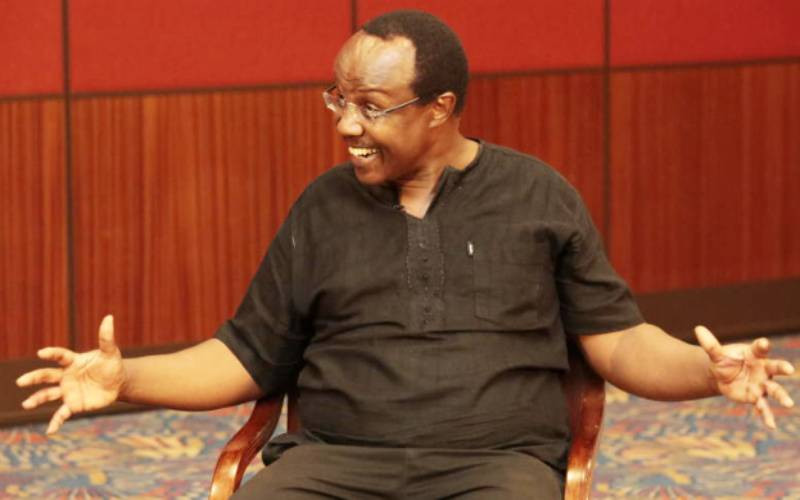 Economist and political strategist David Ndii has claimed that Deputy President William Ruto is ahead of Azimio's Raila Odinga in the presidential race.
This is despite at least three pollsters placing Odinga in the lead.
All the three opinion polls, by TIFA, Infotrak and Ipsos, suggested that Odinga had at least a 47 per cent approval rating, compared to Ruto's minimum of 41 per cent.
David Ndii, however, says the bloc-voting pattern, which is characteristic of Kenyans, does not support the pollsters' projections.
For instance, he said it's true that Raila Odinga has gained some ground in Mt. Kenya, but at the same time has lost significant support in other parts of the country such as the Western, Coast and Eastern regions.
Ndii said that Odinga's gain in Mt. Kenya has been cancelled out by his losses in Coast, Western and Eastern, where he enjoyed overwhelming majority support in the 2013 and 2017 general elections.
He said that Ruto's Rift Valley support base remains intact as was in 2013 and 2017.
He added that the DP's following in Mt. Kenya, though not as large as it was during the last two elections due to President Uhuru Kenyatta's factor, remains unassailable for Raila Odinga.
Pollsters place Ruto's vote index in Mt. Kenya at about 60 per cent.
The Mt. Kenya region, including the lower Eastern, has a total voter population of nearly 4.7 million.
Angela Ambitho of Infotrak, who was a guest on Citizen Television on Wednesday night, projected that the voter turn-out in Mt. Kenya could be anywhere between 75 to 78 per cent of the total voters' population in the region.
She said this was because the Mt. Kenya region does not have a presidential candidate in this year's polls, hence apathy could creep in, unlike previously when the turn-out was in the highs of 80 per cent-plus when Uhuru Kenyatta and Mwai Kibaki ran for the presidency.
Using Ambitho's figure of 75 per cent estimated voter turn-out, then some 3.5 million people from Mt. Kenya would cast their ballot in the August 9 polls.
The 3.5 million is 75 per cent of 4.7 million, the total number of voters in Mt. Kenya as per the IEBC register.
That means, if Ruto gets 60 per cent (his estimated stake) of the 3.5 million votes (voter turn-out), then he would get 2.1 million votes from the area, against Odinga's 700,000, if the Azimio leader's 20 per cent support projection in the region by TIFA is anything to go by.
Ndii argues this support (700,000 votes) that Raila has reportedly gained in Mt. Kenya, is what he has lost collectively from Coast, lower Eastern and Western regions.
The Odinga's lost support base, Ndii said, has shifted loyalty to Ruto.
"I keep wondering where Raila's numbers [in the opinion polls that place him ahead of Ruto] are coming from," Ndii said on Citizen Television on Wednesday night, August 3.
"Are the results in accordance with [research] methodology?" he posed.
"If you do the math, Raila lost about seven (7) per cent of his support base to President Uhuru Kenyatta between 2013 and 2017," said Ndii.
This support base, Ndii said, had shifted to Ruto ahead of the August 9 polls.
According to the economist, Odinga would therefore need to gain a total of 17 per cent of the national tally to surpass the votes that made Kenyatta president in 2017.
He argued that an extra 7 per cent would take Odinga back to the 44.74 per cent of votes he got in 2017, and then an extra 10 per cent would take him to the 54 per cent mark that made Kenyatta president.
According to Ndii, the 17 per cent (that Odinga needs) is equivalent to over 3 million votes.
"For Raila to be ahead [of Ruto], he will need to win about 17 per cent of the national vote, which amounts to around 3 million votes, assuming we work with 22 million registered voters," said Ndii.
He further argues that given that Odinga has lost his support in Western due to the decamping of Musalia Mudavadi and Moses Wetangula, and at the same time, Ruto's inroads in lower Eastern and the Coast, then the Azimio leader would need "half of Mt. Kenya votes to be president".
"Odinga would need to win at least half of Mt. Kenya votes to make up for what he has lost, and close the gap [to Uhuru Kenyatta and William Ruto that] he had before," said Ndii.
Ndii claimed that poll results commissioned by UDA place Ruto ahead of Odinga, though he did not disclose the percentages or the exact numbers.
Ndii was at pains to explain whether his arguments were based on ethnic voting trends among Kenyans.
The EIBC data shows that Rift Valley has 5.34 million votes; Western (2.2 million), Nyanza (3.1 million), Upper Eastern (1.59 million), Central Kenya (3.1 million), Nairobi (2.41 million), Coast (1.96 million), North Eastern (626,261) and Ukambani (1.69 million).