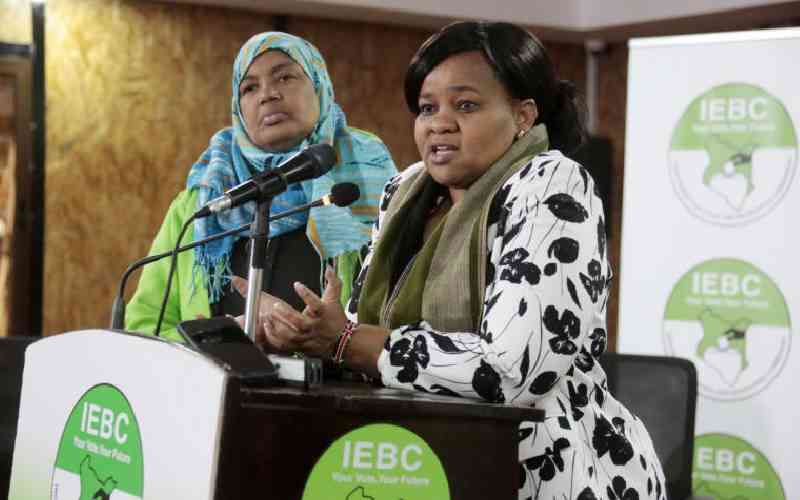 Voters countrywide will tomorrow know if their names appear in the voter register of respective polling stations where they will cast the ballot.
The Independent Electoral and Boundaries Commission (IEBC) plans to put up the printed register on all the 46,229 polling stations, an exercise that the law demands should be done a week to the election.
"The exercise will begin tomorrow (today) and by end of business tomorrow (today) we will have all the polling stations with their voter registers," IEBC vice-chairperson Juliana Cherera told journalists at the Bomas of Kenya yesterday.
The announcement follows the closure of schools countrywide, with public schools lined up to serve as polling centres.
Ms Cherera said that the IEBC was training election officials. The commission has already trained police officers to be deployed to polling stations.
She also said that the IEBC had commenced transporting election materials to some of the constituencies, and the last batch of strategic materials, including the remaining presidential ballot papers, will arrive in the country tomorrow.
Ms Cherera revealed that 1,272 polling stations lack sufficient network coverage for result transmission. The polling stations account for nearly 900,000 votes.
To prevent any delays, she said that the electoral agency plans to have two SIM Cards from different networks, with one being a backup of the main to be used in transmitting results.
That is in addition to the satellite modems that the IEBC plans to deploy in areas with weak network coverage. Ms Cherera assured that the latest result-transmission simulation exercise conducted last month witnessed 98 per cent success. She revealed that a third simulation in the 1,272 centres was "ongoing."
The IEBC vice chair further said that they have had frequent engagements with political party stakeholders.
"Every Thursday, IT experts from political parties have been visiting the warehouse where we assemble the Kiems (Kenya Integrated Election Management System) kits," she said.
Ms Cherera also disowned a clip alleging a meeting between Suna East MP Junet Mohamed and electoral officials. Junet has also termed the clip fake.
"There is nothing factual about it," she said, adding that the IEBC would look into the matter.
But she declined to divulge details of the controversy surrounding the arrest of Venezuelans who were arrested in possession of electoral materials.