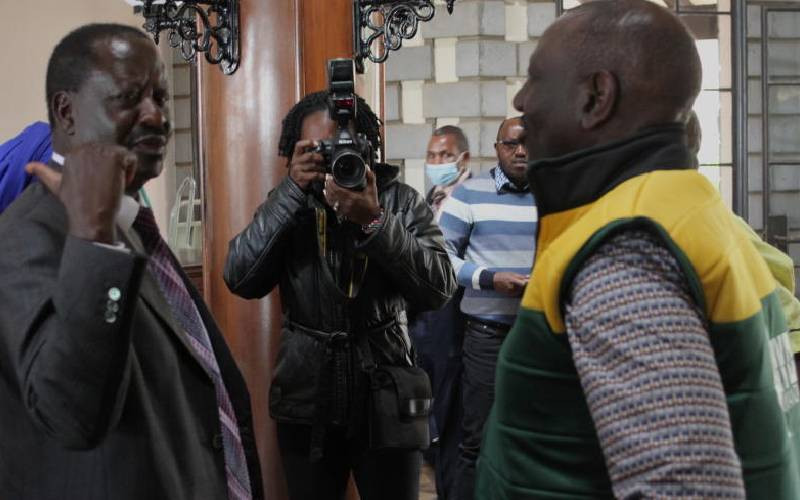 The policy teams and experts have had their day and the white papers have been handed in.
Kenyans now have an opportunity to scrutinise and assess the promises made by politicians ahead of the August 9 General Election.
With 37 days left to D-Day, voters have the written pledges by three of the four presidential candidates, which they must internalise and make an informed choice.
ODM leader Raila Odinga launched his manifesto ahead of Deputy President William Ruto.
The DP unveiled his plan on Thursday, sharing with the public what they should expect from his administration should Kenya Kwanza Alliance form the next government.
Aside from a few unique points, the two documents launched by Ruto and Raila, address the same issues – the high cost of living, healthcare, education, security, housing, agriculture and the economy.
The public will now have to cut through the noise, and see past the grandiose displays of colour clothed in catchy phrases as they go to the polls slightly over a month from now.
For Raila's 'Inawezekana Agenda', Ruto had his 'Plan.' But one of the lingering questions after the launches is where the money to finance the grand plans will come from.
In an interview on Tuesday, Raila tried to justify the Sh6,000 cash transfer to vulnerable households saying the money would be available by sealing leakages in government.
Raila said the programme will need Sh144 billion annually, which can be raised from the money being lost through corruption. "If you say Sh700 billion has been lost to corruption, if you basically try to block this, you can have savings of about Sh500 billion," said Raila. That money, he said would fund the social protection programme.
He reasoned that when given proper attention, the money lost through corruption can be saved and used for the programmes his campaign is promising.
Ruto plans to inject Sh1 trillion in his first five years into projects that form his manifesto's core pillars. Some Sh750 billion will go to agriculture, micro, small and medium enterprises, housing and settlement in equal portions of Sh250 billion. Another Sh200 billion will be channeled to roads with Sh40 billion set aside for the "digital superhighway and creative economy."
But the question has always been funding. Ruto said infrastructure would be financed through an infrastructure fund, with water, health, education and the environment funded through aid resources. ​
But while Ruto went out of his way to give projections, in billions, for the interventions he is proposing, Raila's manifesto did not.
Ruto gave his projection for all sectors, in effect binding himself to the promises he was making by giving a figure to be judged by.
But Giitile Naituli, a political analyst, argued that Ruto's manifesto did not provide solutions to problems facing Kenyans. "UDA's manifesto amounts to rearranging furniture in a burning house. The fire is on three corners of the house: Corruption, unsustainable debt and impunity. Without addressing these three, nothing will work," he said.
A day after Ruto launched the document, his competitor Raila had questions of his own about it. Raila and his allies in Azimio faulted Ruto's manifesto for lack of specific plan to tackle corruption.
While Ruto spoke at length about actualising plans that would make the Judiciary and the police independent, he was silent about how his administration would fight corruption.
Gatundu MP Moses Kuria, one of the principals of the coalition spoke later in the evening about patronage specifically mentioning the Nairobi Expressway and deals touching on the port.
They did not give a plan on how they intend to tackle this. And that gave Raila and his allies an opportunity. "Increasing salaries, doing everything for everyone will be useless if corruption still thrives and the one disguising as the helper is the perpetrator," Raila said in Nyamira yesterday.
In going at Ruto's manifesto, Raila was continuing a common trend. Ruto too has scoffed at some of what Raila has pledged. Specifically, a plan to set up a Sh6,000 stipend for most vulnerable households.
But the manifesto launches and the documents themselves, have been dismissed by analysts and observers as nothing more than spectacles to excite the voters and nothing beyond that.
Even as President Uhuru Kenyatta finishes his term, there are still pledges that made the highlight of his manifesto, which are still languishing. Kenyans do not have the stadiums they were promised and neither do their children have laptops.
Dennis Kabaara, a public finance expert, argues that the public should not expect much from manifestos.