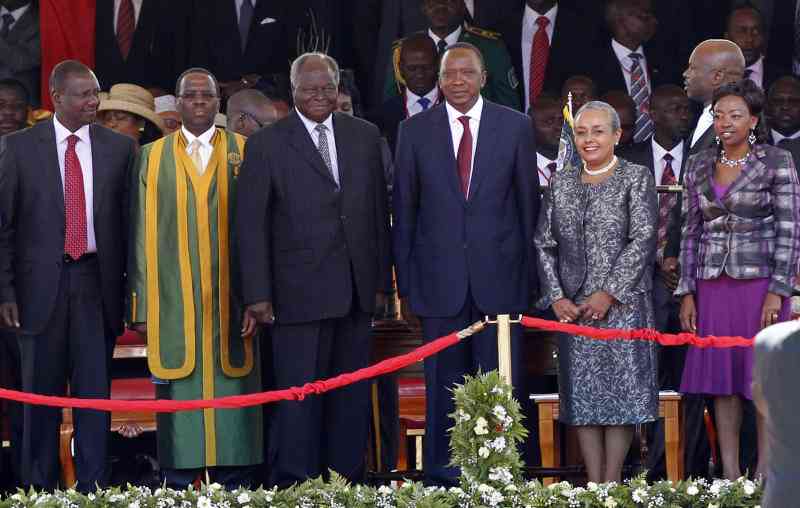 As the August 9 General Election draws nearer, politicians are using all tricks to emerge victorious.
Given a chance, some will not leave anything to chance, even if it means rigging, to avoid being in the political cold for another five years.
In 2017, several politicians lost seats as a result of electoral malpractices. From using their cronies as moles in the Independent Electoral and Boundaries Commission (IEBC), faking academic credentials to be cleared to contest, voter bribery, using wrong forms in filing results, failing to resign from public service at the right time and using violence, The Standard pieces together dirty tricks that courts fished out, leading to nullification of elections.
It all started at the Supreme Court, where a majority (four) judges nullified the election of President Uhuru Kenyatta on grounds that the poll was tainted with irregularities that failed the test of a free, transparent and fair process.
Retired Chief Justice David Maraga, his then deputy Philomena Mwilu, judges Smokin Wanjala and Isaac Lenaola found that the IEBC committed irregularities and illegalities in the transmission of results, which affected credibility of the process.
"Upon considering Articles 10, 38, 81 and 86 of the Constitution as well as Sections 39 (1C), 44, 44A and 83 of the Elections Act, we find that IEBC failed, neglected or refused to conduct the presidential election in a manner consistent with the Constitution and the Elections Act," ruled the judges.
It is such malpractices that have made the top two presidential contenders Raila Odinga and Deputy President William Ruto to assemble a team of top lawyers to monitor the presidential elections and to document any irregularity that may be used at the apex court.
Both Mr Odinga's team in the Azimio la Umoja One Kenya and Dr Ruto's Kenya Kwanza coalition have been busy collecting and flagging issues that may compromise a free and fair election, and which they plan to use as evidence should they need to challenge the presidential election outcome.
It is, however, not the presidential election petition that should worry politicians. Some governors, senators and MPs also had their elections nullified for various malpractices.
Machakos Governor Dr Alfred Mutua had his 2017 election nullified by Court of Appeal judges William Ouko, Mohammed Warsame and Gatembu Kairu on account that he had deployed the county's chief executive officer for public works Urbanus Wambua as his agent in Mavoko Constituency.
The judges further nullified the election on account that IEBC announced Dr Mutua as the winner from an excel sheet instead of the Form 37C that is prescribed by the law as the one to be used in announcing winners in governorship race. "The election results declared by the county returning officer for the position of Governor Machakos County failed the constitutional test of verifiability and the declaration that Mutua was duly elected had no legal basis," ruled the judges.
Having county officials infiltrating the IEBC also made both the High Court and Court of Appeal to nullify Homa-Bay Governor Cyprian Awiti's victory. Mr Awiti's opponent Oyugi Magwanga complained that some of the IEBC presiding officers participated in the ODM nominations exercise but were hired by the electoral commission to help Mr Awiti by tampering with ballot boxes.
According to Mr Magwanga, the officials colluded to deny him victory through a systematic trend of deducting his votes and adding them to Mr Awiti. High Court Judge Joseph Karanja and Appellate judges Philip Waki, Fatuma Sichale and Otieno Odek agreed that there were electoral malpractices and nullified Awiti's win, but he was saved from a by-election by the Supreme Court, which overturned the verdicts.
The apex court ruled that the two lower courts ignored crucial evidence of the voter recount and scrutiny by deputy registrar, which showed that Mr Awiti had won the election with a margin of over 20,000 votes.
Academic certificates, a hotly litigated issue for Nairobi Senator Johnson Sakaja, could also be a thorn in the neck in the long run, should he win the gubernatorial race, as happened to Wajir Governor Mohamed Abdi Mohamud. Both the High Court and the Court of Appeal nullified Mohamud's election on account that he did not have a valid undergraduate degree certificate and a Master's Degree from Kampala University to contest for the seat of Governor.
He was saved by a majority four judges of the Supreme Court, who ruled that even if the governor lacked a degree, the issue of his academic qualifications was a preelection dispute that should have been determined by the county returning officer.
But it was the dissenting decisions of Justice Maraga and Justice Lenaola, who found that the governor did not have the required university academic certificates to qualify for the seat of governor that should have politicians with questionable degree certificates worried. According to the former CJ, it will be tragic if a person who did not have proper academic qualification to be elected when the Constitution is clear on qualifications for each elective position. "If he had a university degree as claimed, he would have flashed it out instead of waiting for long litigation. He was not in the list of graduates the year he said he graduated and couldn't produce his academic certificates when he appeared for vetting," Justice Maraga said.
Discrepancies in the voter tallying process could also lead to nullification of one's election as happened to Embu Governor Martin Wambora after High Court judge William Musyoka ruled it was not possible to determine who won the elections after the irregularities affected 89 per cent of the votes.
Mr Wambora's victory was challenged by his opponent Lenny Kivuti, who argued that there were conflicting results from re-tallying of votes as a result of glaring adulteration of ballot papers, and the different figures of other elective positions compared to those of the governor.
"The irregularities affected 89 per cent of the polling stations and at the end of the scrutiny it was not possible to ascertain who won the election. The only justifiable conclusion was to nullify the election and order for a by-election," the court noted.
But Mr Wambora, who had survived several ouster bids since his first election in 2013, survived again when Appellate Judges William Ouko, Daniel Musinga and Fatuma Sichale ruled that the irregularities noted during the vote recount did not warrant nullifying his victory.
The judges ruled that although a recount of the votes showed Mr Wambora had defeated Mr Kivuti with only 111 votes, there was no justification for nullifying his win, and overturned the High Court decision.
According to Electoral Act, any public officer who intends to vie for a political seat must resign six months before the elections. However, some public officers flouted this requirement and resigned late in the day, which could cost them their election as happened to Gatundu North MP Wanjiku Kibe.
Ms Kibe had failed to resign as a Member of the County Assembly within the stipulated time. High Court judge Weldon Korir declared Ms Kibe's seat vacant and directed IEBC to conduct fresh elections on grounds that her election was illegal because she was still serving as a Member of Kiambu County Assembly when she was cleared by IEBC to contest the MP position.
"The evidence produced in court by former MP Clement Waibara proved that Kibe was still a nominated MCA on June 27, 2017, when her nomination to run for the Gatundu North MP was gazetted by IEBC," ruled Justice Korir.
The judge declared that unless an MCA or a state officer resigns before the nomination date, he or she cannot contest for either parliamentary, Senate or a presidential seat.
Use of violence, voter intimidation and coercion of electoral officials is another reason politicians risked losing seats. In 2017, High Court judge Joseph Sergon nullified the election of Embakasi East MP Babu Owino on account that he had used violence against his opponent Francis Mureithi and threatened the constituency returning officer.
According to Justice Sergon, there was sufficient evidence that Mr Owino threatened and intimidated the returning officer, and caused voter violence during the election.
The MP was however saved by Appellate Judges Mohammed Warsame, Daniel Musinga and Kathurima M'Inoti, who ruled that the High Court Judge relied on unsubstantiated claims of violence to nullify the election.
They added that the MP was justified to be cagey and anxious to exert pressure on the returning officer to announce the results since what was being shown on the screen was a clear sign that he had won.
Interfering with your opponents' campaign programmes could also cost you your election as happened to Siaya Governor Cornel Rasanga who opted to go for a by-election instead of appealing when his election was nullified in 2013.
Justice Aggrey Muchelule nullified Rasanga's win for committing four electoral offences against his opponent William Oduol during the campaigns that included invading Oduol's campaign rally and forcing themselves to address the crowd.
Justice Muchelule also found the governor faked his opponent's campaign posters and superimposed the photos of President Kenyatta to mislead the public that he was contesting on a Jubilee Party ticket when Oduol was running on a National Alliance Party of Kenya ticket.
"In the end, the court finds that the governor and his campaign team had lead a smear campaign which misled the voters into believing that the petitioner (Oduol) had committed a crime which made him not to have a free and fair playing field," ruled Justice Muchelule.
Other politicians who had their elections nullified after the 2013 and 2017 General Elections include Bungoma Senator Moses Wetang'ula, Migori Governor Okoth Obado and now Agriculture CS Peter Munya.