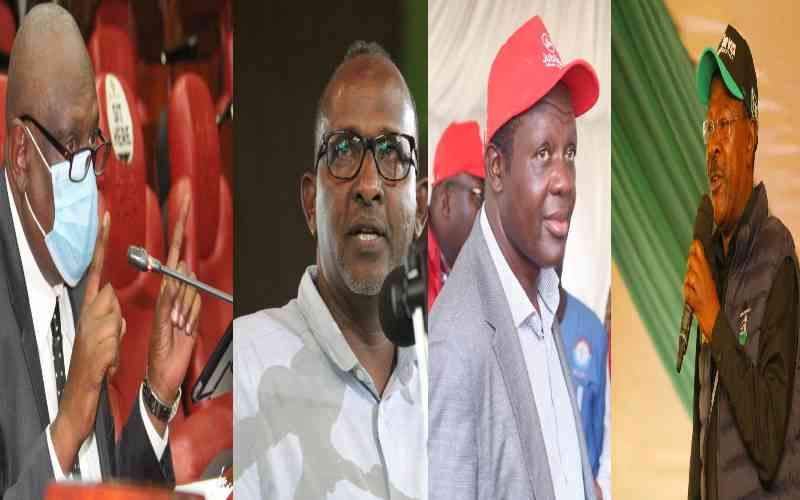 They are reliable, dedicated and aggressive campaigners who – once they opt to join a given political formation – are passionate and unswerving in their support. Meet some of Kenya's valuable campaigners whom every presidential candidate would love to work with.
Amani National Congress (ANC) party leader Musalia Mudavadi and his Narc counterpart Charity Ngilu easily lead the pack of loyal political heavyweights who have over the decades proved to be exceptional team players who offer valuable support to compatriots within their coalition outfits.
Presently, for instance, Ngilu has been flexible to a fault. With Wiper leader Kalonzo Musyoka, initially giving mixed signals over his political stand, the Kitui governor used all tricks in the book to charm her kinsman back to the Raila Odinga-led Azimio la Umoja-One Kenya outfit. And for the purpose of unity, she has even dropped her re-election bid to accommodate Kalonzo's political interests and further avoid friction in Ukambani region.
Political seniority
Her equivalent on the opposite side is Mudavadi – he of the "Nasa hao!" fame. The former Deputy Prime Minister, who helped form the now defunct National Super Alliance (Nasa) which gave President Uhuru Kenyatta and his deputy William Ruto a run for their money in the 2017 poll, is now a new signing in Team Ruto where he is causing political "earthquakes" across the country. And despite his political seniority, he has climbed down to support the presidential bid of Ruto and Mathira MP Rigathi Gachagua, who is the DP's running mate.
In fact moments after the naming of Gachagua, the ANC leader welcomed the move stating that it would strengthen Team Ruto in readiness to win the August 9 polls: "Those on the other side thought we would quarrel but we are determined to ensure Kenya comes first," he said on May 15 during a thanks giving prayer meeting in Eldoret.
Same as Nasa, Musalia crafted the Kenya Kwanza outfit, and alongside Ford-Kenya's Moses Wetang'ula, he was first to team up with Ruto at a time when the DP was an isolated man dancing to the solo tune of UDA.
And nobody is humbled more by this gesture than Ruto himself who, during his party's National Delegates Conference in Nairobi mid March promised Mudavadi a "handsome reward" for shelving his presidential ambition and embracing his "hustler movement" against all odds, including pressure from his supporters.
Mudavadi has previously teamed up with several political players, including the late President Daniel Moi in 2002 when he was named VP and asked to support Uhuru's presidential bid, Raila in 2007 and 2017 as campaign manager and presently with Ruto. Contrary to his calm mien, Mudavadi is a different beast on the campaign trail. He is full of energy and shoots from the hip with punchy slogans.
Ngilu has similarly been at it for long since her stab at the presidency in 1997, where she finished fifth. She has been at the centre of the formation of all major post-Moi coalitions, including the Mwai Kibaki-led Narc that ended Kanu party's four-decade rule.
Party top organ
She was similarly a member of ODM's top organ – the Pentagon – leading up to the formation of Grand Coalition Government in 2008 and a principal in the first term of Uhuru's government.
Credited for caring more about helping her team to succeed at the expense of her individual success, Mama Rainbow – as Ngilu is fondly referred to – has for decades been the face of the women constituency. Forceful on the stage, the former minister is believed to be persuasive in the boardroom.
In the latest instance, she tactfully tried to occupy Kalonzo's space but when the latter rejoined Raila, unlike her counterparts – she surrendered that space without a fight: "What is important is that we are finally one impenetrable political family who will now win this battle," she told this writer. Sample the other players:
MOSES WETANGULA
He has been referred to by some, rather derogatively, as a mere political appendage of Mudavadi.
But those who are familiar with the Ford-Kenya leader appreciate his independent-mindedness and strong conviction. And that is your typical Wetangula – if he chooses to play ball he sticks and plays real hardball.
Before switching camps to Raila in 2013, Wetang'ula was a harsh critic of the ODM leader allied to Kibaki's Party of National Unity (PNU). He was even one of the four representatives of Kibaki in the former United Nations Secretary General Kofi Annan-led peace negotiations, following the 2017 post election and poll impasse.
Come 2013 and 2017 and Wetang'ula teamed up with Raila and Kalonzo to drum up support for the former premier's presidential bids. Here he proved a formidable and dependable ally, until he fell out with Raila after his replacement as Senate Minority leader shortly after Raila's symbolic handshake with President Kenyatta.
Then Wetang'ula warned of a "messy and noisy" political divorce, and true to his word the relationship between Raila and Wetang'ula ended sourly. Today, the Ford-Kenya boss is one of Ruto's key lieutenants busy combing villages in western Kenya in a spirited effort to turn over the numbers to Kenya Kwanza.
RAPHAEL TUJU
From villain to hero – this aptly describes the perception of Raila's supporters of the former Jubilee party Secretary General. Previously a harsh critic of Raila in the Kibaki and Uhuru Kenyatta administrations, Tuju is today one of Raila's trusted lieutenants. He is the Executive Director of Azimio la Umoja – One Kenya.
The man who lost his Rarieda parliamentary seat due to his defiance of the ODM leader, and who at one point had to fly his mother from the village to his Nairobi home following hostility from locals camping around her compound and hurling choice insults, is lately the darling of Raila's backers, especially in Nyanza region.
Tuju was fairly effective to President Kibaki in the 2007 campaign in provoking his kinsmen and women and portraying them then as politically intolerant. In October, 2005, for instance, a helicopter carrying Tuju failed to land at Sagam primary school in Gem constituency, Siaya County, because rowdy youth had lit a bonfire on a field at the institution.
The then Information minister was campaigning for Kibaki's "banana" side in the constitutional referendum in contrast to Raila's "orange" side.
Noting that Uhuru "inherited" Tuju from Kibaki in 2013 because of his never-say-die resolve and loyalty, former minister Paul Otuoma describes Tuju as a "reliable politician who is professional and courteous in his dealings, which is why he is always loyal to his party and party bosses". Going forward, the Busia governorship candidate believes his party boss, Raila, will greatly benefit from Tuju's political fidelity and organisational skills.
JOHNSTONE MUTHAMA
With a flywhisk in one hand and a microphone in the other, the former Machakos Senator is a lethal man on a political podium.
He is just the kind that any presidential candidate would seriously bargain for to win over to his side. Well, he long bolted out of Raila's corner and is now in the political kraal of Ruto. In fact, today he is the national chairman of the Ruto-led UDA party.
Asked by The Sunday Standard about his shift of allegiance after offering Raila unswerving support for seven years, Muthama was quick to offer the example of the former PM and Uhuru; vicious political foes who had buried the hatchet after their symbolic handshake in 2018: "I have similarly had a self evaluation and embarked on a new political journey with Ruto. I am focused to push DP's pro-poor agenda, with which we share, so firmly and vigorously. As you all know, mimi nikiamua huwa sirudi nyuma (once I decide on something, there is no turning back).
And now with the same thunderous approach that he used to unleash unpalatable attacks on the DP and President Uhuru, during his days with Raila under the CORD and NASA outfits, Muthama has trained his guns on Raila and his Chief minister nominee and Wiper leader Kalonzo Musyoka, with the same vigour.
ADEN DUALE
When, in June 2020, he was ousted from the plum position of National Assembly's Leader of Majority, the Garissa Town MP observed that he was at least consoled by the fact that he was kicked out "not because of non-performance but because of loyalty to the DP".
Later in March this year, Duale disclosed to delegates during UDA's conference at Kasarani Gymnasium in Nairobi that President Uhuru reportedly begged him to cut off his links with Ruto, a plea he declined. An indebted Ruto responded by praising Duale for his dedicated service to Parliament, the Jubilee party and loyalty to him.
The politician, who enjoys sizeable support with the Somali community and Muslim faithful, is an avid and persuasive campaigner.
Before teaming up with Ruto in 2013 to form the United Republican Party (URP), Duale was allied to Raila, where he was a key cog in his northern Kenya campaigns. He rewarded him with the post of Assistant Livestock minister in the Grand Coalition Government of 2002.
DAVID MURATHE
The Jubilee Vice Chairman prides himself as having been the first to publicly pronounce himself to a possible Raila presidency, and by casting it as a "Mandela Moment".
Coming from the right hand man of the country's top politician, who had engaged Raila in vicious poll battles and even called him unprintable names, the move by the one-time Gatanga MP was not only bold but unbelievable to many.
Murathe is not your typical politician who does his thing on the podium. He strategically unleashes his attacks and campaign messages via social media accounts and on radio and television talk shows. And his messaging is effective – it sinks and hurts Ruto-allied opponents.
The weight of his word is courtesy of his closeness and loyalty to President Kenyatta, with whom he has worked with closely in politics since 2000, when he was Gatanga legislator on Ngilu's Social Democratic Party.