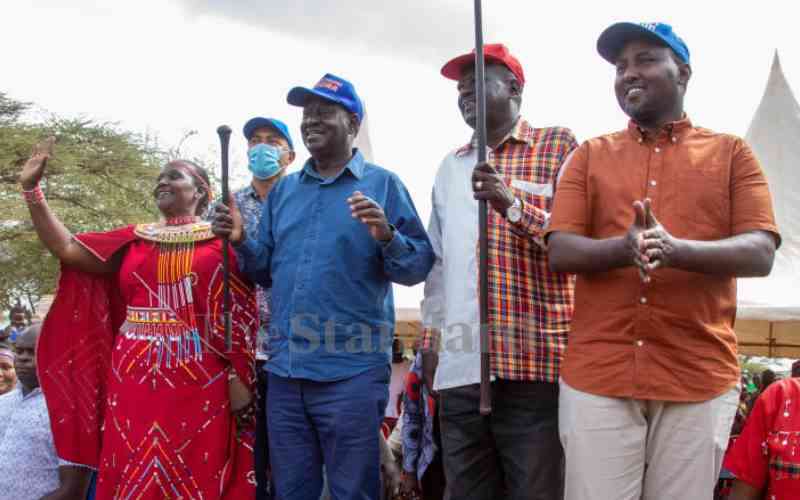 Azimio presidential candidate Raila Odinga yesterday returned to Wamba in Samburu County for the fourth time this year as he drummed support for his candidature in the August 9 polls.
Raila exuded confidence that he will convince Kenyans to vote for him to succeed President Uhuru Kenyatta, as the clock ticks towards polling day.
"We have 49 days left. That is why I have come back asking for your votes. We are on the path for our third liberation which is based on fight against poverty, disease, illiteracy and graft," said Raila.
The ODM leader blamed a majority of the challenges facing communities living in the county on high levels of poverty which his government will address through various strategies.
"This area is currently facing hunger and drought due to rain shortage. We shall invest in water harvesting to ensure communities here stop depending on rain-fed agriculture," said Raila.
He said it was regrettable that people and their livestock had continued to lose their lives due to drought when there are possible interventions to stop the losses.
He reiterated his one county-one product plan saying that he will establish a slaughterhouse and leather factory in Samburu to tap the potential of the community's economic activity.
"We shall introduce livestock insurance which shall cushion herders against heavy losses. With a slaughterhouse and a leather factory, herders shall be economically empowered," he said.
The former premier noted that the county is rich in valued minerals which have largely remained unexploited adding that his government will ensure they are exploited to create jobs and wealth.
"We shall continue to expand road and railway network in Samburu to connect the area to other regions for economic activities, tourism and public transport," said Raila.
He called on the communities to embrace formal education saying that under his universal education policy, their children will be able to access more employment opportunities.
"With a good education, your children will be able to start their own investments and better jobs with a pay commensurate to their qualifications," he said.
Raila urged residents to reject his competitor, Kenya Kwanza presidential candidate William Ruto and his bottom-up economic model saying that his administration has a better offer.
"Tell Ruto to take his wheelbarrows to Sugoi. For us, we shall provide credit to the youth at zero interest and repay after seven years when their businesses have established themselves," he said of the Deputy President.
He added that his administration will expand health facilities across the country to assure Kenyans access to quality health care closer to them.
"Quality health care is about having availability, affordability and accessibility for all. We shall have all Kenyans under a hospital insurance fund regardless of their income," he said.
Raila drummed support for his social protection programme saying that it has been made possible in other countries and that he will replicate it in the country.
"Brazil, Namibia and United States are among countries that have a social protection programme for the poor and jobless families. This will ensure Kenyans live a dignified life. They are saying it is not possible, but I will make it happen," said Raila.