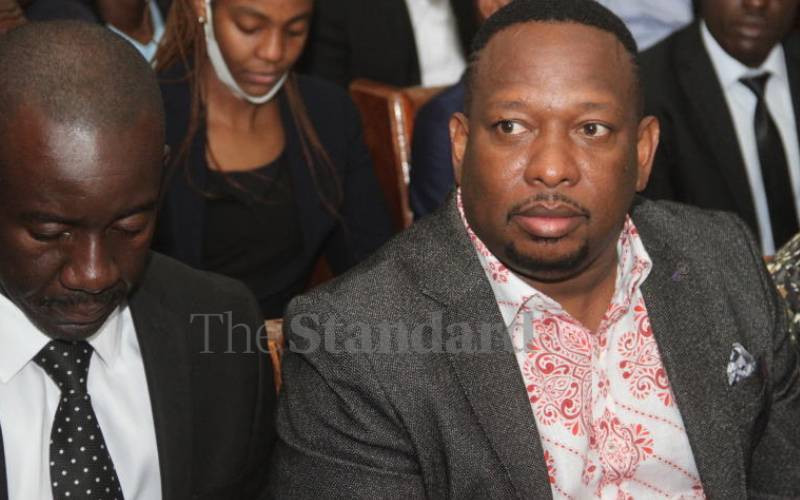 Wiper Democratic Movement has escalated to the High Court the battle to have former Nairobi Governor Mike Sonko vie in the Mombasa governorship contest.
The Kalonzo Musyoka-led party in its case filed before High Court judge Jairus Ngaah faults the Independent Electoral and Boundaries Commission (IEBC) for blocking Sonko.
According to the party, IEBC failed to consider Mombasa voters' right to decide who will lead them.
IEBC rejected Sonko's nomination papers for failure to present an original degree certificate, lack of certified copy of the degree certificate and for having been impeached.
The commission's committee, however, allowed the party to replace Sonko. In its case, however, Wiper asserts that the commission and its committee has no powers to order it to have another candidate.
"The impugned decision was made with lack of consideration of the fundamental freedoms and rights of the applicant and its members and the people of Mombasa as guaranteed in the Constitution," Wiper claimed.
The party claimed it was not given chance to argue why it cleared Sonko.
"The impugned decision is irrational and unreasonable for it was reached without following the due process of law; the ex parte applicant, was never accorded any opportunity to make representation on the decision to be made by the respondents," Wiper's court papers filed by Wanyanga & Company Advocates read.
Sonko joined politics at 35 in 2010 when he was elected Makadara MP, following a by-election occasioned by a petition filed by former area MP Reuben Ndolo against Dick Wathika who had been elected in 2007.
The former governor is known for his flashy lifestyle and his Sonko Rescue Team that has been assisting those in need. His philanthropy propelled him to the Senate in 2013 when he garnered more than 800,000 votes, and to the governor seat in 2017.
He is known for his public theatrics like participating in demolition of buildings on grabbed public land and putting President Uhuru Kenyatta on a speaker during a phone call while he was at a site where buildings were about to be demolished.
Sonko's political boat started experiencing trouble after his deputy Polycarp Igathe resigned six months after assuming office. Igathe said that he failed to earn the trust of the governor.
He operated without a deputy for more than a year and at one time nominated lawyer Miguna Miguna following pressure to make a choice. He later picked Ann Kananu but would attempt to bar her from taking over after he was impeached.