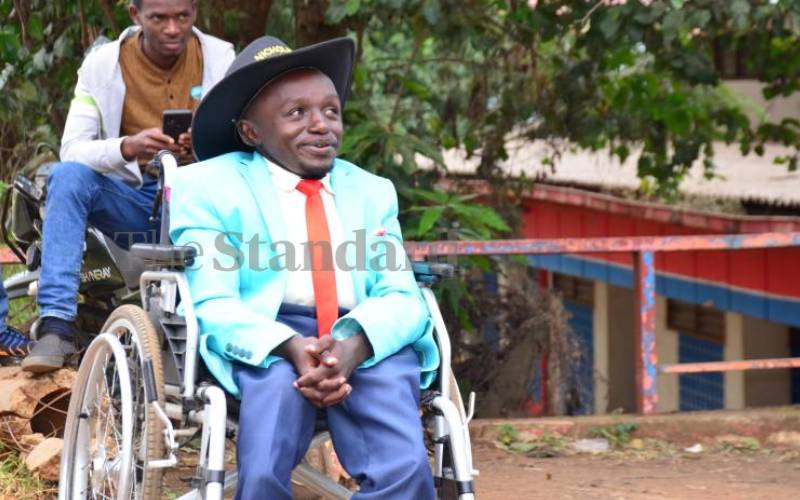 For 29-year-old Nicholas Mutharimi, the fact that he has been wheelchair-bound since he was born has not stopped his journey towards success.
Mr Mutharimi from Igembe Central in Meru has defied great odds to achieve a commendable measure of success in his educational and community development. He might become the only elected wheelchair-bound MCA in the next Meru assembly.
He was born with brittle bones that have restricted him to a wheelchair for most of his life. Mr Mutharimi says he was denied the pleasure of playing with fellow children but his friendly demeanor still meant he made a lot of friends.
Mr Mutharimi beat strong challengers to bag the United Democratic Alliance (UDA) ticket for the Igembe East ward seat. He was all smiles on Monday when Igembe Central returning officer Paul Mbugua handed him the clearance certificate.
Mr Mutharimi garnered 791 votes as Samuel Mutembei came second with 201 votes in the primaries.
Ms Janerose Nguta who has been a Party of National Unity (PNU) nominated MCA in Meru came third with 76 votes. Though Igembe East Ward has more than 17,000 voters, the UDA primaries were marked with a low turn-out. Mr Mutharimi, the fourth child in a family of eight, has not had it easy. Although on the verge of being elected as an MCA, he nearly dropped out of school for lack of fees.
His younger brother also suffers from the same bone condition, which made their early lives challenging. His parents are small-scale miraa farmers who do not make much owing to the unstable market.
After Mutuatine Primary School he joined Joy Town Special School in Thika and proceeded to Nairobi Technical Institute for a Diploma in Information and Communication Technology in 2018.
"I was on the verge of dropping out when the institute's principal Frederick Magua intervened and waived all the fees. In addition, the institute bought me an automatic wheelchair and paid for my upkeep," he said.
Mr Mutharimi had a hard time securing a job after college but managed to raise a little money from his family to start a cyber cafe at Mlango Kubwa in Nairobi. "I had a few computers in the cyber cafe to get a little cash for sustenance," he said yesterday.
The MCA hopeful said he has had a lot of ground to cover in the ward yet had little money to do fund his campaign. "I am in a wheelchair and it has been tough to move around. I mainly call a boda boda operator to reach people."
Mr Mutharimi attributed his win in the primaries to the fact that he has coexisted well with a community that understood his condition. "My people don't have adequate water, the road network is poor and farmers lack the support they need to prosper. I was not going to keep quiet because I am in a wheelchair," he said.
Residents who have for years watched him struggle say they were impressed with his fighting spirit and embraced his ambition to become their leader. Mr Mutharimi said: "The community has assisted me from the time I was born. They all took me as their child and supported me in many ways. It is now my time to help the community that has brought me this far."
He said his priority focus if elected is to ensure residents have access to amenities. "I want to be a voice for all. I thank UDA for giving me this opportunity and I am grateful for the confidence the people have expressed by voting for me to fly the UDA flag."