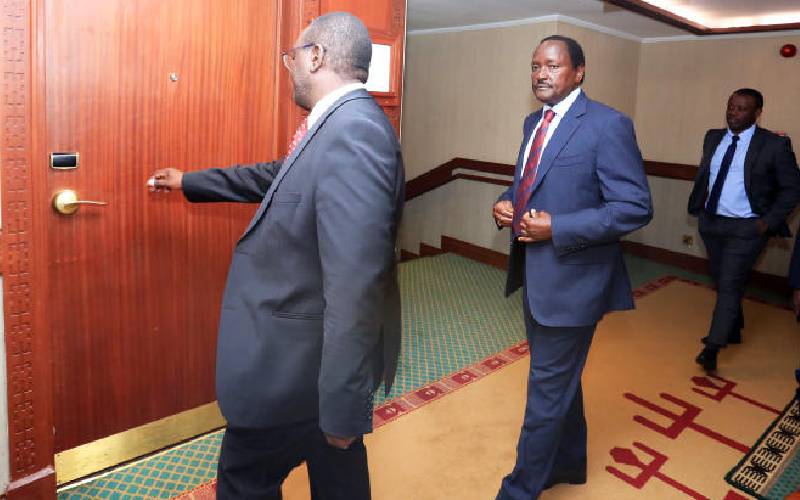 In his play, The Tempest, William Shakespeare wrote a line that is particularly appropriate in the current political scenario.
"Misery acquaints a man with strange bedfellows," it reads.
Wiper party leader Kalonzo Musyoka is in a miserable situation; his options are becoming more limited by the day.
Reports suggest the electoral agency has ruled him out of running for president in August - the trump card that Kalonzo pulled after he was overlooked for the Azimio la Umoja running mate position which instead went to Narc Kenya party leader Martha Karua.
But if Kalonzo's options were binary before, either backing ODM leader Raila Odinga or mounting his own challenge for State House, the Independent Electoral and Boundaries Commission has whittled down those two options, leaving Kalonzo on the path back to Raila's camp.
His constituency in South Eastern Kenya is pushing him back but of the bedfellows on offer – Raila or UDA's William Ruto, Kalonzo has shown that he would rather wallow in his misery than work with Ruto.
The question, however, is why?
"I have no relationship whatsoever with William Ruto because I am a principled man," has been his refrain.
But in the wake of the picking of running mates, Ruto has shown that he has nothing against the Wiper Party leader even as Kalonzo has insisted there was nothing to bring the two together.
Unwilling to accept the proposed nomination as Chief Cabinet Secretary - the compromise position created to appease him - and now unable to run for office, Kalonzo's predicament is made a little more complicated because he has made it clear that Ruto's Kenya Kwanza is not an option.
Kalonzo and Ruto have over the years proven that their relationship is implacable. He has also suggested that his relationship with Ruto is compounded by the frosty relationship between the DP and President Uhuru Kenyatta.
When reports emerged that he and Ruto could be working together, Kalonzo said they were malicious and with the intent to ruin his and Uhuru's relationship.
"They are a desperate attempt to drive a wedge between me and President Uhuru Kenyatta and have failed," he said.
This leaves Kalonzo with only one option – returning to the Azimio fold.However, Wiper insists the door might not yet be closed to Kalonzo.
Wiper secretary general Shakila Abdalla said they presented a list of their supporters in the required format on Friday.
"We gave them 66,000 signatures in hard copy and a soft copy in PDF form, they had not specified the form they wanted and when we met they told us what they wanted in Excel format," said Shakila.
She said the electoral agency had given them until Friday to comply with their demand and they had.
"I am confident this will be sorted out and we will have our presidential aspirant on the ballot, it must be a small teething problem, or some mischief, but it will be solved," said Shakila.
As Wiper holds onto hope, his options are diminishing by the day. But when he bounce back to public limelight yesterday, Kalonzo, who has been in Switzerland, announced his return through his Twitter handle thus: "It's great to be back home."
Earlier, he posted a photo whose caption indicated he was seeking to know from his team whether there was any news he had missed.
At risk is the support base he has built over three decades in public office. But how loyal will they be to a dithering Kalonzo?
In August 2012, as Vice-President, Kalonzo was talking about the possibility of his party entering into a coalition agreement with Ruto's URP party to form the next government.
In an interview published in 2013 where he talked about the fledgling alliance he had with Uhuru and Ruto had before they were elected into office: G7 Alliance, Kalonzo laid bare his 'betrayal' by the two, and specifically Ruto, a grievance which holds up to this day.
Kalonzo believes he had his hand on the DP's position only to have Ruto, who had settled for the Majority Leader slot, yank it away at the last minute.