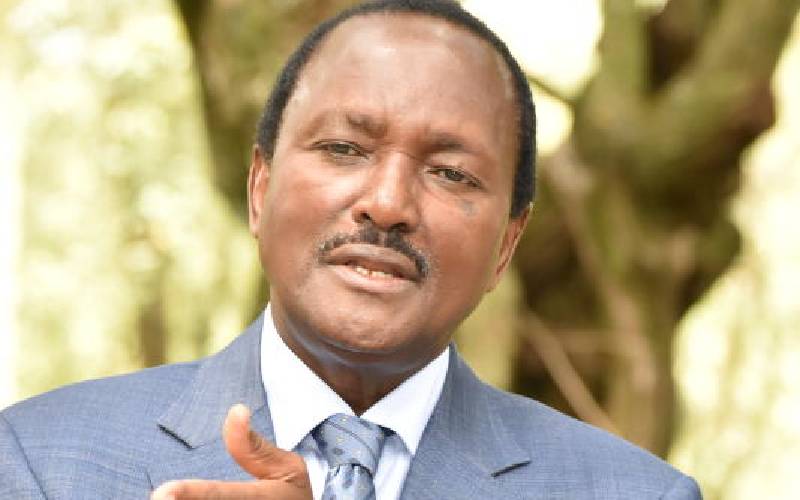 Wiper Party leader Kalonzo Musyoka's latest political moves have sparked confusion among his political allies and foes in Ukambani on how to conduct their campaigns, with many left wondering how to brand their posters and which side to campaign for.
While a handful of his confidants have cheered his decision to storm out of the Azimio-One Kenya Alliance after failing to clinch the coveted running mate position, others have strongly criticised the move, terming it inconsequential and a costly political blunder. The former Vice President who quit the Azimio camp in a huff and immediately unveiled Andrew Sunkuli as his presidential running mate, declared he was tired of being "always the one to make sacrifices."
The Wiper party leader is yet to decide whether or not he will accept Raila Odinga's offer of Chief Minister position and 20 per cent stake in government should the former PM, who settled on Martha Karua as his running mate, win the August 9 polls. The move appears to have left dozens of Kalonzo's grassroots political allies in an awkward position, considering the huge financial and political capital they had invested in his presumed stake in Azimio. Some aspirants who secured Wiper party tickets are worried that kalonzo's exit from Azimio could frustrate their political campaigns and possibly tilt the outcome of the polls against them should Kalonzo insist to go it alone.
The fears emanate from possibility that Raila's Azimio outfit may escalate campaigns in favour of their "preferred Azimio aspirants" in Ukambani in a zoning model that may diminish their chances. The dilemma Wiper candidates are in are best captured by the predicament Prof Philip Kaloki. Kaloki was fronted by Wiper as Polycap Igathe's running mate in the Nairobi governor's race. Kaloki explained that since his parent party, Wiper had not officially pulled out of Azimio, he was still campaigning with Igathe for the joint ticket.
"Wiper has endorsed Raila Odinga as the Azimio presidential candidate. I am supporting and campaigning for him. In fact we have been in Mihang'o campaigning with my governor Igathe. This is not about personalities but structures," he said yesterday.
He said there was no contradiction, explaining that Wiper was aware of his political activities. He added that he was operating within the established framework. As Wiper allied leaders keep defending Kalonzo's move, those from Azimio la Umoja One Kenya affiliated parties are asking voters not to be hoodwinked on tribal card and remaining outside the Government for more years.
Tricky position
"It is a tricky position for majority of us because we are likely to suffer collateral damage in form of cut throat competition from the Azimio allied politicians if Wiper goes it alone," another aspirant explained.
"Although majority of voters were not impressed by Raila's decision to drop Kalonzo as his running mate, many however disagree with Kalonzo's move arguing that he will not garner sufficient votes," said a Wiper MCA.
The MCA noted that majority of Wiper politicians were having difficulties convincing their supporters that their party will yield meaningful benefits in the next government. However, former Yatta MP Francis Mwangangi defended Kalonzo's decision, terming it "critically necessary in the interest of democracy."
Mwangangi said Kalonzo enjoys solid following in Ukambani and that whatever decision he will make will be backed by over 95 per cent of the lower Eastern vote bloc.
"Our party leader is a seasoned politician and he knows what he is doing. His position is driven by his strong desire to ensure the Akamba community gains maximum stake in the next government and we are firmly behind him because we know he means well for us," said the former legislator.
However, former Cabinet Minister, Mutua Katuku, who is in the race for the Machakos senatorial seat termed Kalonzo's decision as a fatal mistake and costly political blunder.
"Moving out of Azimio was totally unwise of Kalonzo because his new formation will not tilt the political scales in Ukambani or elsewhere. There is still room for him in Azimio. The Wiper leader should rethink his move in the interest of the community," said Katuku who is also the coordinator of Azimio One Kenya Alliance campaigns in Ukambani region.
Katuku asked Kalonzo to look at the greater benefit of the 20 per cent stake of the Akamba community in the Azimio government, and not just the position he was going to enjoy in the same government.
At the same time, Chama Cha Uzalendo party leader, Nzioka Waita, who is eyeing the Machakos governor seat, urged Kalonzo put the interest of the "nation" before his personal interest.
"We are asking Kalonzo to consider the interest of the majority and not just his own personal interest. Those of us in Azimio will firmly stay put because we are convinced Raila will form the next government," said Waita, who is a former State House Chief of Staff.
Former Machakos Senator, Johnstone Muthama said although he was in Deputy President William Ruto's camp, he does not approve of Kalonzo's humiliation in the Azimio side.
"Those who think I have differences with Kalonzo should know that is water under the bridge now and I am capable of storming that camp to snatch Kalonzo out of it. They better know that my differences with Kalonzo were not permanent," said Muthama who is the UDA national chairman.
In Makueni, Governor Kivutha Kibwana (Senate hopeful under Muungano Party), David Masika (ODM governor aspirant), Patrick Mbau (Senate aspirant under Narc-Kenya) among other leaders are rallying the people behind Raila Odinga.
"We are ready to deliver the regional vote basket to our captains, Odinga and Martha Karua so that our people can have pending projects completed like Emali-Ukia Road, Thwake dam, fencing of Chyullu national park among others," said Kibwana during a leaders' consultative meeting in Machakos.
Enjoy goodies
David Masika, a Raila ally is among the leaders slowly uprooting Musyoka's influence in the region with a promise that with or without him the region must enjoy goodies promised by the Azimio la Umoja One Kenya party to the region.
"The problem of Ukambani has always been water. The Azimio government has offered us a share where the water problem will be dealt with and we will have 1,500km of tarmac road. This is achievable under our leadership," says Masika, Makueni County ODM governor hopeful
As the former vice president keeps off from the limelight having retreated to his Yatta farm to "reflect", the ODM party is launching onslaught in his backyard. Mr Masika on Thursday unveiled Kibwezi West MP aspirant under Wiper ticket, Jackeline Koni as his running mate opening yet another crack in the sour relationship between Mr Musyoka and Odinga.
Ms Koni exit leaves Wiper orphaned in Kibwezi West, a move that has crippled Wiper politics. This has been seen as a major blow by the ODM party to Wiper with the Kibwezi West now remaining with two formidable aspirants, Mwengi Mutuse (Maendeleo Chap Chap) and James Mbaluka (United Democratic Alliance) both under Kenya Kwanza umbrella.
"Just like the Azimio presidential flag bearer Raila Odinga picked a female running mate, and so did we consider emulating his steps in a move to ensuring women take a central role in affairs of this country," said Masika while unveiling her on Thursday
Koni accepted the position saying it was the best path in realising the two-thirds gender rule is realised.