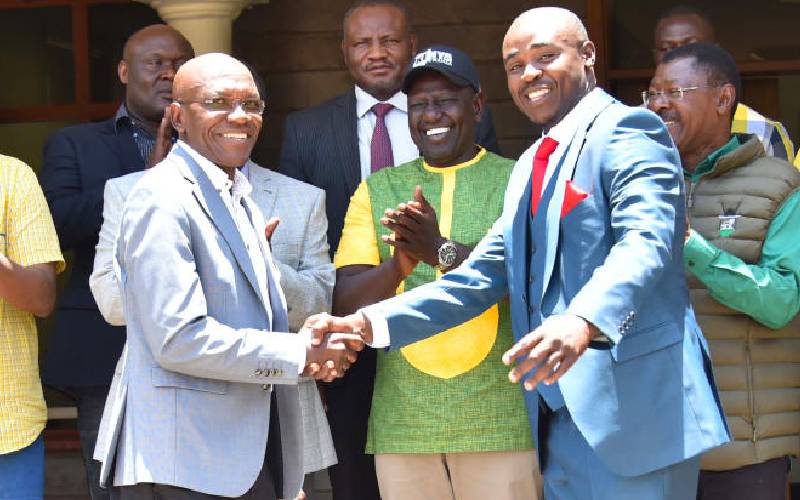 After years of wondering what special features and skills guarantee one a spot in the police service, Cleophas Malala gave Kenyans answers: two arms, two legs and lorry-climbing skills, which would come in handy when the police recruitment lorry tours your hood.
Dropping out of school, Cleo said, is an added advantage.
But the Kakamega senator failed to mention other important qualities, like the ability to scare people out of their wits. Could he have forgotten the 3am rude awakening on August 17, 2020, when the police scared the sleep out of him, forcing him to abandon the warmth of his bed and venture into the balcony, turning down the police officer's "we need to talk" advances?
And how officers scared the words out of his mouth the next day when during his arrest, the Kakamega senator let his colleagues do all the talking?
Of course, he still remembers how he would not get into a police car unless Godfrey Osotsi went with him. "Osotsi ingia kwa hiyo gari," a desperate Cleo implored his colleague.
Impeccably good
Cleo remembers, hence his apology for revealing what the job of a police officer entails - "carrying a gun around".
Bwana Malala's "public apology" may have resulted from an epiphany that saw him recall the other quality he had omitted — the ability to make a man shed tears, to borrow Kidum's words, kama mtoto, kama kibogoyo.
Cleo knows just how impeccably good the police are at this job. He experienced it first hand on September 14, 2020, when the sight of police bosses in the Senate nearly drained all their tears.
Learning that the police were disappointed in his utterances must have been a traumatising experience for Malala, who wouldn't fancy another trip to the village aboard a police vehicle and spending a night in unsanitised cells or as he would probably call it, "shackled in doom."
Before he shot into the national limelight, Cleo had made a name for himself as a playwright. In his twenties and with a fire burning in his belly, a younger Malala, then an MCA, set out to change the world. Literature was his tool of choice.
And so he wrote plays about ethnicity. Plays about an unequal Kenyan society. He would earn his big break in 2013 through his play Shackles of Doom, which he said sought to highlight ethnic inequities in the country. Cleo, then 27, had hoped the world would embrace his ideas but the Ministry of Education banned the play, saying it had singled out one community, a ban that the High Court later lifted.
The play depicted a dominant community fond of deceiving smaller communities into parting with their land and resources. Among the tricks that the dominant community employed in this endeavour was marrying off its daughters to other communities and at the end of an elaborate scheme, would acquire their land and its natural resources.
Shackles of doom
That was the case when the said community married off Wamaitha to the True People of Kana with the intention of stealing their oil. Wamaitha was hesitant at first because she looked down upon the community of her would-be in-laws. But the prospect of acquiring their oil resource, in the end, was enough to soften her heart.
Of all the characters he could have chosen to emulate, Cleo seemed to have a liking for Wamaitha's initial trait - looking down upon others. And that is probably why he did not hesitate to say what he thought their job entails - "kubeba bunduki tu" - and why he thought only Form Four leavers qualify for the job.
And just like Wamaitha, Cleo probably reconsidered once he saw what he stood to gain, what he has always enjoyed—police protection.