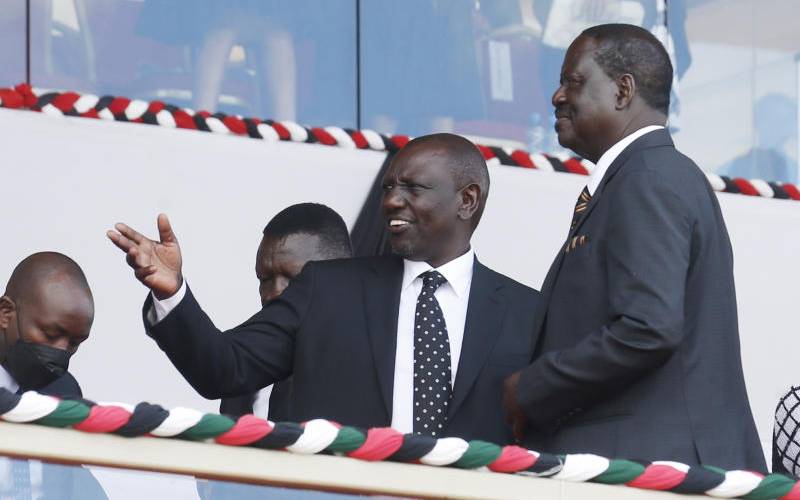 In exactly 80 days, Kenyans will walk into the ballot box to choose their next president. In the previous two articles, I have exercised my sovereign rights and civic obligations to address the 5th president, whoever that may be. In both articles, I shared candid thoughts of what Kenyans of goodwill would expect of him, and likely macroeconomic realities on assumption of office not reflected in official data. Like Pontius Pilate in the trial of Jesus, I have washed my hands.
In a thought-provoking article weeks ago, my next door neighbour, Barrack Muluka opined that folks seem eager to be eaten in 2022. The choice left is whether to be eaten by a fox or a wolf. With the party nominations behind us and key formations in place, the potential likely outcomes of the presidential election are feasible, except by an act of the gods. The race is narrowed to two horses and a potential donkey as a spoiler. Either way, this will be one difficult choice for men and women who espouse values, character, dignity and morality in society.
Special moment
The social and economic travails for a majority of the voting masses demand that they use a big broom to clean the chaff from the wheat. If there was ever a time in our independent history that socio-economic welfare must dictate our electoral outcomes, then that moment is now. Winston Churchill is quoted to have said that to each in our lifetime, there comes a special moment that we are figuratively tapped on the shoulder and offered a chance to do a very special thing, unique to us and fitting of our talents. I add, fitting of our values, dignity and moral fibre.
John Maxwell argues that it is a human tragedy when that moment, that which could have been our finest hour, finds us unprepared or unqualified to execute the misison. In our golden hour as a nation and a people, all indications are that this will be a wasted opportunity. Let us face it, the Jubilee administration rode on a youth binge to get into power in 2013, with a promise to take them to heaven only to abandon them in the wilderness.
Economic surveys indicate jobs in the informal sector a.k.a hustling, grew by 74.4 per cent (from 10.5 to 18.3 million) between 2012 and 2021. Jobs in the formal sector increased only by 35.3 per cent (from 2.1 to 2.9 million) over the same period. Empoyment data is one of the key indicators of the state of the economy and a popular means of evaluating the job of a country's leaders. Looked in another way, this means more young people graduated into hustling as opposed to the more formalised side of the economy. In 2017, the narrative turned into a wonder 'BIG 4' agenda, with the supporting evidence clearly pointing to no legacy there either.
On election night, we are not going to have food and nutritional safety, 500,000 affordable housing units, every banyan will not have an insurance cover nor is manufacturing going to contribute at least 15 per cent of the GDP. Instead, we shall have thousands of hungry and angry households across the Northern Frontier counties with others joining the tally; and millions across the country who cannot access basic healthcare services, complimented by disgruntled healthcare workers in each of the 47 counties.
As at September 2021, only 2,335 of the affordable housing units were occupied while the contribution of manufacturing has declined to 7.2 in 2021 from 9.2 and 13 per cents in 2016 and 2013 respectively, south of the target of 15 per cent by 2022. Beside, consumers are facing multiple challenges against diminished incomes, partly due to the external factors of Covid-19 and the Ukraine-Russia conflict. The cost of living has gone through the roof, driven by increase in prices for major basic commodities, including cooking oil, maize and wheat flours, bread, milk, sugar and toiletries. Transport and other commodities have not been spared either due to a huge spike in prices of fuel and related products.
When the hoi polloi cry for relief, those in authority have ranted that they did not cause Corona nor start the Ukraine-Russia conflict. MPs have failed to exercise their legislative power to voice the cry of their electorates. Bureaucrats have shied away for utilising policy instruments like tax reliefs to lessen the burden. In a functional democracy, one would have expected the main political parties to rally voters around these issues as they plead with them to grant them the mandate to lead. On the contra side, one would have expected the voting masses would put their suffering and cost burden as the minimum condition in exchange for their votes.
But alas, to both the political elites and the voting masses, it is business as usual. Just like any other recent election before, the political elites have weaponised their residences into boardroom wars to cut deals and share the post-election spoils. Tribal kings have shared the choice meat and negotiated sections of government for their cronies. This or that formation is the same piece of cloth cast in different shades. Tragically, the electorates are ululating in political rallies to entice the politicians to open their purses, and all for a morsel of a stunk soup. It baffles me where the masses think the 50 bob bribes they collect from politicians come from. There are never any vacuums in economic systems, period. Reflecting from a rational point of view, one cannot fail to wonder what sort of nation and society we have become. Yet, this is one of the countries credited for producing some of the best human capital not only in the region, but for the rest of the world.
The statistics on literacy levels do not look badly off. As per the 2019 census, at least 26.4 per cent of the population has completed formal schooling and another 15.7 per cent before completion. Only 16.3 per cent reported never to have been to school. This is presumably the older generation in their 60s and above. Of the 15 years and above age bracket, at least about 24 million people identified with various professions in the country. The question is: why don't these impressive literacy levels reflect on how we choose our national and county leaders?
Inspire no confidence
With the slots for running mates now settled, the presidential race inspires no confidence. It's a classical zero-sum game for the poor voters. What with the various candidates purpoting to appoint disgruntled tribal kings to portfolios that are strangers to the Constitution in order to appease them. Other perceived political heavyweights have been offered presumably strategic Cabinet slots even before the election is done.
These folks have held key executive roles in previous administrations without any demonstrable reforms or performance. What will be different now? More sadly, the CS for Interior (priviledged to access classified information), warned the country risks having at least 40 per cent of elective posts taken by charlatans, who are able to bribe their way into office.
The Judiciary has entertained thoughts of delaying graft and criminal cases to allow suspects campaign. The constitutional bodies mandated to be custodians of values and ethics have flip-flopped on the integrity question for the candidates. With all the billions of taxpayers' money sunk to sustain the new constitutional order, where is the return on investment? How low can we sink as a society?