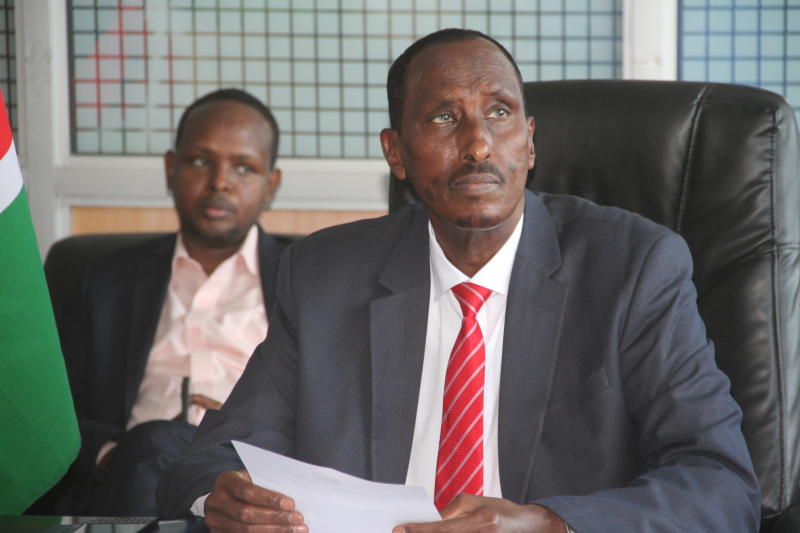 Wajir Governor Mohamed Abdi Mohamud and his deputy Ahmed Ali Muktar are set to lock horns in elections.
The duo are heading to the polls on the back of controversy sparked by the governor's impeachment that saw Mr Muktar take office in May last year before the courts reversed the same.
The 39-year-old deputy governor was sworn in as county boss despite a court order. The haste with which the exercise was conducted – from a night gazette notice of Mr Mohamud's impeachment to Mr Muktar swearing in the next day – raised eyebrows.
In the 2017 elections, the governor's nomination of Mr Muktar as running mate from the Ogaden clan was strategic. The Ogaden are the second-largest in a region where political mobilisation of clans determines who wins elections.
Mr Muktar is the United Democratic Alliance flag beare r for Wajir governor.
He will face off with Mr Mohamud (Independent), Jubilee Party's Hassan Adam aka Fuje, former governor Ahmed Abdullahi (ODM), Wajir Senator Dr Abdullahi Ali (UDM) and Wiper's Siyad Abdullahi.
Mr Muktar is confident of winning since he is the sole candidate from his Ajuran community.
"On the other hand, my competitors are very many. For example, the Fai community have four candidates, while the Mattan Community have two and the Ajuran has one," he said.
The deputy governor was eyeing the Wajir South MP seat in 2017 but the Council of Elders endorsed another candidate and the next option available to him was to deputise Mr Mohamud.
Nonetheless, he believes that negotiated democracy is key to ensuring order and peace.
"Negotiated democracy is taking a center stage in our political life in the northern frontier district and we should abide by it," Mr Muktar said.
He admits that the nine months in the governor's office were not easy.
"Some of the elected MPs through other agents went to court to frustrate our efforts and froze our development budgets. Due to this we couldn't undertake new development initiatives," the deputy governor said.
The High Court in February quashed the impeachment of Mr Mohamud and ordered that Mr Muktar resumes his role as deputy governor.
The deputy governor moved to the Court of Appeal to contest the ruling but lost.
"There are only a few months left to the General Election, so I opted to give Governor Abdi ample time to serve his people without starting leadership wrangles with him," he said.