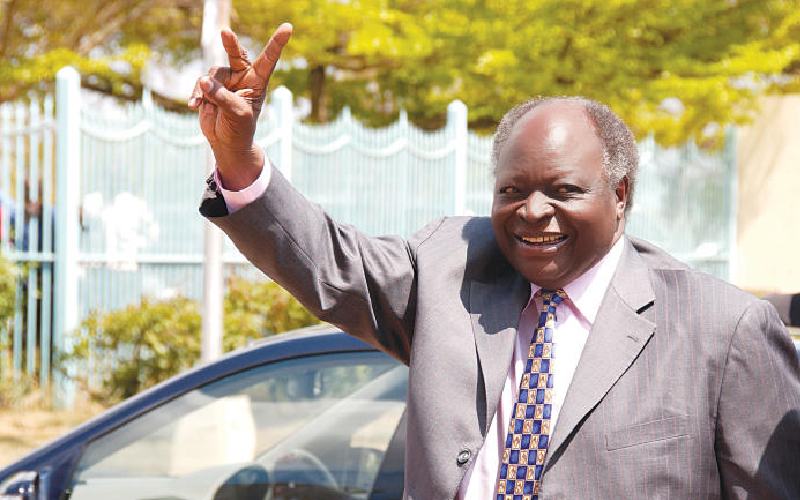 I was in lower primary when Mwai Kibaki's National Alliance of Rainbow Coalition (Narc) took power.
I remember hearing the song Unbwogable, one of his campaign songs, playing on repeat on my father's radio and on campaign roadshow trucks. I heard adults express enthusiasm before, then delight after the elections.
I did not encounter Daniel Moi as President and cannot thus speak authoritatively on everything that marked his regime. I was too young to know anything of note. All I remember is that the Kibaki presidency was welcomed in my neighbourhood. Within no time, my folks made claims of blood relations with the veteran Othaya MP.
Meanwhile, Kanu's Uhuru Kenyatta, who conceded defeat almost immediately after the electoral board announced President Kibaki's win, was seen as a villain. Even as a child, I knew one Kikuyu had beaten another, and the winners were not celebrating a mtu wetu victory.
It was a celebration that Kanu had been toppled. The celebrations also showed Kenyans', or at least my people's, eagerness for a Kibaki presidency. He was seen as the saviour.
I was young but I recall the enthusiasm with which the new government was awaited. I remember posters of Mwai Kibaki plastered against shops in the village shopping centre, with the torch that was Narc's symbol portraying hope.
The faces of Kibaki, Michael Kijana Wamalwa, Raila Odinga and Charity Ngilu were everywhere. I had never heard of Wamalwa or Ngilu before.
Immediately after, in 2003, with the introduction of free primary education, my school changed. It was a nondescript school in the heart of Kieni Constituency, with a majority of pupils often sent home for fees until that moment. I got my first Bic biro pen, which I could use in class after graduating from using a pencil, from the school.
For my agemates and myself, Mr Kibaki was the first President we properly understood. His was the first government I had interest in.
While the older generation narrates the Nyayo milk stories, and the one before that the love they had for Mzee Jomo Kenyatta and the shock when he died in office, mine can only comfortably talk of Mr Kibaki.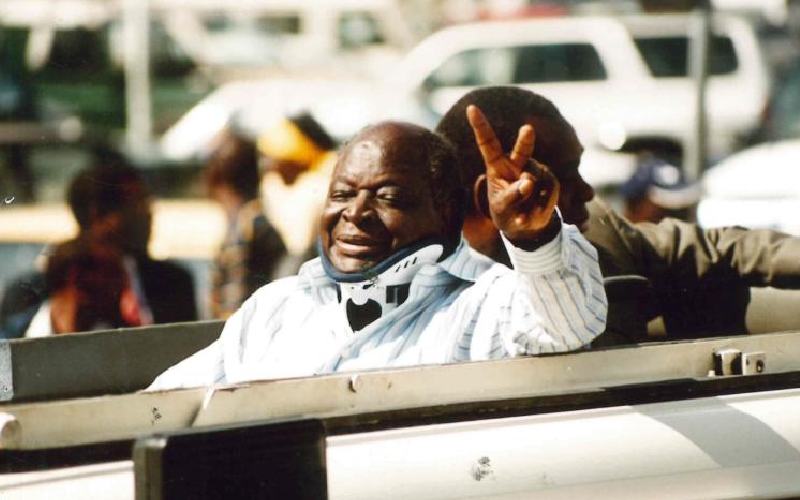 Kibaki was a funny, serious man. The first-ever politically-themed calendars I saw in the house had his face next to, first, Kijana Wamalwa and then Moody Awori, his two vice presidents in his first term. Kibaki had a smile that looked like a grin, never too far from a grimace but closer to laughter than anything.
To this day, it still feels like Kibaki was the president of our age. The euphoria that came with his election, the detachment we had with the governments before and the disenchantment with the current regime made Kibaki's government special.
That Mwai Kibaki came from Nyeri also meant a lot to me and my peers. He was a President from our neighbourhood, and while Kieni struggled with its roads, Othaya, boasted an endless circuit of tarmacked roads. We wanted Kibaki to be our MP.
To this day, he is the only President whose face I can draw. Mainly because all I need to do is draw a bald head with tufts of hair towards the ears.
When the 2005 referendum came, my people once more supported Kibaki, voting for the proposed reforms. Bananas were always flying in the air, and the euphoria of 2002 was back. I did not understand what a referendum was about, but I knew my people rallied behind the man.
It was such a shock that he lost to the divide that was against the referendum, led by his new nemesis Raila Odinga. When the 2007 elections led to an eruption of chaos, we did not want to believe the saviour, our president, Mwai Kibaki, was to blame in any way.
He is now rested, but for us, he remains our President, the best we knew, perhaps the only one we properly did.