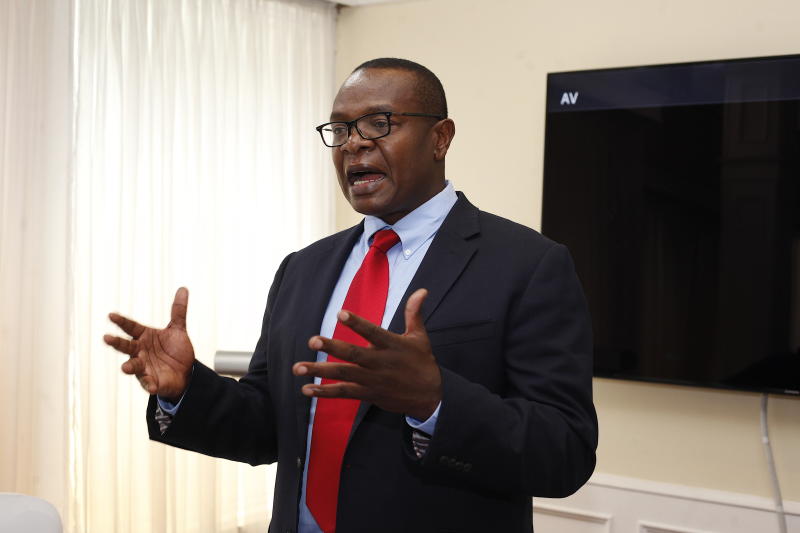 Former Funyula MP Paul Otuoma appears set to revive his political career.
Dr Otuoma, who lost the Busia race for the governor's seat to Sospeter Ojaamong in 2017, defeated Woman Rep Florence Mutua in the battle for the ODM ticket.
The former Cabinet minister got 49,330 votes against Ms Mutua's 30,696.
An elated Mr Otuoma thanked the Orange party's National Elections Board for holding free and fair nominations.
"I congratulate the NEB because sometimes it has not been an easy exercise for them to carry out. This time we have had it very peaceful. Everybody was included and we have had a verdict that is very satisfactory to all," he said after being issued with an interim nomination certificate.
"I still believe in ODM and when the party succeeds in doing something, everyone succeeds. I hope this will be replicated in all places so that we can have credible nomination process and after that we shall strive to bring the ODM family together."
Dr Otuoma extended an olive branch to Ms Mutua, saying she was a worthy competitor and asked that they work together for the good of the county residents.
"We want service delivery. We need medicine in our hospitals; we need to lobby for investment opportunities that can create jobs for our people and improve the economy," he said.
The former lawmaker said unity among ODM leaders will help deliver votes for the party presidential aspirant Raila Odinga in his bid to succeed President Uhuru Kenyatta.
Big chance
Ms Mutua has not commented on the outcome of the party primaries. The Standard could not immediately establish reports that the party plans to issue her a direct ticket to run for the Senate seat.
"For the top positions in Busia like that of the governor, your chances of emerging victorious in the General Election are very high once you get an ODM ticket in the nominations. Otuoma now has a clear chance to succeed Ojaamong," said Christopher Mulaa, Kingandole Ward MCA aspirant (Kanu).
"Otuoma should now hit the ground running and work on the modalities of outwitting Nambale MP Sakwa Bunyasi of ANC who is now his main rival."
Prof Nyukuri Barasa, a political analyst, believes that by securing the ODM nomination certificate, Dr Otuoma is now the governor in waiting.
Five years ago at a time like this, the former MP and his supporters were on the streets protesting Mr Ojaamong's victory in the ODM primaries.
Chanting "No Otuoma no Raila", the protesters took over the border town as they battled with security officers.
Mr Ojaamong had been declared the winner with 92,358 votes against Dr Otuoma's 63,752.
"There is no way Ojaamong can defeat me and the results that have been announced were cooked. I have rejected the outcome in totality. The Teso South and Teso North results were fabricated," claimed Mr Otuoma.
Angered, he quit the party and vied in the general election as an independent candidate.
But he again lost to Mr Ojaamong. The governor garnered 135,153 votes while Dr Otuoma got 125,905 votes.
Dissatisfied, the loser went to court seeking to reverse Mr Ojaamong's victory. But the petition was dismissed.
Besides Mr Bunyasi, Dr Otuoma will face Deputy Governor Moses Mulomi, former Agricultural Finance Corporation Managing Director Lucas Meso, Michael Oloo and Dan Mogoria.