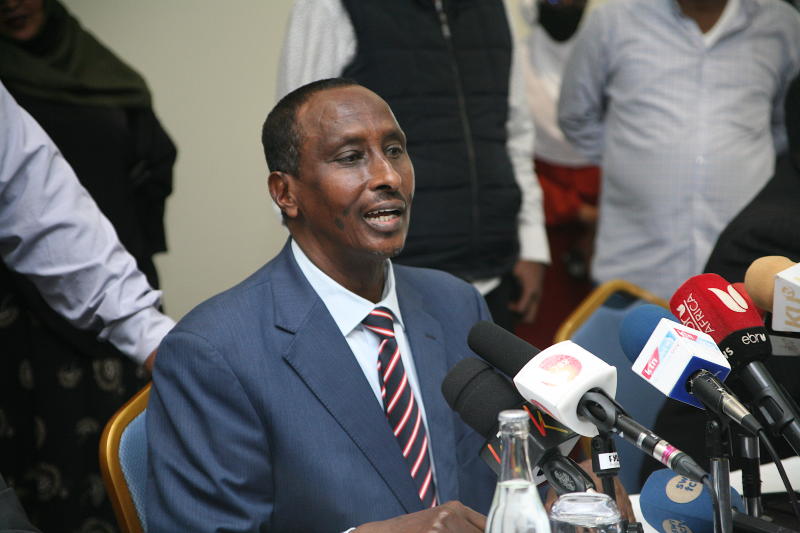 Barely a day after the Court of Appeal sitting in Nyeri upheld the reinstatement of Mr Mohamoud Abdi as Wajir Governor, the county boss has resumed office.
In a press statement, Mr Ahmed Mukhtar, who had been sworn in as governor after Mr Mohamoud (pictured) was impeached by the County Assembly, announced he would step aside for his boss to take his rightful position.
The announcement paved the way for Mr Mohamoud to resume office and continue with offering services to resident in the remaining four months to the August 9 General Election.
After his reinstatement, Mr Mohamoud organised a 'Welcome Home' rally at Orahey Ground.
During his address to the crowd, Mr Mohamoud said he would push for an urgent supplementary budget through the County Assembly in order to address the biting drought that has gripped the county.
"During this campaign period let us preach peace and cohesiveness in order for the county to make better strides in the set developmental milestones," Mr Mohamoud said.
He later accessed his office at Wajir County headquarters and resumed his official duties.
The court verdict brought an end to a dramatic two years of confusion that marred the county leadership after Mr Mukhtar was sworn in following the impeachment of Mr Mohamoud in May last year.
On Wednesday, March 9, the Appellate bench comprising justices Wanjiru Karanja, Hannah Okwengu and Dr Imaana Laibuta dismissed Mr Mukhtar's application to fully or temporarily suspend the Meru High Court ruling on February 16 by justices Edward Murithi Patrick Otieno and Thripsisa Cherere that reinstated Mohamoud back to office.
"In other words, nullification of the impeachment of Mohamoud, and the court's orders restoring him to office has the effect also of restoring Muktar to the position (of deputy governor), which he was before the nullified impeachment," the 19-page ruling stated.
The judges observed that the High Court ruling implied that Mr Mohamoud and Mr Muktar would resume their respective offices as governor and deputy governor of Wajir County, respectively.