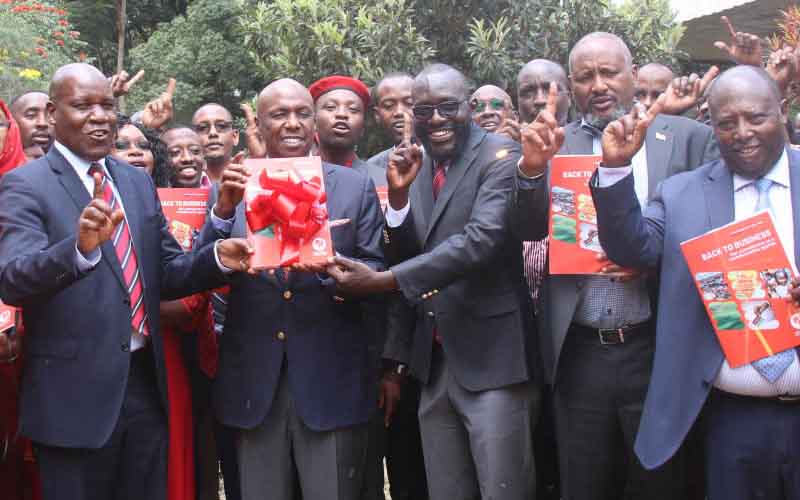 The Independence party Kanu is promising to lay the ground for a "resilient and developed Kenya".
In a manifesto the party Chairman Gideon Moi termed a "back to business" document, Kanu pledged to push for a sustainable economy anchored on Information Communication and Technology, agriculture and food security, and zero tolerance to corruption.
The blueprint is pushing for better fiscal policy to strengthen the private sector and in turn create more jobs.
Critical in the party's economic strategy is to push for the reduction of VAT from 14 per cent to 11 per cent to reduce the cost of living. The fall of fuel prices will lead to a reduction in production costs and food prices.
"Ours is a commitment not a promise, a commitment to look after the poor and marginalised, a commitment to remove the barriers that prevent a majority from prospering and a commitment to restore the decency of living within our borders," said Gideon during the launch of the manifesto yesterday.
The Senator underlined the need to tackle corruption, saying "ufisadi ni kifo (corruption is death)" and that punitive measures will be put in place to punish those perpetuating the vice.
The plan proposes a life sentence for those convicted of corruption-related charges, and prohibiting of public officers from doing business with the government.
Stringent measures will be introduced to ensure integrity in public procurement and budgeting.
The party plans to start free secondary education and improve learners nutrition through "Maziwa Fresh" programme, which will ensure free milk for students.
And to strengthen devolution, the party will ensure that services reach all Kenyans.
"We want to enhance devolution and take services to the people's doorstep. We have said our point of development acceleration is the ward," said Gideon.
The manifesto also seeks to protect special interest groups, environmental conservation, and social protection programmes such as universal healthcare and affordable housing.
It also lays emphasis on the need for the country to fully transition to clean, diverse and renewable energy.
On politics, Kanu Secretary General Nick Salat said the document will be crucial in guiding the party on partnerships.
"This is a document that will guide our presence in Parliament for those who will make it in (August) 2022 and beyond. Anything that we are going to negotiate will be based on the terms we have in this document," he said.
Gideon urged for patience in negotiations to join other political formations, saying that the party does not wish to leave any of their partners behind.
"Patience pays. In anything we do, it's always important we do it together. It's not good to leave one child behind. All of us must come together then move forward," he said.
Salat had called on the party leader to forge ahead and join Azimio la Umoja with or without other One Kenya Alliance (OKA) partners.
OKA brings together Kanu, Kalonzo Musyoka's Wiper Democratic Movement, Narc of Martha Karua and United Democratic Forum led by former Lugari MP Cyrus Jirongo.