It didn't start with Raila and Kalonzo: The road to State House is littered with broken promises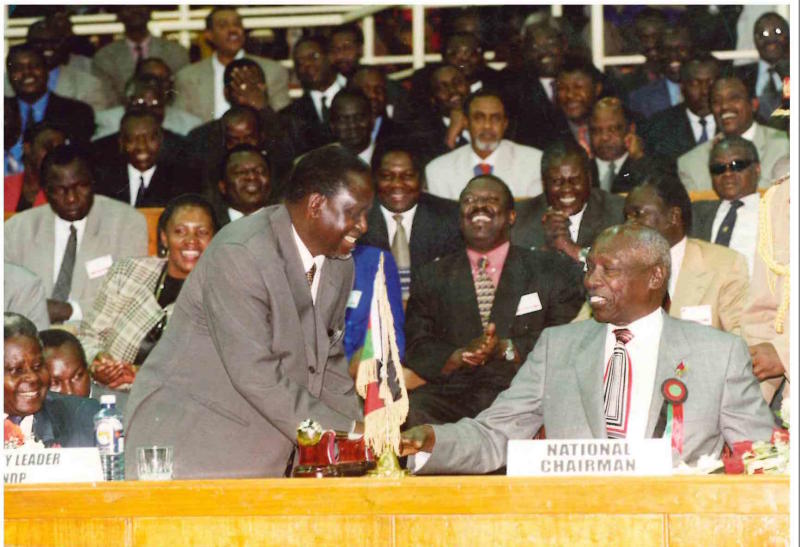 Kenya's political landscape is littered with dishonoured and discarded political and coalition pacts, which have fuelled mega fall outs in the past 25 years. And as the country prepares for the August 9 election, parties and presidential hopefuls are again rushing to craft new ones, dust up old Memoranda of Understanding (MoUs), call up old political debts and demand that their allies reciprocate.
If Kenya's political past has made anything clear, it is that majority of the pacts are shrouded in secrecy, informed by expediency and founded on quicksand. In some instances, they are not easily enforceable - some even go against the Constitution - and too often, they are broken with contempt and straight-faced treachery. In some cases, they are overtaken by time and circumstances.
On Tuesday, there were yawns from some political observers when Wiper Party leader Kalonzo Musyoka demanded that ODM leader Raila Odinga drops his bid for State House and instead support Kalonzo just as they had agreed when they were in the Nasa coalition in 2017. Raila is one of the top contenders in this year's presidential race. The other is Deputy President William Ruto.
While revealing the contents of the deal that the two signed secretly outside the Nasa coalition pact, Kalonzo said Raila had gone against their agreement the moment he accepted his nomination by ODM to be one of the presidential aspirants under the Azimio la Umoja coalition.
For good measure, Kalonzo said he was ready to work with Raila but on condition that the secret deal forms the basis of structured negotiations with Azimio la Umoja.
His tribulations have however lifted the lid on the legality and secrecy of political agreements struck either by political parties as institutions or privately by presidential contenders.
One of the most controversial pacts was hammered in the run up to the 2002 elections when Raila, then an opposition leader, and the party he led - the National Development Party (NDP) - joined forces with the then President Daniel arap Moi of Kanu.
The agreement started with co-operation between Kanu and NDP and was to be consummated in political marriage in which NDP was to join Kanu. The end game was the coming together of the two parties which would see Moi, who had been president for 24 years, hand over a rejuvenated Kanu to Raila as his ticket to State House.
Within months, Raila became Kanu secretary-general when Kanu, whose symbol is a cockerel, famously "swallowed" NDP, whose symbol was a tractor. The gentleman's agreement between Moi and Raila was that Raila would be endorsed as the new party's presidential candidate. This union was, however, short-lived because on the day of grand merger, March 13, 2002, Kasarani became Raila's "political slaughterhouse" as he watched the presidential ticket slip away into Uhuru Kenyatta's firm grip when Moi endorsed Uhuru.
Raila led a walk-out of those who felt betrayed by the endorsement. They walked out of Kasarani and Kanu as well.
The group then joined the Liberal Democratic Party (LDP) which later joined forces with the National Alliance of Kenya (NAK), to form the the National Rainbow Coalition (Narc), which went on to win the 2002 elections. The coalition was based on an MoU and undeclared pacts that provided for a power-sharing deal, including the appointment of Raila as prime minister.
In the MoU crafted by lawyers from both sides, the Constitution was to be amended to create the PM position. That never happened although Narc had promised to do so within the first 100 days in power. No sooner was Mwai Kibaki in power than he disregarded the MoU at the behest of his advisers and political allies.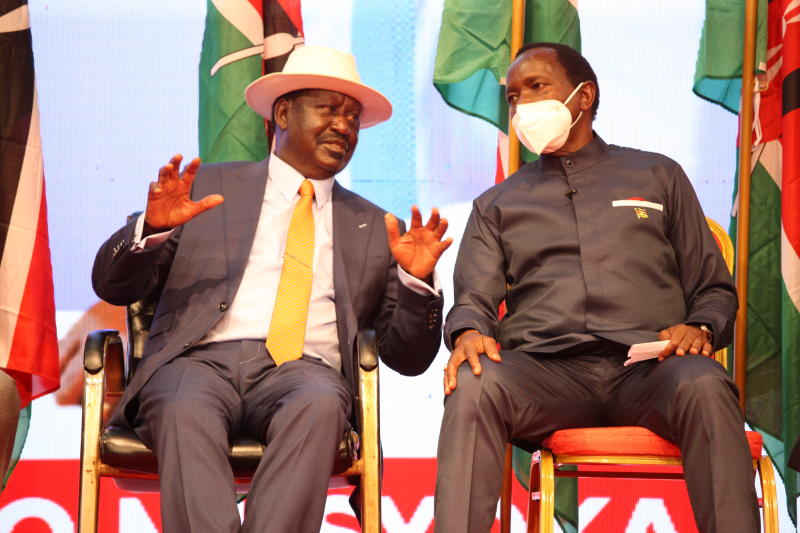 As a result, Narc would collapse even before it had lived to its full potential, following grumbling that fundamental clauses in the MoU had been flouted, locking Raila out of the State power he had expected to enjoy after endorsing Mwai Kibaki as Narc's presidential candidate.
Then Raila adopted the term MoU as his mantra and relied on it, first to accuse Kibaki of reneging on his promise and later as one of the grievances that led him to run for president in the subsequent election in 2007. The outcome of that year's presidential election was disputed, precipitating nation-wide violence and a political crisis that took international mediators to resolve. Raila was eventually appointed PM.
Ahead of the 2013, Raila signed yet another MoU with Kalonzo and Moses Wetang'ula to form the Coalition for Reforms and Democracy (Cord). Raila was to be Cord's presidential candidate under an MoU that stipulated he would hold the position for only one term after which he would support Kalonzo in 2017. This never came to be after Uhuru and Ruto won the presidency as a joint ticket. Raila finished second and Musalia Mudavadi third.
Before the election, however, Uhuru, Ruto and Mudavadi had entered into an informal agreement that would have made Mudavadi the presidential candidate. However, after what came to be known as the "Madimoni" saga, tables quickly turned and Uhuru ended up as the presidential candidate of the Jubilee Alliance.
With the formation of Nasa in 2017, Raila again convinced Kalonzo, Wetang'ula and Mudavadi to back him for the top seat one more time. Under the MoU, he was to serve for one term.
The formation of Nasa rendered the Cord pact signed earlier both null and void, and this caused disquiet among Kalonzo's supporters.
Enter President Kenyatta and his deputy, Ruto. Before clinching power in 2013, the two signed a pact of their own stipulating that Uhuru would be president for ten years and later hand over the baton to Ruto, who would serve for another ten.
But with President Uhuru's two term limit coming to an end in August, he has disregarded this pact, instead throwing his support behind Raila, with whom he probably has a pact despite public protestations that he has not asked for anything in return.
Once on his own, Ruto too invited Mudavadi and Wetang'ula to form the Kenya Kwanza Alliance, meaning that there is an understanding - written or unwritten - between the United Democratic Alliance (UDA), ANC and Ford-Kenya for the August 9 elections.
But as time has shown, signing agreements is one thing. Honouring them is another.