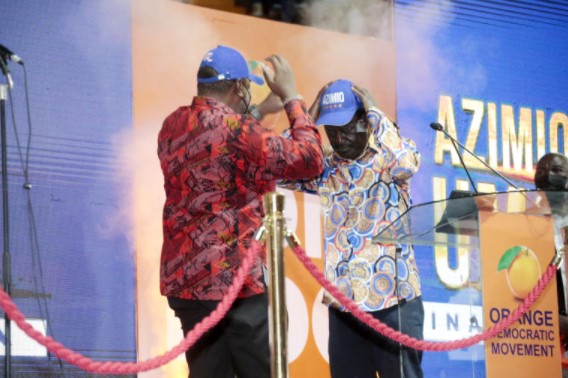 Their continued full display of bromance is not surprising to watch.
President Uhuru Kenyatta and ODM leader Raila Odinga have now fully moved to the 'mega-friends' phase of friendship if their interaction at the Jubilee and ODM National Delegates Conferences (NDC) yesterday is anything to go by.
They exchanged caps at the ODM national delegates convention held at Kasarani after Raila invited Uhuru to the podium.
They then immediately broke into song and dance, turning every two seconds to exchange beaming smiles with the other.
And again after the meeting, the duo held hands, signifying the beginning of a new direction for their respective parties working together.
The pair was once again inseparable at KICC, Nairobi when Raila appeared at Jubilee party NDC, to the welcome of chants and front-seat privilege next to the Head of State.
But their friendship comes as no surprise, as Kenyans witness a growing brotherhood between the once implacable political rivals.
Uhuru and Raila both attributed the March 2018 handshake to their uniting.
"Many doubted. Many told Raila it was impossible to sit at the same table with Uhuru," the president said, recalling how the handshake came to be.
He said after the handshake, he has on several occasions shared private car rides with the ODM chief to discuss and forge the way forward for Kenya.
In 2019, Uhuru breached security and delayed his flight by over four hours as he and Raila toured Kisumu.
Catching his security and protocol officers by surprise, the President changed his mind about boarding his jet at the Kisumu International Airport at the eleventh hour and instead accompanied Raila in a tour of Kisumu town.
Again in October 2018, the duo sat in the same podium and the camaraderie between them as they shook hands with the Namibian President at Bukhungu Stadium during the Mashujaa Day celebrations made the nation feel the unity of purpose.
"My brother Raila Odinga and I have agreed to work together and unite the nation, we have now started the journey of building a great nation," said President Kenyatta.
The Kenyattas and Odingas political rivalry that dated back to the 1960s is now a thing of the past.