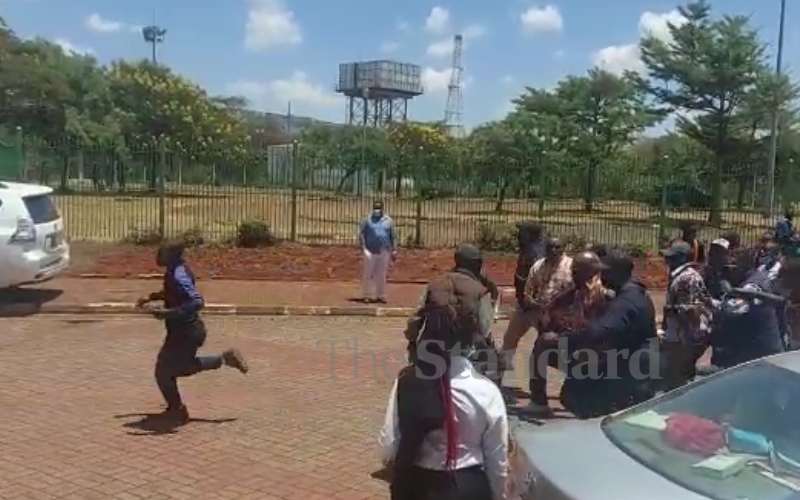 Presidential hopeful and businessman Jimi Wanjigi has been thrown out of ODM National Delegates Convention taking place at Kasarani Gymnasium.
Wanjigi, who was accompanied by his supporters to the venue, was roughed up and forced to take shelter at Kasarani Stadium Police Station minutes after storming the heavily guarded area.
ODM Secretary General Edwin Sifuna, in a viral video, has downplayed Wanjigi's presence saying he is not even a delegate of the party.
However, in a rejoinder after the incident, Wanjigi reiterated that he is an ODM delegate. He lamented about the violence meted on him and questioned the party's democracy.
"All I asked was for a fair chance in this party to compete for presidency of this party that I have loved so very much; the answer has been kicks and blows throughout. The Raila Odinga I have witnessed since 2018 after the handshake is not the Raila Odinga I have known for many years," said Wanjigi.
Wanjigi had earlier declared interest to wrestle ODM Presidential ticket from Raila Odinga. The ODM's National Delegates Convention this morning approved Odinga to be the presidential candidature in the August 9 polls.
The businessman's move to storm the NDC come days after his complaint at the Political Parties Dispute Tribunal (PPDT) to have the delegate's meeting stopped was thrown out over lack of merit.
According to the tribunal, Wanjigi, alongside other petitioners, did not exhaust the party's internal dispute resolution mechanisms before approaching it on claims that the meeting was illegally organized.
In an affidavit in defence of the NDC, ODM Secretary-General Edwin Sifuna swore that the PPDT petition was filed fraudulently.
"The application was filed through fraud and illegality since nine of them have denied authorising the filing. The logical conclusion is that the applicants concocted a dispute and went about shopping for people to support them," stated Sifuna.