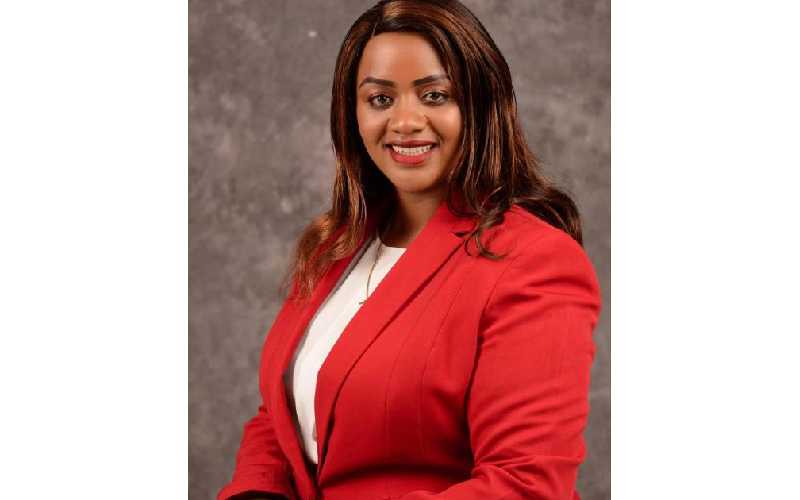 In a span of three years, Laikipia Women Representative Cate Waruguru has swung her political zealotry between Deputy President William Ruto, ODM leader Raila Odinga and President Uhuru Kenyatta.
For two years between 2018 and 2019, she lent her voluble energies to Ruto's team, defining the trajectory for the 2022 race. When the purge against Ruto's allies began in 2020, she took cover.
She turned up at Capitol Hill where Raila 'sanitized' her before she hit the road to sing the 'handshake' song. And late last year, she returned to the Ruto fold, saying she never quite left the hustlers' corner.
"It was the best decision for myself and for the people I represent…" she tells this writer as she settles down for a long chat on her journey, life and outlook.
At 34 and an orphan, Waruguru has come a long way in knowing when to make survival moves. As a Class Eight pupil at Giagatika village in Mathira, Nyeri, Waruguru, her younger brother Kelvin Mbuthia and their grandmother were chased away from their family home and their little shack demolished.
At the time, her mother had left to eke out a living to support them. She says it all emanated from cultural bile, since both her mother and grandmother were not married. They rented a single room at Giagatika shopping centre, where they lived.
"In 2003, our mother returned home and died after a short ailment. We had to secure a court order to bury her in her own mother's home," Mbuthia her brother, now Wauruguru's official Personal Assistant (PA) says.
Orphaned, and taking care of an aging grandmother and little brother, Waruguru struck luck when then area MP, the late Nderitu Gachagua, sponsored her secondary school education. She retreated back to the shopping center after completing her studies.
Fresh from school, Waruguru would later get married to a man who sponsored her to undertake a theology course in Karatina. She had barely relocated to the man's rental house in Laikipia when the man relocated to the United Kingdom (UK), leaving her heavily pregnant.
"I had to relocate to Laikipia to look after her until she delivered. Life was hell; we were beggars who depended on pastors and well-wishers for food," Mbuthia adds.
Another misfortune which later turned into a fortune for Waruguru happened soon thereafter. Mbuthia was involved in an accident, sustained injuries for which he was compensated. He put the money to Waruguru's use.
"She was a bit outgoing and a quick thinker, so I convinced her to take the money to pursue her goals. She pursued a Diploma in Business Management at the Kenya Institute of Management," Mbuthia says.
Waruguru picks up the conversation at this point.
"He has sacrificed a lot for me, not once, not twice. Many times. When I was running for MP, and I had just got my second born, he stepped in to look after my infant as I conducted campaigns," Waruguru says of her brother.
The course unlocked her potential and she was employed as a merchandiser, a job that exposed her to politics. When the 2013 elections beckoned, she saw the opportunity and joined Uhuru's TNA party.
"My persuasive and convincing power bore fruits. I was nominated to represent the party interests at the county Assembly but before we celebrated, an injunction was obtained preventing my swearing in ceremony," said the mother of three.
Waruguru later won back her nomination, but sadly, her grandmother passed on before she could be sworn in. At the county Assembly, she perfected her political skills, and made the most of opportunities presented.
At a forum to discuss MCA's welfare in Mombasa where President Kenyatta was in attendance, Waruguru impressed the gathering with her pitch, attracting attention of colleagues, the media and top politicians.
"It was not easy to capture Woman Representative seat. I hit the road with an old Premio car. On many occasions I slept along Rimuruti-Nanyuki road after running dry of fuel and funds. I also had a three-month old baby at home and had to carry along with me stuff to express milk. My breasts ached," recalled the county MP.
Because of all she has gone through, she described herself as "daughter of Zion", and a lion of Laikipia. She believes she is favoured by God, that it is all for a good purpose, and that the end justifies the means.
Waruguru has been called all manner of names, but she says she is least moved by them.
For all the theology she learned, she cannot understand to this date why the church is unable to condone polygamy, yet it is beginning to embrace homosexuality. She says claims that she is a husband snatcher are grossly exaggerated.
"I am not a perfect woman and neither am I a perfect leader. I have many weaknesses in my journey of grace and constant prayer for forgiveness. But snatching is not one of them," she says.
Waruguru says when she was single, people talked ill of her. When she got married to her first husband they talked all through. And now that she is at it again, they are also at it.
"Let them continue talking…"
Waruguru has very strong views on marriage and is not shy to express them.
She tells "goat wives" that a marriage certificate and a ring will not keep their men. She says in her circle of male friends and politicians, none of them keeps one woman.
She also notes that most successful mothers are single, suggesting the need to check why there is a disconnect between marriage and successful single mothers. She wants the Church to begin according leadership positions to single mothers.
An ardent lover of rhumba, and praise and worship music, Waruguru says she's a teetotaller. Her only drink, she claims, is green tea.
She has very few kind words for those who mock women on the basis of their sexuality or status of marriage. It gets personal for her when people begin to entertain the thought that she may have slept her way to the top.
"It's a devilish thought…for any man to think any successful woman must walk their way up using their bodies. It's satanic," she states.
Waruguru is categorical she has never dated a politician, saying one cannot get power and love at the same time.
A lover of documentaries, she believes President Kenyatta, DP Ruto and Raila are unique leaders in their own special ways.
"The ability of Uhuru to draw his critics and political rivals to the same table and make them comfortable is unique. Raila, on the other hand, is a man of all seasons. Ruto is the man of the moment," she says.
She has a lot of hope in this year's general election. Besides pitching for Ruto's side and hoping he will pick a woman running mate, she is running to become Laikipia East MP. The Service Party (TSP) leader and former minister, Mwangi Kiunjuri, is said to also be salivating for the seat.
But Waruguru remains undeterred by any challenge this may pose.
She says Kiunjuri ran out of steam ages ago and has little chances paired against her. Instead, she urged Kiunjuri to play the league of party leaders if he's serious.
"He had chances of playing big in succession politics but he botched it by playing village politics. I have already made a mark and my footprints are all over Laikipia East. The constituency is taken, ajipange," she says.
In the past, Warurguru has run her mouth and ended up fouling others. She had not so kind words for Kirinyaga Governor Anne Waiguru when she was freshly married. When Gatundu South MP Moses Kuria had an accident, she congratulated him.
She says it's all part of her package; 'Being a Waruguru'.
"In politics, you have to roar like a lion, otherwise you will be trampled over, and pushed down the cliff. Having said that, I also reflect on things, and try to make peace with God on them. I seek forgiveness, learn and move on. That's how life is," she says.
She signs out our interview with a promise; "Watch out for me…. I am going to shine. And I will bring change in my area, and my country."