Kanu insists OKA is not dead despite ANC, Ford Kenya's exit
Independence party Kanu has maintained that OKA is not dead despite co-principals Musalia Mudavadi (ANC) and Moses Wetang'ula (Ford Kenya) joining Deputy President William Ruto's camp.
Addressing a press conference in Nairobi, yesterday, Kanu National Organizing Secretary Abdulrahman Bafadhil said the alliance had four principals and only two had left the train.
ANC leader on Sunday disembarked from the OKA train and joined hands with Deputy President William Ruto's United Democratic Alliance (UDA) party during the National delegates Congress during the event dubbed as 'Earthquake' at the Bomas of Kenya.
During the event KANU chairman Gideon Moi and Wiper leader Kalonzo Musyoka walked out the Mudavadi's event citing betrayal from Mudavadi after Ruto and his political allies joined the event.
Bafadhil said that 'Grand walk out' was necessitated by Mudavadi's betrayal because he failed to inform the other principals of Deputy President's attendance to the meeting on Sunday
"We want to categorically applaud our chairman Gideon Moi for walking out of the meeting, Mudvadi should have been a man enough to inform the co-principals that Ruto will be attending the meeting instead of betraying their trust," said Bafadhil.
He added; "We now know why we could not move forward as OKA as Mudavadi was the 'mole' for Ruto in our meetings."
Bafadhil said he could not comment Wetangula's stand in OKA as he (Wetangula) has been non-committal.
KANU Nairobi chairman Frank Mbogo said they support the move by their Chairman Gideon and Kalonzo's walk out at the meeting "We want to associate with like-minded Kenyans who have the vision for Kenya unlike other leaders who fight for their selfish interests.
He said they had asked the Kanu chairman to consult with other leaders and advise them on the official status of OKA's survival and the way forward.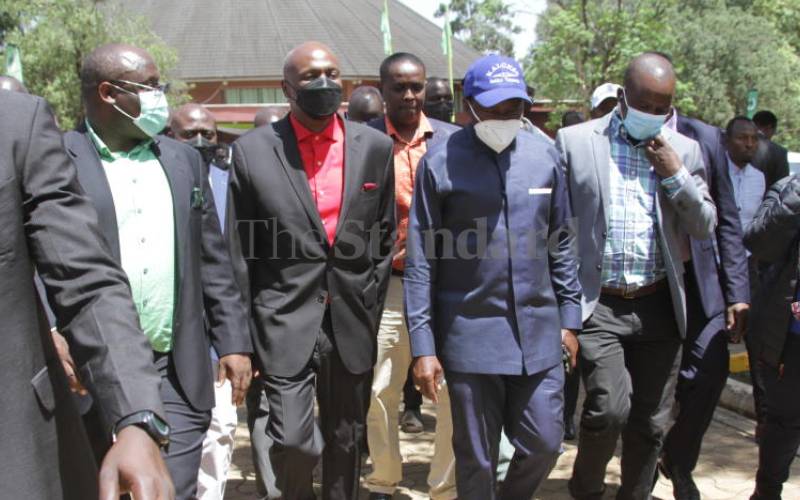 "The journey is long and it's a marathon, we have just started, watch this space, great things for the party and Kenya yet to come from their party," said Mbogo.
Mbogo condemned the ANC leadership fraternity led by Mudavadi for the cheap and dubious politricks they have been playing with the OKA Co principals blindfolding them to believe they are fighting a similar course only to shame their fellow visionary minded and capable leaders with their so called "Hot Air earthquake".
"We condemn with the strongest terms the unwarranted attacks on our National Chairman. We unapologetically demand that our Party boss be granted the respect he deserves as respect is paramount and cuts across," said Mbogo.
Mbogo urged Gideon not to be shaken with the current political propagandas for his supporters had his back. "We applaud National Chairman for having pledged to move his party members and Kenyans at large to higher grounds where they are safe after realizing that they were dining with self-centered personalities in pursuit of demolishing their noble vision for the Nation," said Mbogo.
Pamela Ateka aspirant for Senator for Nairobi County said the country seemed to be in a crisis of leadership and some had mistaken it as a space for cheap politics, propaganda, ego, and emotions but it is not.
"This crisis of leadership is a space only for transformational leadership and that is what we have to offer. As KANU we are the keepers of our Nations legacy, our founding fathers' dreams, so we remain hopeful," said Ateka.