'Earthquake' that left smiles on people's faces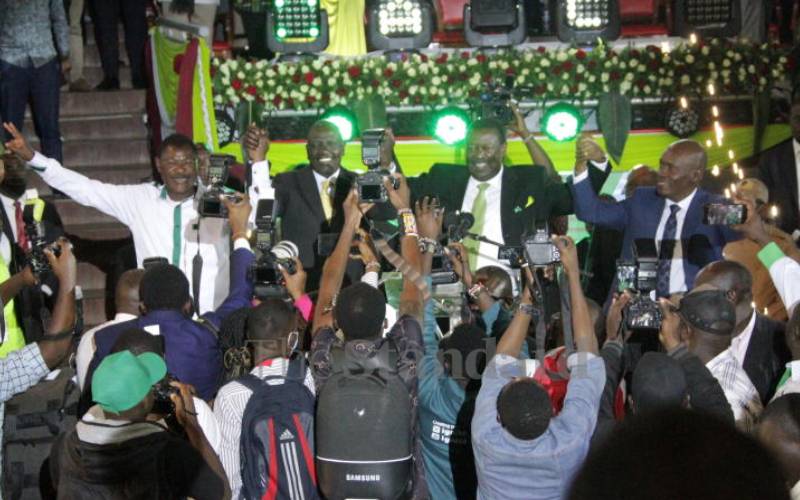 In a choreographed fashion, the ANC National Delegates Conference (NDC) was matching on many fronts.
First, it was the green caps and t-shirts worn by delegates, then it was the elaborate decorations of green and white balloons, red carpets, stout bodyguards with shades to conceal their look, and young beautiful women who ushered guests in Bomas of Kenya, Nairobi.
But the earthquake promise by ANC leader Musalia Mudavadi seemed to come in the form of loud music and earthquake sound effects projected from speakers.
However, tremors also filled the auditorium in Bomas of Kenya when ANC supporters cheered once politicians entered like rock stars on stage, one by one, taking in standing ovations and cheers with their classic waves and almost genuine smiles.
However, major announcements by Mudavadi came in form of what he called "truths" concerning a collapsed, Kenyan economy, a skyrocketing national debt, over taxation, impunity, corruption, and a deeply rooted social-economic disparity that leaves those in government rich while neglecting the poor.
Unlike other NDCs that took place in the same venue including that of Kanu and Ford-Kenya, ANC's conference stood out in a few ways.
It started late. Supporters had already made their way to the venue by 8 am but the guest of honour only started driving in 30 minutes past noon.
The delay led to a short commotion where supporters blocked Mudavadi's motorcade demanding that he addresses them before proceeding to the NDC.
With a little help from the police present, the group was dispersed allowing Mudavadi to proceed.
However, it is the exit of One Kenya Alliance principals, Wiper leader Kalonzo Musyoka and Baringo Senator Gideon Moi that marked a difference contrary to other NDCs that have had competing politicians attending and offering their full support for the man of the day.
However, with politicians like Kakamega Senator Cleophas Malala and former Kiambu governor William Kabogo calling it one the happiest days of their lives, it is safe to say that sometimes earthquakes, even though manufactured can be sources of joy. But it was the messaging of the words in Mudavadi's speech that would have been the tremors that followed the 'earthquake' caused by the arrival of Deputy President William Ruto and his allies.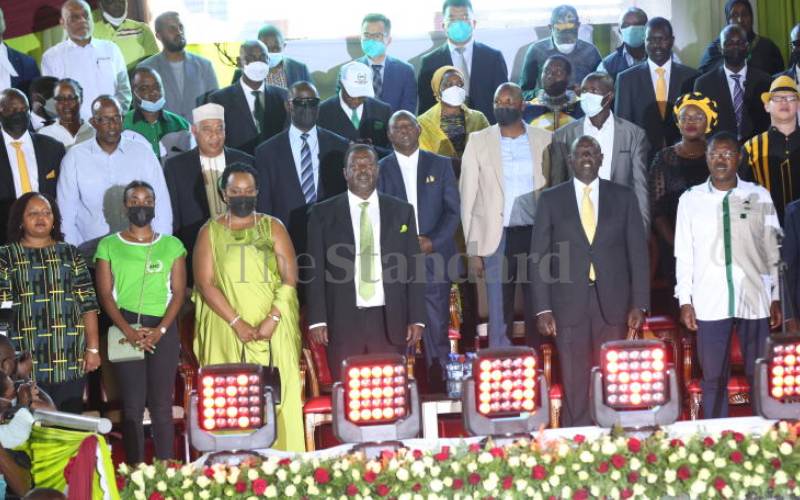 Unexpected was the statement from the DP that they had an in-depth conversation with Mudavadi before the NDC. The second tremors from the earthquake that was caused by the drama of the OKA principals Wiper leader Kalonzo Musyoka and Kanu chair Gideon Moi that left the event in protest because of the Ruto attendance.
And yesterday, Kalonzo allies, Matungulu MP Stephen Mule, and his Mavoko counterpart, Patrick Makau have termed Amani National Congress (ANC) party leader, Musalia Mudavadi as a political traitor who cannot be trusted with the country's leadership.
Speaking after laying a KMTC foundation stone at Matuu ma Mwiitu shopping centre in Matungulu Constituency Sunday afternoon, Mule and Makau said Mudavadi's move to team up with Deputy President, William Ruto was an act of political betrayal.
The MPs, who defended Kalonzo and Kanu Chairman, Gideon Moi's decision to storm out of Mudavadi's conference held at Bomas of Kenya claimed Mudavadi had been Ruto's mole in the One Kenya Alliance (OKA) and declared the alliance was still intact despite Musalia's exit.
"For many years I have said Mudavadi is not a serious chap. After promising Kenyans to expect a "political earthquake", he only ended up joining the wheelbarrow team. This is a betrayal of Kenyans. And we are urging Kalonzo to soldier on and become OKA's presidential flag bearer," said Makau.
The Mavoko legislator maintained OKA will carry on with the quest to produce President Uhuru Kenyatta's successor.
His sentiments were echoed by Mule who termed Musalia as a joker who has failed millions of Kenyans.
"Kenyans will never trust Mudavadi ever again. He has betrayed Kalonzo, Gideon, and Wetangula. His action today marks the beginning of the end of his political career," said Mule.