Mudavadi's big day, earthquake and huge task that awaits him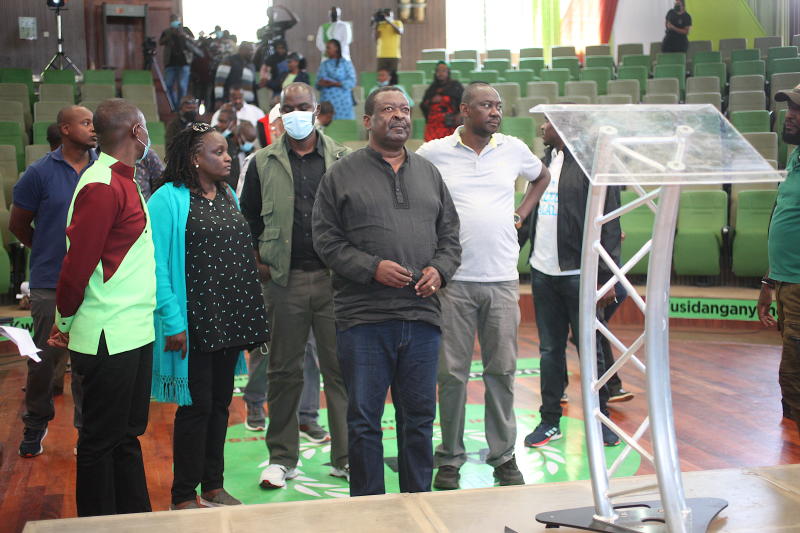 The back cover of his autobiography says he has been framed and even defamed differently by different people, depending on their dreams and whims. ANC party leader and former Vice President, and Deputy Prime Minister Musalia Mudavadi has had more than his fair share of accolades and cutting criticisms, depending on the occasion and on person speaking.
Former Central Bank of Kenya Governor Micah Cheserem, described him in an interview as "Kenya's unexploited political goldmine, waiting to be mined."
For his own part, Mudavadi has defined himself as "a safe pair of hands." Others think he is far too slow when it comes to throwing political punches at his adversaries, and even a little reticent.
The title and substance of autobiography, Soaring Above the Storms of Passion, suggests that he sees himself in the colours of a sedate individual. He is a sanguine character, who has remained unruffled amid numerous political thunderstorms that have informed his different seasons in the murk of Kenya's politics.
He has known what it feels like to be at the top, when he served as Vice-President (the shortest tenure), and when, with Uhuru Kenyatta, he has been one of the two Deputy Prime Ministers, to Raila Odinga, in the 2013 – 2017 Grand Coalition Government.
No stranger to humiliation
But he has also known humiliation of losing an election, at the parliamentary level, and as a presidential candidate. He has known the icy cold of being deserted by friends, when he was one of the subjects in focus, during the Samuel Bosire led Commission of Enquiry in the Goldenberg Affair (2003–2004).
In 2013, he became the last member of the five-person ODM Pentagon to abandon Raila Odinga and his party. He went on to run for top office against Raila and Uhuru. He returned a significantly distant third perch, behind the two, with Uhuru bagging the prize. This year, he has declared, his name will be on the presidential ballot paper again. And he says he has a big message for Kenya today, January 23.
He is expected to officially launch his bid, on the occasion of the ANC second National Delegate Congress, at the Bomas of Kenya. The country waits with batted breath to hear the earth-shaking message that he has promised.
Meanwhile, it is useful to recall that at last year's Vihiga annual cultural festival, he sounded the bugle to the Kenyan political fraternity with the words that he was going to be hard to predict this year. He said it would not be business as usual, and invited the country to watch his steps. The country must be watching keenly.
Mudavadi is likely to redefine himself, no matter which way, by events expected at the Bomas of Kenya today. If it should turn out that he indeed has a big thing up his sleeve, he could redefine not just himself, but also the course of this year's August 9 elections – not just at the presidential but in the other seats as well. Conversely, should it turn out to be a whimper, he risks not being taken seriously in an environment where the election is already being assumed to be a two-horse race between Deputy President William Ruto and his nemesis, Raila.
Mudavadi could decide that he is going it alone, all the way to the wire. It would hardly be a big pronouncement and it could deflate the earthquake narrative.
Yet even if he should declare that he is going all the way to the wire, the unsaid optics of the day will be critical. Indeed, the optics could well turn out to be the big message. Will the Deputy President attend, as has been whispered these past few days? If he does, then this has the outlines of significant shifts in political tectonic plates in the country.
It is instructive that Mudavadi did not attend Raila's big day at Kasarani, when the Azimio la Umoja race to State House began. None of the former NASA principals attended. Relations between them, on the one hand, and Raila on the other hand, have deteriorated steadily in recent months. It should not surprise if the ANC NDC turns out to be a formal disavowal of Raila.
If the NASA principals (reinvented as One Kenya Alliance, with Kanu's Gideon Moi and a medley of others) should build bridges with the Deputy President and UDA, Azimio la Umoja could be headed towards disaster. Yet it will not be that easy for a star-studded alliance of the kind that could emerge. There will be egos and co-constituents' expectations to contend with.
Different kind of politician
All this, however, will wait for Mudavadi's earthquake-event, for the announcement that Kenyans are waiting for could turn out to be something completely different.
Whatever the announcement, the ANC leader may need to wake up to reality that it is sometimes necessary to get ruffled when the storms of passion are in their element.
For, Mudavadi cuts the image of a level headed urbane individual who, like former President Mwai Kibaki, wants to play clean politics, whatever that may mean.
He is a methodic individual who wants to carry himself with dignified decorum, even when soiled matter is thrown his way. He exercises measured patience of those who believe in the goodness of human beings.
He has trusted President Kenyatta and Raila, even when some of his ardent supporters have felt that the two have betrayed him. Raila, for a start, unleashed his dogs of war on Mudavadi in 2012, to skew the ODM presidential ticket (towards Raila).
When Mudavadi could not smell the coffee, the late Senator Otieno Kajwang (then an MP), James Orengo and the late Jakoyo Midiwo put it in stark terms. They warned those "day dreaming about the ODM presidential ticket that ODM is Raila and Raila is ODM."
The die was cast. Mudavadi decamped and sought the ticket of the United Democratic Front (UDF). Yet, before he could even say the words UDF, Uhuru and Ruto unexpectedly turned up at his residence, to announce that they had decided to back his candidature, with Ruto as his running mate. An MoU was crafted and signed. The rest was about warming up the engines and getting on the stumps. But it was not to be.
An intemperate Uhuru shortly afterwards disowned the memo. He called it the work of demons. But Mudavadi placed all that behind him, to support Raila's presidential bid, and work as his chief of campaign, in 2017.
He has also been civil to Uhuru and played a shy role in the Opposition. His critics have found this to be a laid back, slow and annoying style.
It is perhaps one of the issues he must address as he proposes to migrate from the business as usual space. Migration from the business as usual space means girdling his waist with the belt of hard-tackling politics. Regardless that he enters into alliances with the Deputy President, or any other persons – or otherwise – he must rise up in the remaining days to be the undisputed king of the Western Kenya vote.
In a country that mobilises around communities, this command is a must for any major player in this murky arena. Those not dancing when his pipe resonates must be consigned into the basket of political oblivion. But if he cannot round up that constituency and secure it, then the earthquake could be less than a whimper.
Upon his own testimony at his mother's burial on December 31, 2020, Mudavadi affirmed that he was brought up to be an affable individual, a collected and patient personality.
His kind of polish would make for a good and hugely electable leader in the West, where his "safe pair of hands politics" is the kind of civic contestation that the people want.
They like to listen to rational arguments and to respond to leaders who carry themselves with aplomb, of the Kibaki-Mudavadi style. Both Kibaki and Mudavadi have stood out in the politics of development, when they served in the finance docket, and for Kibaki later as President. For his part, Mudavadi spearheaded reform of the Central Bank and the money sector, when he liberalised the forex market. He was also the spring well of transformation of the Income Tax Department into the Kenya Revenue Authority.
He reformed the Kenya Ports Authority and privatised a loss making Kenya Airways, to give it a short stint as a robust airline. Elsewhere, he liberalised telecommunications. It is thanks to him that Safaricom is virtually everywhere in Kenyans' life.
He was the main person behind the argument for devolution in the 2010 Constitution, besides many other technocratic goals as a political leader.
Mudavadi is, without a doubt, hived off the kind of material that makes good presidents.
The Kenyan and African situations, however, call for more than that. It is a rough and murky terrain where even little boys throw mud and call leaders wild names. He should perhaps not throw mud at anyone.
Yet, besides making earth shaking announcements, you have to remove your designer's shoes, fold your trousers at the knees, and your shirt at the elbow, and refrain from pulling your punches.