DP Ruto takes Hustler campaign to West Pokot, promises poll goodies elected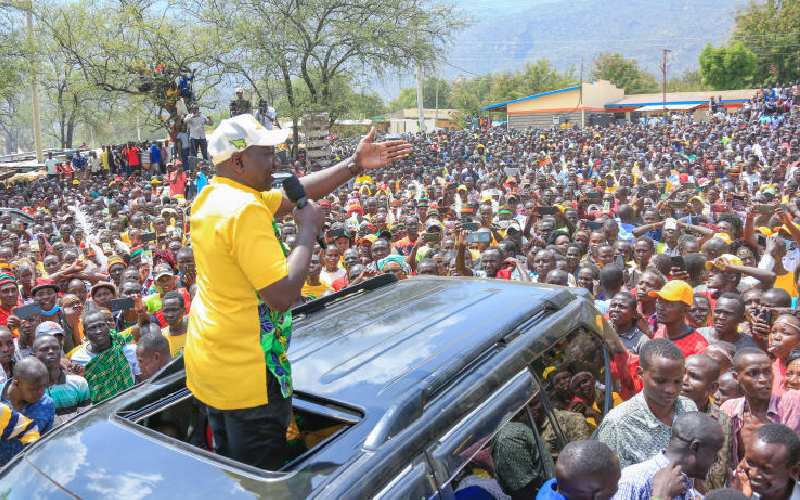 Deputy President William Ruto has said if elected President he will continue with development projects under the Big Four agenda.
He spoke during a series of rallies in Sigor and Makutano, West Pokot County, yesterday. The DP called on the residents to reject attempts to dissuade them from joining his United Democratic Alliance (UDA) party.
Ruto said there is a scheme to marginalise West Pokot. He promised to keep the region on his presidential agenda if he wins the August 9 polls. "We have come from far as West Pokot. I don't agree with those who want to take us back. West Pokot must be the centre of our affairs and not at the periphery," the DP said.
Ruto popularised his agenda to empower Hustlers with a promise to put up to Sh100 billion in agribusiness, tourism, and other sectors which employ the majority of young people.
"It's the government's responsibility to invest in businesses so that the poor can be uplifted. We will set aside Sh50 billion for small business owners at the wards," he added. The DP castigated leaders behind the Building Bridges Initiative (BBI), saying there is a need to focus on 'hustlers' first.
On agriculture, the DP promised the residents that if elected his government will reduce the price of fertiliser from Sh6,000 to Sh2,500 and allow more young farmers to earn better.
He dismissed former Prime Minister Raila Odinga's proposal to pay Sh6,000 to poor families, saying handouts are only aimed at silencing the youth.
The DP said the former PM should instead create jobs for the young people.
Ruto promised to enhance the National Hospital Insurance Fund (NHIF) to provide affordable care for all. "By the end of this year, all of you will get NHIF cards. Those who can afford to pay will do so while those who cannot will be supported by the government."
Ruto warned Sigor residents against supporting leaders who had served in top positions in government but had no development record.
"We have put up roads, electricity, and improved health."
The DP noted that insecurity has been a problem and the construction of roads will help to eradicate the cattle rustling menace.
"We have set up a Sh10 billion water project at Muruny and opened a number of roads within the county. We will construct more roads, including Kapsait to Sondany road, Chepkorniswo to Sina, and within a few months construct a 300km road network."
Ruto also drummed support for Sports CAS Simon Kachapin, who is trying to recapture the governor seat he lost to John Lonyangaouo in 2017.
He said the government has set aside Sh800 million for the construction of bridges along the Tot-Marich road, adding that the construction of the road network will help residents to conduct business with their neighbours and end banditry.