Ruto 'daydreaming' I've accepted him, Atwoli says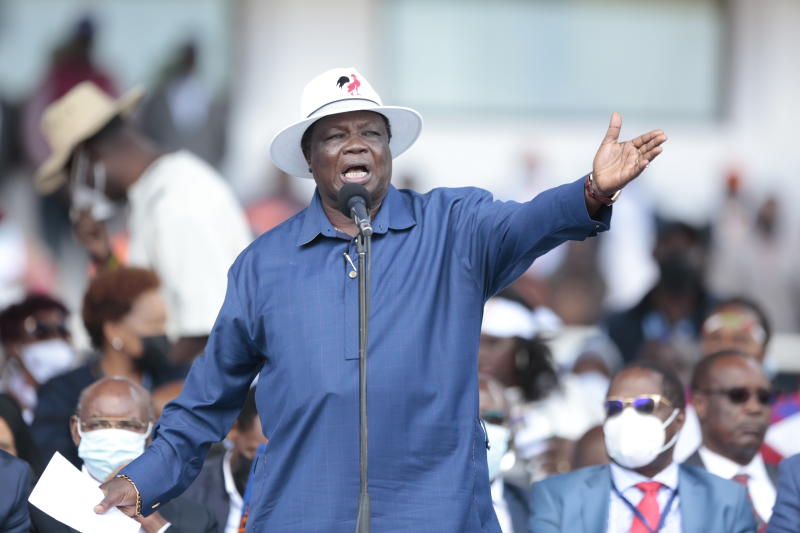 Cotu Secretary General Francis Atwoli has dismissed remarks by Deputy President William Ruto that he was slowly embracing his candidature.
Atwoli reiterated that Ruto will not succeed President Uhuru Kenyatta.
Addressing residents in Nambale on Wednesday, the DP said his detractors including the Cotu boss were slowly accepting his presidential bid.
"The odds are in my favour as my detractors, including Cotu boss Francis Atwoli, are slowly and surely giving in to the force of my candidacy," Ruto said.
"He (Atwoli) used to tell you that I would not be on this year's presidential ballot paper and as things look like, I will be there and beat my opponent early in the morning then they will find another excuse. In 2027, I will win yet again and who knows, they may now start saying I will not inherit the kingdom of heaven."
Yesterday, Atwoli said he has never contradicted himself on his position against Ruto succeeding President Uhuru Kenyatta come the August 9 General Election.
"I have never contradicted myself on my statement that Ruto will not be president. I have said it will not happen. People will turn up to vote but he will not be the winner," Atwoli said.
"He is a day dreamer when he says that Atwoli has accepted his candidature."
The Cotu boss insisted that Ruto was not the right person to lead Kenya. "I have told Kenyans to look at the kind of his friends around him. Most of them are having criminal cases," Atwoli claimed.
He dared those doubting his influence in Western region to organise a meeting at Bukhungu Stadium to gauge if they can pull the crowd witnessed on December 31, last year.
"Even if he visited Western Kenya 20 times per week, the region is under lock and key for Azimio la Umoja," he said.