Mbadi ejected out of Parliament as Sigowet/Soin MP is punched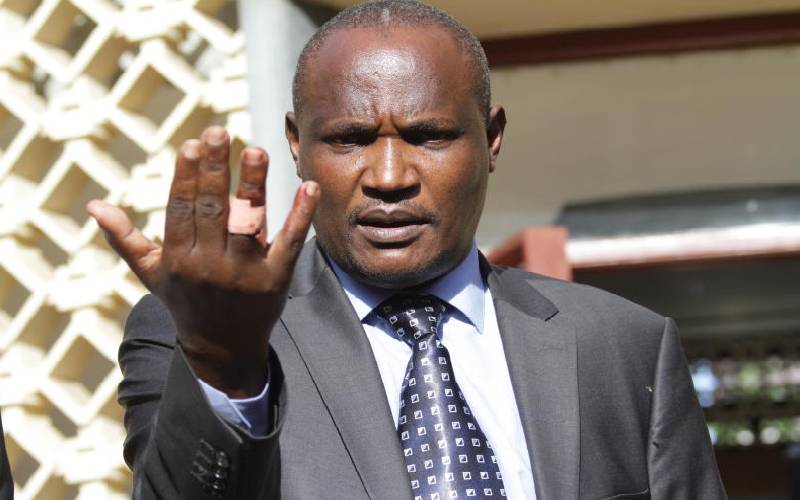 National Assembly Minority leader John Mbadi was on Wednesday ejected from the House for being disorderly and allegedly assaulting his colleague.
Temporary Speaker Christopher Omulele (Luanda) ordered the Suba South MP to withdraw from the prescient of Parliament immediately for what he described as gross misconduct and disrupting the special sitting convened to discuss the controversial Political Parties (Amendment) Bill.
"Hon Mbadi you are directed to leave the precincts of this House for gross disorder. You are ordered to withdraw for a minimum of five days," Omulele ruled.
The Speaker also directed Sigowet/Soin MP Benard Koros to go to the hospital after sustaining face injury during the altercation.
"The Sigowet MP was involved in an altercation with Hon Mbadi and he was seriously injured. I direct that he goes to hospital and direction will be given once he is out."
The bleeding Sigowet/Soin legislator complained to the Speaker after he was allegedly attacked by Mbadi during the session.
"Mr Speaker I have been attacked in the House by the master of violence in this House, it is very wrong that I can be injured in an Honourable House Mr Speaker," he said.
Koros said he did not deserve to be attacked in the House for carrying out his duty as an MP.
"Mr Speaker I deserve to vote like other members, I cannot be attacked for carrying out my duty," he said.
According to the Speaker, he saw the two MPs [Mbadi and Koros] going at each other and ordered the Suba South MP to withdraw.
Omulele also warned Nominated MP David Sankok for allegedly injuring a colleague with his crutches.
Also warned for disorder included Kandara MP Alice Wahome and his Kanduyi counterpart Wafula Wamunyinyi for causing disorder.
MPs were voting on Wahome amendment to the Bill when the members became unruly punching each other near the Speaker's seat.
The session was suspended for 15 minutes before MPs resume to take the vote.