ANC, Ford-Kenya give tough terms on parties' law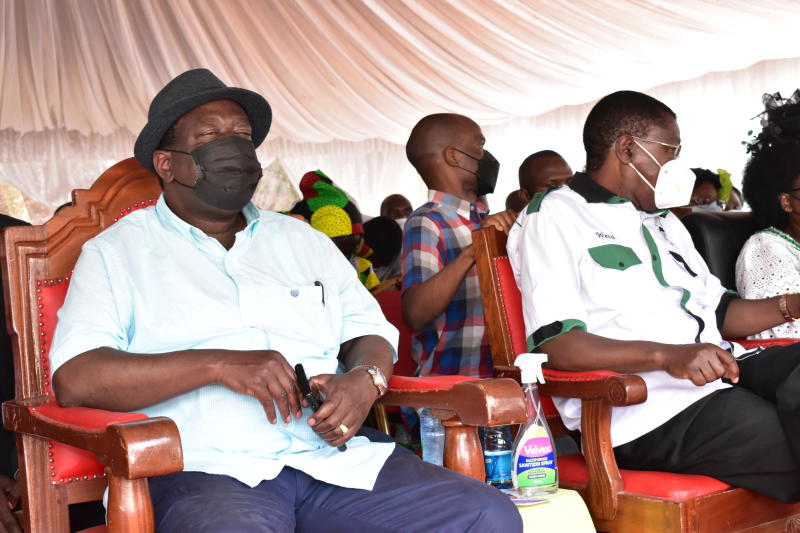 ANC leader Musalia Mudavadi and his Ford-Kenya counterpart Moses Wetangula have set conditions under which their MPs should back the political parties Bill set to be debated at a special sitting on Wednesday.
The two party leaders warned their MPs to support the Political Parties (Amendment) Bill 2021 only if the timelines to deposit coalition agreements will be reviewed from six to three months.
"We have told our MP to push for amendments that will make it fair for every party that seeks to join a coalition. The law should allow parties to benefit in a coalition without intimidation," said Mudavadi.
The Bill, sponsored by Majority Leader Amos Kimunya, will be coming up on December 28 after the previous sitting was suspended.
The Bill seeks to reintroduce coalition political parties, where constituent outfits retain identity but form a coalition party as opposed to the current situation.
It provides that in the case of a coalition political party, the coalition agreement must be submitted at least six months to an election. According to the proposed law, the coalition party will be registered with the Office of the Registrar of Political Parties.
Mudavadi and Wetangula fear that if the law is passed without the changes, some political parties would be disadvantaged, as was the case in Nasa where ODM was seen to have a bigger sway.
"Once bitten twice shy. Kenyans should understand that forming a coalition is not a walk in the park. There should be regulations that will protect all parties," said Mudavadi.
The ANC leader added: "I want a coalition that will have the benefit of people of Western rather than few political leaders, that in every coalition pact, benefits of everyone should be well defined," said Mudavadi.
Mudavadi said with a few months to the August 2022 elections, changes to the law should be carefully carried out to guarantee free and fair polls.
He also warned against changes to the Huduma Bill, saying they could provide leeway to rig elections.
Speaking during this year's Maragoli Festivals at Mbale Municipal Grounds, Mudavadi said he is firmly in the presidential race.
ANC plans to hold a national delegates convention in January 2022 in which Mudavadi will be endorsed as the flag bearer.
"If you thought I am predictable in the year 2022, I'm going to be extremely unpredictable. We will shape the destiny of this country as Kenyans," said Mudavadi.
Mudavadi, at the same time, said he will not attend a December 31 Azimio la Umoja meeting to be held at the Bukhungu Stadium in Kakamega.
Wetangula said the political parties Bill should protect parties from being bullied others in a coalition arrangement.
He said the Luhya community won't be used politically in 2022. Vihiga Woman Rep Beatrice Adagala said the Mudavadi-Wetangula alliance was timely.
"This unity between Wetangula and Mudavadi is the only way Luhya people can ascend to power," said Adagala.