Raila and Ruto court ANC, eye slice of Western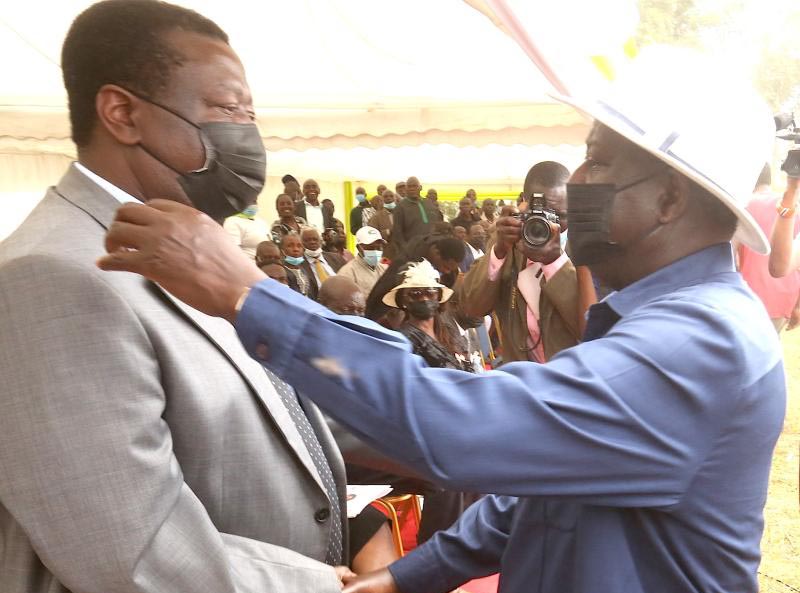 Deputy President William Ruto and ODM leader Raila Odinga have heightened their hunt for political support in Western region.
The two returned to Western with renewed vigour and resolve to court Amani National Congress (ANC) leader Musalia Mudavadi.
Political analysts have classified Western, Eastern and Central Kenya as possible swing regions in the August 9, 2022 elections.
On Saturday, Raila was in Vihiga in a spirited attempt to woo Mudavadi, barely two days after Ruto made forays in the region saying he was ready to work with the former vice-president.
Raila urged Mudavadi supporters to give him to engage the ANC leader. The ODM leader was confident that their political paths will cross again.
He was among mourners at the burial of Mudavadi's step-mother Rosebella Jerono Mudavadi at Budira village in Sabatia.
For the first time in months, Mudavadi and Raila shared a platform.
Ruto, during a tour of Vihiga last Thursday, reached out to Mudavadi to consider working with him. But the DP later suffered a setback after his ally, Hamisi MP Charles Gimose, jumped ship to ANC.
"Like a stray cow, I got lost in the wilderness but I have managed to come back home," the lawmaker declared on Saturday.
Mr Gimose was the only lawmaker allied to Ruto from Mudavadi's backyard and his defection, observers say, will send the DP back to the drawing board.
Meanwhile, Ruto allies are reportedly making frantic efforts to court Vihiga Senator George Khaniri who has declared interest in governorship.
Political analyst Egara Kabaji argues that Raila and Ruto, the two presidential front runners, appear to have realised the political significance of Western and Mudavadi, and their likely impact on the outcome of the 2022 polls.
"Raila could not fly from the Coast to Vihiga on Saturday for no reason. There must be a good reason why he did that," says Prof Kabaji.
According to him, whoever manages to catch Mudavadi's eye will have a big political advantage.
Barack Muluka, a political analyst, says Mudavadi has a tough choice to make between backing Raila or Ruto, or going it alone.
"The people of Western expect nothing less than Mudavadi going for the main prize," says the former ANC secretary-general.
Political analyst Martin Oloo says Mudavadi supporters do not care whether he will win the election "but all they want is for him to go all the way."
Mudavadi, a member of the Oke Kenya Alliance, has reiterated that he will not listen to those courting him.
"It means there is something they have realised, which is a good gesture," Mudavadi said in reference to overtures by Ruto and Raila.
Supporters of the Amani leader have been reminding him that he carries the hopes and expectations of the people of Western and other regions who would wish to see him succeed President Uhuru Kenyatta.
Kakamega Senator Cleophas Malala argues that Mudavadi should remain firm on his stand of going all the way to the ballot.
He wants the Luhya nation to solidly remain behind Mudavadi and watch out for leaders being used to undermine the ANC leader and the unity of Western people.
Sabatia MP Alfred Agoi says for One Kenya Alliance to remain relevant and a formidable force, the outfit's four principals should remain united and ensure they produce the next president.
"Mudavadi has supported President Uhuru Kenyatta and his handshake partner Raila before and time has come for him to seek the same support and play second fiddle to none," says Agoi.
Vihiga Woman Rep Beatrice Adagala said the two-horse race narrative is misplaced. She says other presidential aspirants should not be taken for granted.
Lugari MP Ayub Savula says Mudavadi and his OKA principals should take their campaigns to the people and move away from boardroom meetings.
It remains to be seen whether Mudavadi will change his mind midway or go all the way to the ballot.