I'll vote for Raila for the first time in 2022 polls, says Kaparo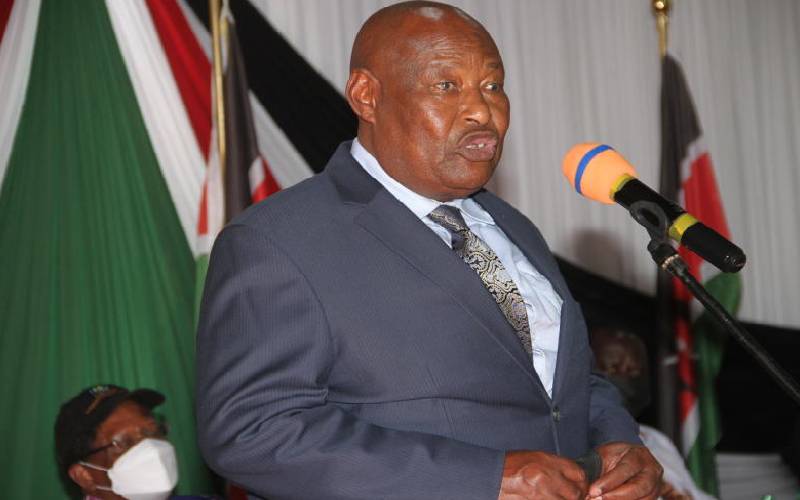 Former National Assembly Speaker Francis Kaparo on Friday said he will, in the 2022 General Election, vote for ODM leader Raila Odinga for the first time in his (Kaparo's) voting history.
Speaking at the Azimio la Umoja convention at Kasarani, Nairobi on Friday, the ex-Speaker said he "had never voted for Odinga in previous polls".
Kaparo said he will rally his friends to cast their ballot for the former prime minister.
"In 2022, you (Raila Odinga) will get my vote and those of my friends," Kaparo assured the ODM chief, who announced that he will be on the ballot paper as a presidential candidate for the fifth time in 25 years.
"I know there are many Kenyans who will, for the first time, join your supporters in voting for you."
Kaparo read out the Azimio la Umoja delegates' joint speech.
"This is a national convention, not an ODM affair. So, any decision made here is for the country not for ODM," he said.
In September this year, Kaparo, a former Deputy President William Ruto supporter, ditched the DP's camp for Raila's side during a regional forum in Kajiado County.
The 71-year-old said Raila had shown that he had the Maasai community's interest at heart.
"I'm not a member of ODM or Jubilee. I am, however, sure that Raila Odinga can't harm the Maasai people," he said in September.
Kaparo previously served as the national chairperson of the United Democratic Party (UDP), a defunct political outfit that was headed by Ruto.
In the lead-up to the 2017 polls, URP folded and joined Uhuru Kenyatta-led The National Alliance (TNA) Party to form Jubilee.
Francis Kaparo served as the National Assembly Speaker between 1993 and 2007, making him the second-longest serving Speaker in Kenya's history after Fred Mbiti, who served for 18 years between 1970 and 1988.