Gideon pledges to push for fast resettlement of Mau evictees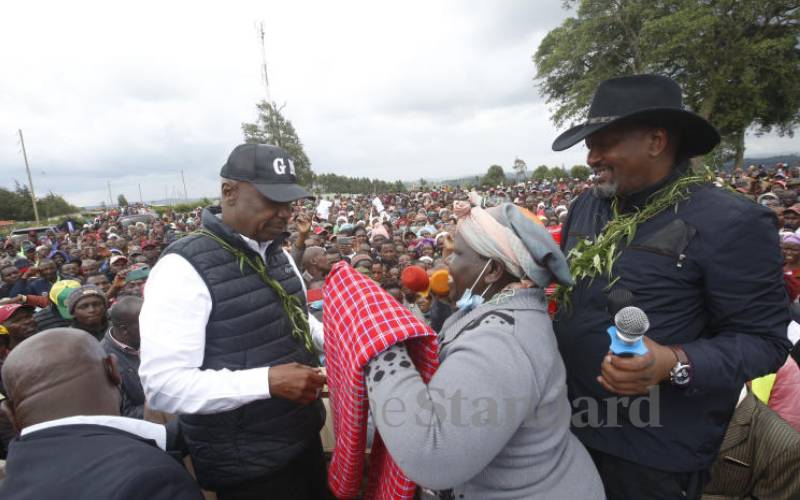 Baringo Senator Gideon Moi has promised to ensure families evicted from the Mau Forest complex are resettled as fast as possible.
The Kanu chairman, who has declared his interest to succeed President Uhuru Kenyatta next year, visited the families yesterday at Sagamian in Narok South Constituency after some of their leaders reached out to him.
Addressing hundreds of the evictees at a local trading centre, Gideon said he had listened to their pleas and would deliver the message to President Kenyatta.
He said before his father, former President Daniel Moi died, he asked him not to forget the people and always be at hand to offer help whenever anyone asked for it.
"I am here because of what my father told me before he died. I received a call from some of your leaders and today, I responded to your call," Gideon said.
Local elders had paid him a courtesy call at his Kabarak home in Nakuru County and asked him for assistance to resettle the displaced families.
He said he was aware of the suffering the people were going through, especially those evicted from Sierra Leone village in 2019.
The village comprised mostly soldiers who served in a peace mission in Sierra Leone and their families.
Gideon said most of those affected had documents and acquired the land legally and, therefore, were condemned unheard.
Noting that the resettlement must be addressed before next year's General Election, he vowed to take it upon himself to ensure the matter is settled.
"I have taken it upon myself that I will look into them. I will consult the relevant authorities and the leaders to find a solution. Our plan is that we don't go into 2022 with this issue hanging over our shoulders," Gideon said.
The senator said it would be irresponsible for them to call themselves leaders, especially from the Kalenjin community, while the people are suffering.
He said it was not right that a section of the community lives in pathetic condition to the extent that some have died.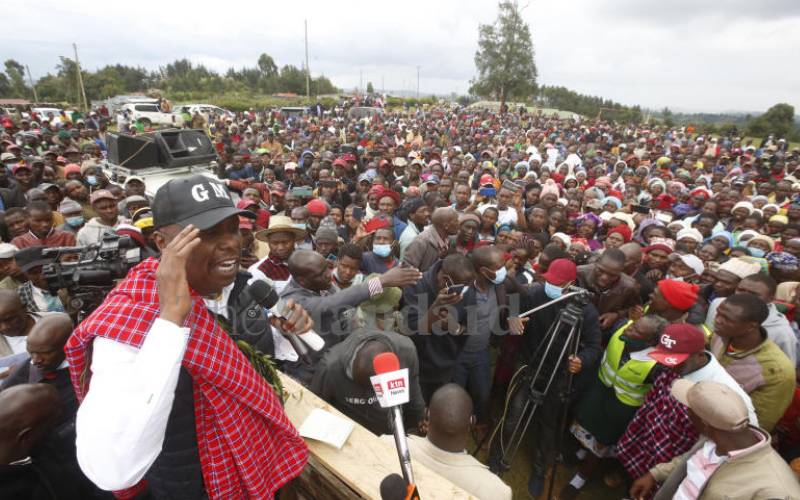 The senator promised to do whatever he could to ensure the problems facing them were addressed once and for all.
Gideon said he was there to assist the people and not to do politics. He said he did not put on his usual Kanu shirt, an indication that he was not into politics.
"Suffering does not belong to any party and if one Kenyan suffers we all suffer. That is why I said I'm not here as Kanu but to listen to the people's grievances and deal with them in the best manner I know as their leader," he said.
He also urged the residents to elect leaders who will work for them. "Allow me to go to the mission. Pray for me when I come back I will tell you what the son of king said," he said.
The legislator called on other leaders to unite and find a solution to the problem.
His promise comes days after Deputy President William Ruto vowed that not even a single person will be allowed back to the forest, sentiments that elicited reactions among the residents, with some accusing him of pushing for their eviction.
Ruto, while on a tour of the region, said he had powers to stop the eviction but could not as he supports environmental conservation.
Kanu Secretary-General Nick Salat, who had accompanied Gideon, urged the residents to be wise.
Nominated MCA Ann Potishoi warned politicians taking advantage of the locals' desperation, saying they now have a man who will advocate for their rights.