Pitfalls that Raila must avoid if he wants to win State House next year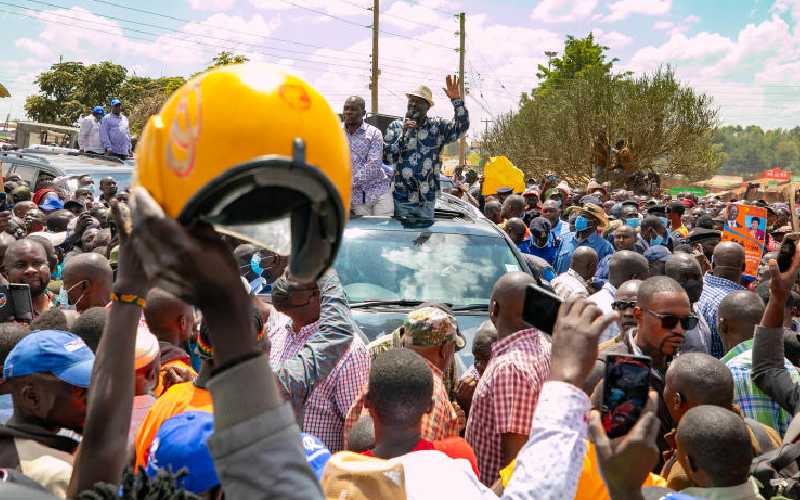 Although he is yet to formally announce his interest, political observers are in agreement that ODM leader Raila Odinga's presidential bid is this time around more potent than previous attempts at clinching the top seat.
In the words of Junet Mohamed, a close ally of Raila and National Assembly's Minority Whip, the Orange party boss has the best opportunity ever to clinch the presidency because this time he has emerged as a compromise candidate.
"Unlike in the previous campaigns, Kenyans from all corners – including from areas that were initially hostile to us – have embraced Baba's candidature and are happily according him good reception. It is exciting," Junet told The Sunday Standard.
Ironically, Raila's chances have unwittingly been boosted by his political nemesis and presumed biggest rival for the top seat, Deputy President William Ruto – thanks to the latter's alleged rebellion against his boss, President Uhuru Kenyatta.
Ideally, it is the frosty relations between the two and the DP's resilience and political acumen that have given room to Raila to rise and shine. According to political observers, it requires an equally tough Raila to tame Ruto.
But it is not yet the time to pop the champagne bottle – thanks to fears that the pitfalls that have dogged Raila's previous campaigns may just reoccur or be reenacted.
Asked whether he will be teaming up with his ODM counterpart in next year's poll, for instance, Ford Kenya party leader, Moses Wetang'ula, could not offer a straight answer.
"I have twice supported his presidential bid and if he reaches out to me again and convinces me, as a member of his previous team who has walked with him through a tiring and painful journey, I will consider his word. But where is he? Has he sought my audience on this yet or does he just expect me to follow him without persuasion because he considers me a junior partner?" poses the Bungoma Senator.
Wetang'ula, who served as Raila's co-principal in two successive coalitions – CORD in 2013 and NASA in 2017 – is particularly irked by the actions of some of the former premier's handlers and party officials. And he singles out Secretary General Edwin Sifuna, whom he accuses of politically demeaning him.
However, Sifuna maintains that he holds Wetang'ula in high esteem as his senior in politics and even in the legal profession. He maintains that everything he does or says, with regard to politics, is in his capacity as the spokesman of the Orange party and not in his individual capacity.
"I am simply doing my duty and even the Holy book says there is a time to scatter and a time to gather. If in his assessment I have been scattering, then I am certain the time for gathering may be in the offing. When that happens, I can assure my brother Wetang'ula and others that the same vigour that has been used to allegedly scatter you shall be employed to gather you around Baba (Raila)," says the ODM secretary general.
Indeed, the view by Wetang'ula, is shared by a number of political players, including some who consider Raila's character borders on hubris – a personality quality of extreme pride or dangerous overconfidence, which some claim, rightly or wrongly, has impacted negatively on his political career.
But Junet argues that politics is all about mutual interests and reaching out to each other. While he admits that his party boss has not publicly reached out to Wetang'ula and other One Kenya Alliance (OKA) principals, including former vice presidents, Musalia Mudavadi (ANC) and Kalonzo Musyoka (Wiper), as well as Baringo Senator, Gideon Moi (Kanu), the Suna East MP holds that political overture is a two-way traffic.
"Even then, a lot of things are happening behind the cameras. I mean, how can you comfortably conclude that nothing is happening?" Junet poses.
Separately, Nominated MP David Sankok singles out Raila, as a leader who to some, may project the image of a tribalist. Citing the example of Opposition parliamentary leadership, which is dominated by members from Nyanza, Sankok observes the move could cost the former PM dearly in terms of support in western and coastal regions that have traditionally supported him.
And because he has been around much longer than most of his political opponents, the former PM also comes with a lot of baggage. He is accused widely – rightly or wrongly –of backstabbing and betraying others. In Mt Kenya region, for instance, he has been the political boogeyman, (mis)used by opponents to scare away voters from supporting him.
"Right from the 1982 coup attempt against the (Daniel arap) Moi regime to the 2007 poll mayhem, Kenyans know him as one with a huge appetite for power," states Sankok, an ardent supporter of Ruto.
While Sankok's sentiments are not entirely true, they form a bulk of perceptions built around Raila. Either way, Prof Luke Odiemo, a sociology lecturer at the University of Nairobi, concurs that the perceptions have over the years hurt Raila's bid.
According to the sociologist, Raila's quest for the top job has similarly been bedeviled by his militancy against the government of the day, coupled with initial flirtation with the communism: "But thanks to his advanced age (76), Raila has no room for violent approach to politics. A man of his age is more interested in ensuring systems work for citizens and securing his legacy than staging protest riots – factors which make him an attractive candidate for the government operatives as well as influential foreign governments."
Apart from 1997, when he made his debut in the presidential race in what he amusingly referrers to as a 'test drive', Raila has never actually been an underdog, except of course for the fact that he has twice run against an incumbent.
In 1997, he was just trying out under the National Development Party (NDP), but in 2007, he was a force to reckon with, surrounded by the so-called leading lights who included now DP Ruto, Mudavadi, Kitui Governor Charity Ngilu, Tourism Cabinet Secretary Najib Balala and the late Joseph Nyagah, a one-time minister.
Although he staged a thrilling campaign across the country and supporters believe he was robbed of victory, Raila's critics allege he did not work hard enough to woo Kalonzo to his side, before and after the chaotic poll – a factor that would have strengthened his case.
In 2013, running as an incumbent PM alongside Kalonzo who was VP, the pair is accused of failing badly to protect its win, especially in Mt Kenya and the Rift Valley regions, the strongholds of rivals Uhuru and Ruto. Raila's chief campaigner, Eliud Owallo, admitted then to the anomaly of not dispatching party agents to most polling stations in those regions.
Some have attributed this complacency to overconfidence on the part of the candidate, his key campaigners and supporters. While admitting these lapses, ODM politicians have nonetheless claimed that their victory was stolen from them.
But perhaps the darkest spot in Raila's corner is the chaotic party primaries. It is this perception of a shambolic process that has scared away many party supporters.
Already fears of the exercise in Nairobi are peaking with Ziwani's Member of County Assembly, Millicent Wambui Mugadi, appealing to Raila's party to shake off the violence tag, with a view to attract new members.
Sifuna partly attributes the mayhem in the party primaries to the fact that ODM is a national and popular outfit. And he points an accusing finger at politicians, and not the party secretariat.
To address this, Sifuna says aspirants are being encouraged to embrace consensus.
The pitfalls notwithstanding, Raila's campaign is getting steadier and is expected to be on a roll after December 9 when he is expected to formally plunge into the race.
The ODM leader is also receiving support from people – some of who have previously fought off his presidential bid. He is reportedly destined to get financial support from some Mt Kenya billionaires, operating under the aegis of Mount Kenya Forum.