For Raila, things seem to be falling into place for a win in the 2022 elections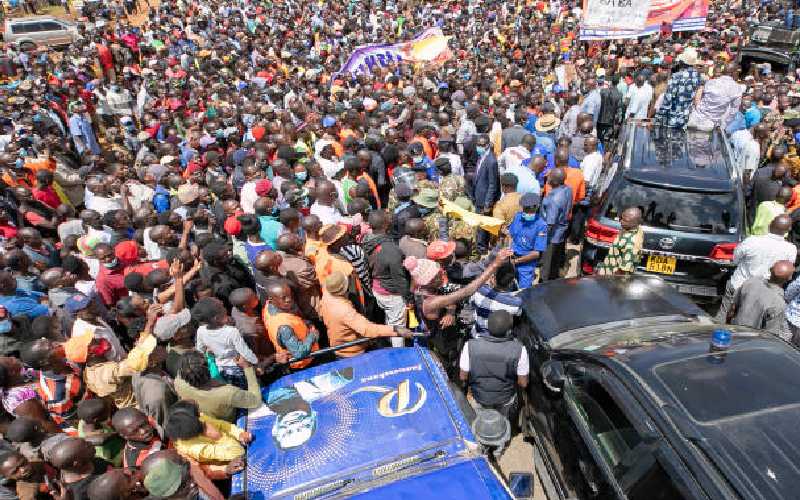 ODM leader Raila Odinga is expected to officially announce his bid for next year's presidential race on Thursday, December 9, three days to this year's Jamhuri Day celebrations. The ODM leader is also expected to feature as a prominent understudy to President Uhuru Kenyatta, in the president's final Independence Day fete.
Now, it has been a long search for the ultimate power by Raila, and an even longer tenure in public space. August next year could prove to be the game changer he has longed for. The 2022 polls could just crown his energies with the ultimate political prize. He could be heading for State House.
Everything seems to be working for this mercurial political giant. His performance has earned him a medley of telling panegyrics.
From Agwambo (the mysterious one), to Jakom (Chairman) and lately Baba (Our father), he remains an enigma. His next move is difficult to predict. This is perhaps because he is such a complex player. His tractor party symbol during the short-lived National Development Party (NDP) days, also gave him the moniker of Tinga (Tractor). It is an appellation he has recently rediscovered, to counter Deputy President William Ruto's wheelbarrow. What the wheelbarrow can do, the tractor can do even better, he recently told Mt Kenya.
And nearly everything seems to be just right for the tractor, as the clock ticks away towards next year's zero hour. The sitting president leaves little doubt that Raila is his preferred successor. He has dropped numerous hints, directly and through powerful proxies in Cabinet and in county governments.
Barring insignificant exceptions, all governors from the Mountain region have embraced him. So have powerful Cabinet secretaries like Dr Fred Matiang'i, Peter Munya, Mutahi Kagwe, Eugene Wamalwa and Joe Mucheru. Other notables are CS Sicily Kariuki and Interior Principal Secretary Karanja Kibicho. They bring with them the advantage of state machinery. It is a rare boon that Raila has never enjoyed throughout his political career, having defined himself as the rank outsider and ultimate Opposition leader, after his late father Jaramogi Oginga Odinga. If power is the flipside of influence, then Raila is sitting well. But if it isn't, he could need a second plan.
If incumbency, the deep state and the cold dark state will work for anybody this time round, all pointers suggest the beneficiary will be Raila. Indeed, his elder brother and Eala legislator Oburu Oginga, has repeatedly flaunted the pep flag of the deep state. "We have always lost because the system has been against us," he has been quoted as saying, "But this time we have the system. We are confident about victory." And Kibicho has said, "We will do as the president directs us. Let those aggrieved swallow razor blades. We have excess teargas that we haven't used for a while."
Away from the system, powerful men and women, and the political assets that they bring to the arena, Raila can take comfort in the knowledge that pockets of the Mt Kenya region are warming up to his candidacy. This is territory that no outsider has captured before. It seems set, this time, to be split between him and Ruto, hence their incessant barnstorming of the region. Whoever runs away with the Mountain could well take off with the big prize. So far, things look good. Raila is getting over his brand as the unloved figure that unifies the Mountain.
He has borne some of the most pejorative descriptors in the region. The pejoratives could well be in their twilight, as the inscrutable Raila scales the Mountain. He hopes to reach the pinnacle in August next year. It is by no means a walk in the park. He will have to bend backwards over to reassure and charm the Mountain, and the rest of Kenya, before he could say it is done.
He embarks upon the arduous task with memories of just how far he has come, and a complex maze ahead, to navigate. Both should make him rein in some of his less politically sophisticated, and more emotionally hasty lieutenants, like Suna East MP and right hand man, Junet Mohamed. Their frisky excitement about what looks like assured victory could be the fly in the froth.
Raila himself first considered running for Parliament as a 24-year-old youth, in 1969. He quickly dropped the thought, however, out of measured consideration. His father had just been detained two months ahead of the campaigns, following his showdown with President Jomo Kenyatta in Kisumu, in October that year. Four years of political tension and ideological rift between the two political giants came to the boil at the official opening of the New Nyanza General Hospital on October 25, 1969. In his autobiography, 'The Flame of Freedom', Raila recalls how he toyed with the idea of joining the December 1969 race. He dropped the idea because of his new responsibilities as the now de facto head of the Odinga family. His elder brother, Oburu, was in Russia, pursuing university qualifications.
Raila, nonetheless, participated in the 1969 campaigns, supporting Jaramogi's allies. His association with a new slate of anti-establishment politicians from Luo Nyanza in 1969 was easily the first mark in the making of the future political firebrand. All Luo politicos who were not identified with Jaramogi lost the election. Among them were Odero Jowi, Onyango Ayodo, Mbeo Onyango, Ngala Abok and John Okwanyo. Odongo Omamo, however, while not being an Odingaist, rode on the Odinga name all the same. He secured the Bondo seat. Raila went on to take up an appointment in the Department of Engineering at the University of Nairobi, the following year.
Even as he worked for the university, he began building an engineering company, the East African Spectre, with a little quiet help from some of his father's friends. It was due to the absence of standards for the quality of gas cylinders that his company wanted to produce that he got involved with establishing the Kenya Bureau of Standards. He worked closely with his boss, Kipng'eno arap Ng'eny, and Commerce and Industry Minister James Osogo. Raila was appointed deputy managing director of Kebs. From his own account, he was responsible for much of the work behind Kebs' inception.
Raila joined the Opposition in 1991, when alternative political parties to Kanu were unbanned. He became MP for Langata in 1992 and ran for president in 1997, but came third (667,886 votes), behind President Moi (2.5 million), and Mwai Kibaki (1.9 million). He took time out in 2002 in deference to Kibaki, in a successful joint opposition onslaught against Kanu. However, alleged failed promises saw the two fall out, and Raila took on Kibaki in 2007. It was a chaotic race. Many believe, nonetheless, that Raila's victory was stolen. The clampdown on free media and the state-driven violence, put together with the rushed, almost secret, swearing in of President Kibaki in State House, at the crack of twilight, speak to a flawed and undignified election outcome.
Even his most avid critics and detractors must possibly hold it in a secret chamber in their heart that Raila's election as president of Kenya in 2007 was stolen. The management of the tallying at the Kenyatta International Conference Centre was opaque, almost to the extreme. Media houses were shut down when Raila was solidly in the lead, by a margin of over a million votes. The final tally gave President Kibaki a marginal victory of 231,728 votes, after bagging 4,584,721 against Raila's 4,352,993. Because of the ensuing violence and mayhem, judge Johannes Krieggler of South Africa was retained to probe into the presidential poll and report what happened. He concluded that it was impossible to tell who had won. The minimum that can be derived from this is that there is no certainty that President Kibaki won the election. The rivals ended up in a power sharing arrangement that has gone down as Nusu Mkate (half a loaf) Government.
Raila's profile and stature in the subsequent two elections in 2013 and 2017 were pale shadows of his 2007 standing. Friends and political allies deserted him. Ruto, easily his most staunch supporter and foot soldier in 2007, became his most virulent critic, embittered by the ICC saga. He teamed up with Uhuru. They threw into the mix some of Raila's 2007 colleagues like Charity Ngilu and Najib Balala. They gave Raila some of the worst labels in politics and dared him to a duel. Musalia Mudavadi, his "running mate" in 2007, abandoned him in 2012. He called him "a tyrant" who could not tolerate democracy in ODM. He ran against him in 2013.
However, two strange bedfellows, Vice President Kalonzo Musyoka and Foreign Minister Moses Wetang'ula, joined him in the CORD formation. But the effort was a whimper. Even when Mudavadi came back in 2017 in the new NASA outfit, the effort crumbled before Uhuru and Ruto, leading to the controversial "swearing in affair" of January 2018. The divisive handshake and BBI saga came next.
Now, Raila is ready for the next shot. He has the establishment and pockets of Mt Kenya with him. But he seems to be losing Mudavadi, Kalonzo and Wetang'ula and their support bases. In the strange, but not surprising twist of history, his staunchest supporter of 2007, who was also Uhuru's firmest supporter in 2013–17, is his most formidable opponent. Raila has called Ruto "a little thing, before me." But Ruto is not that little. For in politics, nothing is little.
Yet, with the establishment and his new-found friends in the dark corridors of power, Raila is no pushover, regardless of what pollsters could say today. The race is on, and it is his to lose. He only has Ruto, himself and his management of the campaign, between him and State House.