Ruto's D-day and intrigue around fall of VPs who came before him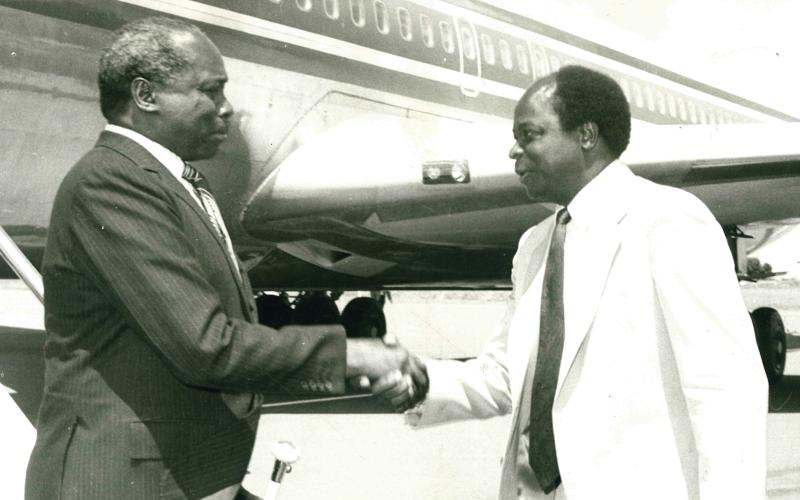 Jubilee Party National Delegates Convention (NDC) set for November 30 at the Kasarani Stadium is expected to be a moment of high tension and fireworks.
Top on the agenda is the expulsion from the party of deputy party leader William Ruto and his associates who, short of formal resignation, have decamped to their new outfit, United Democratic Alliance (UDA).
The immediate question that comes is what happens to Ruto's position as Deputy President of the Republic of Kenya once he is expelled from the party on which he was elected?
One school of thought is that whatever happens is of no consequence because the Constitution envisages only three scenarios for the seat to be deemed vacant: death or incapacitation on health grounds, resignation or impeachment by Parliament.
But a counter-argument is that the DP holds the position by virtue of sponsorship by the party on which he was elected and that once he ceases to be a member of the party he automatically loses the position.
Splitting of legal hairs aside, it will perhaps be more of a moral and practical question than a constitutional one. How will it prick the DP's conscience to insist on holding onto a position he got through a party he has publicly denounced and now expelled from?
Fury of jilted lover
Like in all divorces, the one in Jubilee will entail deprivation, hurting, claim to alimony, and of course, moving on for better or for worse.
Is November 30 the day to finally lay the Jubilee coffin six feet under? DP Ruto thinks so, and said as much in Juja constituency last week.
Jubilee supporters disagree. They say it's the day to officially part ways with the DP and his associates; give the party a fresh start and unveil its new allies.
So, who will be most hurt in the divorce? From their choice of words and body language, the DP and his allies appear the more offended party. You could see it on his face when he spoke in Juja last Wednesday. I guess he is yet to forgive, if not forget, that "ten-for-me-ten-for-William" promise.
Lastly, who pays alimony? The DP feels he is the owed party. He says it isn't just President Uhuru Kenyatta who owes him a political debt, but even the president's new suitor, opposition leader Raila Odinga.
The DP repeatedly says he 'helped' Raila become prime minister in 2008 and 'helped' Uhuru to be president in 2013 and 2017.
Well, close aides to former prime minister and those of the president tell a different story. They say it is Raila who thrust the DP into big-league politics when they were together in ODM party. The President's allies, too, say it is Ruto who hitch-hiked on Uhuru's wagon to get where he is today.
Certainly, events about to unfold in the Jubilee house will dominate headlines in the coming weeks.
But the dramatic falling out between the DP and his boss will not be an exception. Acrimonious parting of ways with their number twos was the way of life for first and second presidents, Mzee Jomo Kenyatta and Daniel Moi.
Ambush at Limuru
The date for final showdown with first Vice President Jaramogi Odinga was announced only 10 days to the D-day. Jaramogi was a hard tackle, so ambush and speed were of essence lest he plotted a counter-attack.
Then ruling party Kanu secretary general Tom Mboya suddenly announced there would be a national party delegates conference at Limuru to discuss party re-organisation but gave no details. Jaramogi smelt a rat and publicly alleged a plot to push him out of the party.
Come D-day, a surprise proposal was made on the floor and overwhelmingly passed; that deputy party president post held by Jaramogi be abolished and replaced with eight positions of similar rank. Jaramogi's fate was sealed in a matter of hours. He didn't even wait for the conference to end. He walked out in a huff, resigned as VP and quit Kanu.
His successor, Joseph Murumbi, had no illusions he would stay long. He was an outsider in Kenyatta's court. Close associates whispered he had accepted the appointment only because of personal respect he had for Mzee Kenyatta. He resigned hardly a year on the job.
Moi had two things working for him when he was picked as third VP. He was loyal hence earned the trust of Kenyatta's inner circle. Secondly, he cleverly disguised his ambitions, hence posed no threat to fierce competitors. The equation, however, changed when one camp in the succession race saw Moi as a Trojan horse of the rival group and sought to derail him, first through a flopped bid to change the Constitution, and next through a party national delegates conference that was never held. Eventually, Moi would succeed Kenyatta. So far, he is only one of the past ten number twos to have directly taken over from the boss.
Mr kneel-before-me
Mwai Kibaki was the first to serve as Moi's deputy and held the office for 10 of the 24 years the latter was in power.
Politically, Moi and Kibaki were like water and oil. They were different in orientation and world outlook. Moi was a political animal with an appetite for intrigue and little taste for boardroom stuff. Kibaki was a laidback politician and more at home with bureaucrats.
At first Moi didn't mind having Kibaki around much as they were different in temperament and style. When opposition to one-party rule picked up in earnest, Moi feared anti-Kanu forces would coalesce around Kibaki.
Machinations to undercut Kibaki went on for close to two years. Then, two months to a General Election, then authoritative but now-defunct political magazine, the Weekly Review, ran a cover story that predicted Kibaki would be dropped. The story quoted but didn't name "highly placed sources". Kibaki hurriedly called a press conference to denounce the story. Tellingly, the official media team in the vice presidents' office boycotted a press conference called by their own boss. There was no guessing who it was who wanted Kibaki out. Sure enough, in the government named after the election, Kibaki was replaced as VP.
His replacement was Dr Josephat Karanja who lasted hardly a year. Apparently, he was meant to be a stop-gap holder of the job right from the word go. Intrigues to undermine him began even before he was settled in office.
Some junior civil servant by name Kuria Kanyingi convened rallies where he alleged "some big man" was going around claiming to be equal to the president and demanding other leaders kneel before him. The media at first dismissed it as political gossip until the little-known civil servant started dishing huge amounts of money at fund-raisers, which he said he had been given by Moi. It was obvious he was on a mission. After weeks of veiled attacks, Karanja was named in Parliament as the said "kneel-before-me" politician. A vote of confidence, clearly obviously stage-managed, was unanimously passed on him.
The sixth No 2 and third under Moi, Prof George Saitoti, too, would wind up with a kick in the groin despite holding the position for slightly over a decade. He was first dropped as VP, reinstated though a roadside announcement, and finally sacked through one-clock news bulletin.
Well, as the Jubilee NDC rakes him over the coals on November 30, DP Ruto at least has the consolation he isn't the first one to be in the oven.