Raila: I'm not a kid to organise Ruto's stoning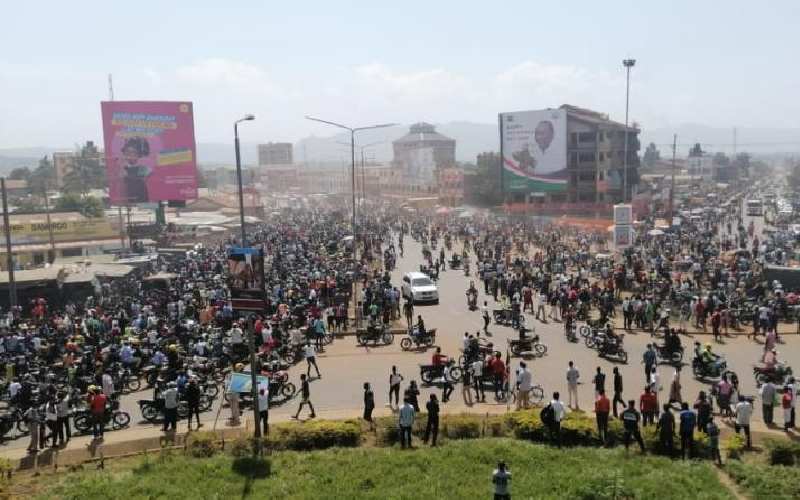 Blame game over the disruption of Deputy President William Ruto's campaign in Kisumu yesterday snowballed into a fresh political confrontation between rival camps.
ODM leader Raila Odinga distanced himself from the fracas, and said his party had issued a welcoming statement to Kisumu residents before Ruto made his way to the party stronghold and he did not have any reason to instigate fracas against Ruto's convoy in Kisumu.
Addressing a Kamba vernacular station, Musyi FM, ahead of his Makueni tour today, Raila yesterday dismissed claims he was responsible for the chaos.
"Mimi sio mtoto mdogo niende kuorganise watu warushie Ruto mawe, kwa sababu gani? (I am not a child to go and organise people to throw stones at Ruto, why would I do that?)," Raila said.
The former prime minister wondered what it would help him politically to instigate such violence. He distanced himself from the allegations a day after Ruto linked him to the confrontations.
He termed the accusations by Ruto and his allies baseless, adding that the DP had a right to popularise his agenda in any part of the country.
Yesterday, over 30 MPs allied to the DP linked the chaos to Raila in a press briefing at Parliament Buildings.
They described the chaos as part of the former PM's attempts to protect his political stronghold against an "unstoppable" Ruto.
United Democratic Alliance (UDA) Chairman Johnson Muthama said the violence meted out on their partly leader will forever be a day of infamy.
"It is a day that Kenyans were reminded that the dark days of political violence, which they believed had vanished, could be back. It is a day that reminded peace-loving Kenyans that the dark days of Kanu zones, when opposition political parties were barred from campaigning in some areas, have never really gone away," said Muthama.
He said curiously the Kenya Police Service and the National Cohesion and Integration Commission (NCIC) had remained aloof and not acted in a way that would inspire confidence from Kenyans.
Muthama called on the Independent Electoral and Boundaries Commission (IEBC) to discipline ODM by even disqualifying them from the coming elections.
ODM presidential aspirant Jimi Wanjigi said he was appalled by the violence and apologised to Ruto on behalf of his party.
"I take this opportunity to apologise on behalf of my party. What happened is unfortunate and uncalled for, I was also a victim recently. The violence should not be witnessed again and should be condemned," said Wanjigi.
But the claims were immediately dismissed by lawmakers from Raila's camp, who placed the planning and execution of the skirmishes at Ruto's doorsteps.
MPs Abdulswamad Nassir (Mvita), Samuel Atandi (Alego Usonga), Godfrey Osotsi (nominated) and Lilian Gogo (Ragwe) accused Ruto of planning the chaos so as to play victim.
They said the chaos were aimed at painting Raila as violent in desperate attempt to slow down his bid.
They also blamed the skirmishes on Ruto's "habit of dishing out money" in campaign rallies.
"It is unfortunate that a political party, which wants to be at the helm of the country's leadership, can scheme things and blame it on innocent individuals. This habit of dishing out handouts and when youth fight you blame it on Raila has to end," said Osotsi.
Bad political manners
Gogo claimed that Ruto was moving around promising youth groups money, which he ended up not giving them.
"You cannot give fake promises while in government and fake promises while campaigning. If you promise youth money, please give them," she said.
Earlier, Ruto's camp claimed that Raila was behind the chaos, and invited the attention of the International Criminal Court (ICC) to closely monitor the country during the campaign period and hold those responsible for political chaos to account.
They also accused top officials at the Interior Ministry of abetting political violence by protecting those involved.
"We invite the ICC and the larger international community to take note of the bad political manners Odinga and those in charge of the security forces engaged in for a while now," stated the joint statement.
"The incremental instalments of violence are being perpetrated in the full glare of security agencies if not under their supervision."