Musalia Mudavadi: Youths need incentives not handouts, empty promises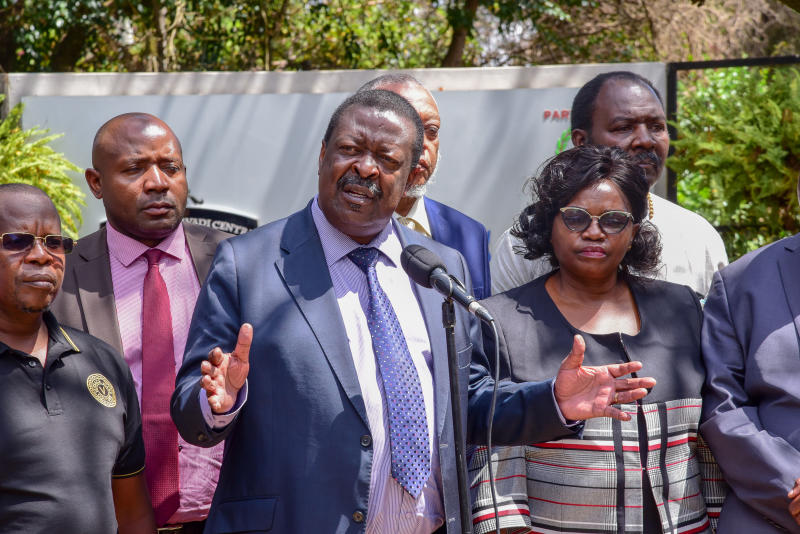 Amani National Congress (ANC) party leader Musalia Mudavadi has said the millions of educated and unemployed youths in the country need incentives and not stipends and handouts.
Mudavadi said youths should be offered practical ways of solving the challenges they face instead of empty promises and economic models.
"If we approach things the traditional way and look for quick fixes, it will not work. This is a generation that will want to see they have something in their pockets. These guys will be looking at people who will create jobs and be able to give them sufficient disposable income. We need to prepare ourselves for that if we want to change things and enhance stability in our country," he said.
The ANC leader promised that his government will offer incentives to youths who are self-employed especially in small and middle enterprises.
"Subsidies that will include loans that will either be zero-rated or at low interest rates will come in handy. My government will look for ways of enhancing this process by rationalizing government spending on projects. We will evaluate every current project on its viability. Those that are not a priority will have to wait," he said.
At the same time, Mudavadi who is eying to succeed President Uhuru Kenyatta in next year's polls said his administration will comprise of youths and the more experienced older generation to drive his economic agenda.
"Leadership is God-given and needs wisdom. It is not about the age. Even the young people are able to lead. They should be given a chance to be part of the country's development," he said.
Speaking to The Standard in his office, Mudavadi said his administration will enact youth-friendly policies that will ensure they access financial services to initiate enterprises.
"Scaling up internships, mentorship and apprenticeship programmes will also be core to ensure that more opportunities are created for the youth. This will help the country narrow down on the youth unemployment gaps," he said.
"I know the youths are an important segment in the political process of our country and I recognise their importance in national building," he added.
The ANC leader called on the youths to turn up in large numbers and enlist in the on-going mass voter registration saying it is the only way they can vote for visionary leaders.
"I urge the young men and women who have come of age to take up the ID numbers and register as voters. We want a working economy for our young people, not a hustling youth in a wheelbarrow economy," he said.
Mudavadi called on the youths to shun politics of tribe and elect leaders who have their best interests at heart.
"The youth are an important subsystem of any country in the world and Kenya is no exception. Young people must be encouraged to have greater participation in decision making to ensure public service delivery meets their specific needs," he said
"As a county, we must address the issue of politically driven youth policies that have no tangible outcomes," he added.
Mudavadi said the Kenyan dream could can only be realised if the youths who make up more than 72 per cent of the population are imparted with skills and knowledge to boost the economy.
"The nation must invest in the education of the youths because they are the bulk of the workforce the country needs to spur economic growth. My administration will use the youth knowledge and technology to develop the country," he added.
Mudavadi regretted that the youths are the most marginalised, abused and misused.
"Governments front youth agenda as a priority but the practice remains highly cosmetic. It is time for a strong and vibrant economy that will offer opportunities to our youth otherwise, we will continue to suffocate their aspirations. As country, we have let the youth down," he admitted.
The ANC leader said millions of youths suffering from effects of Covid-19 will not be waiting to listen to narratives but will support a government that will create employment opportunities across all sectors of the economy.
"There will be a need to make sure as political leaders, religious leaders and leaders in public offices work towards restoring public confidence among the youths. We will have to work towards entrenching a sense of ownership among the youths by bringing them on the discussion table and incorporate them in policy making in various sectors," he said.