Uhuru's plan to steer Mt Kenya in his preferred political direction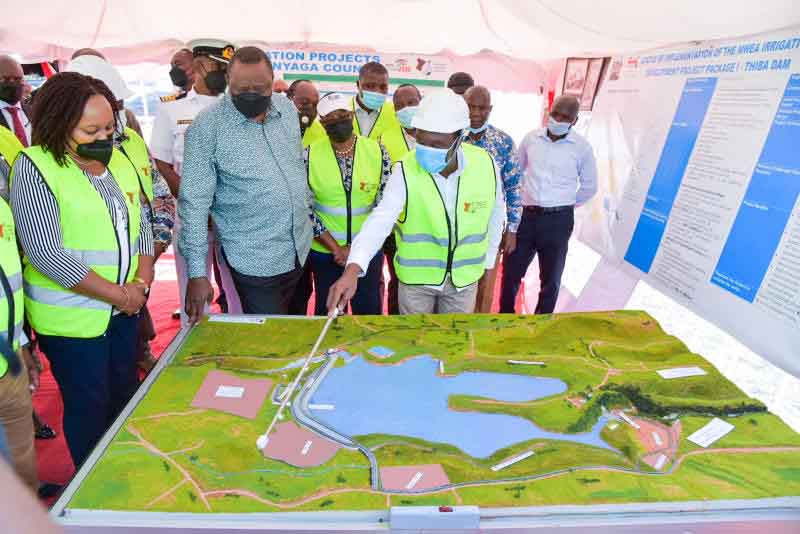 President Uhuru Kenyatta is set to camp in Mt Kenya as he seeks to bring order in the region and show residents what political direction to take ahead of the 2022 General Election.
Sources in the presidency told The Standard that following heightened political activities in his backyard, the President is on a mission to steady 'the ship' and rally the people to support his preferred successor.
Uhuru is expected to stay at the Sagana State Lodge in Nyeri County where he will be meeting political leaders and various groups from Mt Kenya, which has registered 13 political parties.
"The President is committed to sorting out issues in his backyard. His people have raised a number of issues and he wants to separate facts from untruths by having a candid conversation with his people before giving them the signal on whom to support to succeed him," said a source.
Today, the Head of State will host his estranged deputy William Ruto and ODM leader Raila Odinga during Mashujaa Day celebrations at Wang'uru Stadium in Kirinyaga County.
It will be the first time the President will be sharing a podium with presidential front-runners in his backyard, which has been turned into a succession battleground.
Political undertones are expected to play out between two rival camps at the fete. While Ruto has been camping at the Coast to woo residents, Raila has been in Meru.
The DP has called out both the President and ODM leader, saying he stood by their side in past elections but they have now sidelined him.
Uhuru has not shied away from telling off Ruto over early campaigns and even challenged him to quit government if he is dissatisfied instead of criticising it from within.
Traded barbs
Ruto and Raila have also publicly traded barbs over their economic agenda and succession politics.
Eyes will also be on Uhuru on whether he will announce his preferred successor at the national fete.
Notably, this will be President Kenyatta's last Mashujaa Day as the sitting President, and with it comes a number of expectations from Kenyans. Uhuru marked his first Mashujaa Day as Head of State at Nyayo Stadium in 2013 where he preached unity and celebrated freedom fighters and sports heroes.
And with the country reeling from the Westgate terror attack that claimed 71 lives and left 175 injured, Uhuru used the platform to affirm his resolve to fight terrorism. He declared that his government was equipping the security forces to have sufficient capacity to deter and contain all forms of violence and criminality.
He went on to justify the Kenya Defense Forces' (KDF) continued stay in Somalia and South Sudan, saying that their efforts were bearing fruit.
"From time to time, therefore, we may be required to intervene externally to keep our country, and our neighbours safe. We have not been found wanting in that regard, and we stand ready to act whenever required," said the President.
Ruto led celebrations at Palais de Colonies in Tervuren near Brussels, after he joined Kenyans living and working in Europe for the Mashujaa Day fete.
Eight years later, Uhuru has opened a battlefront with Somalia albeit over a maritime boundary dispute. The International Court of Justice recently dealt Kenya a blow after it ruled in favour of Somalia.
Uhuru is expected to give details of how his government is dealing with the diplomatic tiff between Kenya and Somalia, which continues to threaten security and trade between the two neighbouring countries.
There is also expectation that the President will address the leaked Panama Papers that linked the First Family to offshore accounts.
While Uhuru has said there is no wrongdoing on his part, Kenyans anticipate that he will take time to shed more light on the issue.
There is also the issue of the dawn-to-dusk curfew that has annoyed majority of citizens. Kenyans will be expecting a detailed plan on how the government intends to ensure every Kenyan is vaccinated against the coronavirus disease as well as plans to resuscitate the economy, which includes lifting the 10pm to 4am night curfew that has now been in force for almost 20 months.
Health Cabinet Secretary Mutahi Kagwe on October 4 announced that the curfew had been extended by another 30 days.
On Monday, Uhuru hinted at lifting the curfew saying, "We will look at it. I'm working, and very soon you will hear it. I do not want to speak too early but very soon."
The President is also expected to address the progress the government has made in the war on corruption and further steps to be taken. He has vowed to sack all corrupt state officers and 'fraudster' in his administration.
Then there is the political hot potato of succession politics, which is expected to play out. The President is also expected to elaborate on the status of development projects that will define his legacy when he leaves office next year.