Kadu Asili's move to join OKA jolts Coast unity bid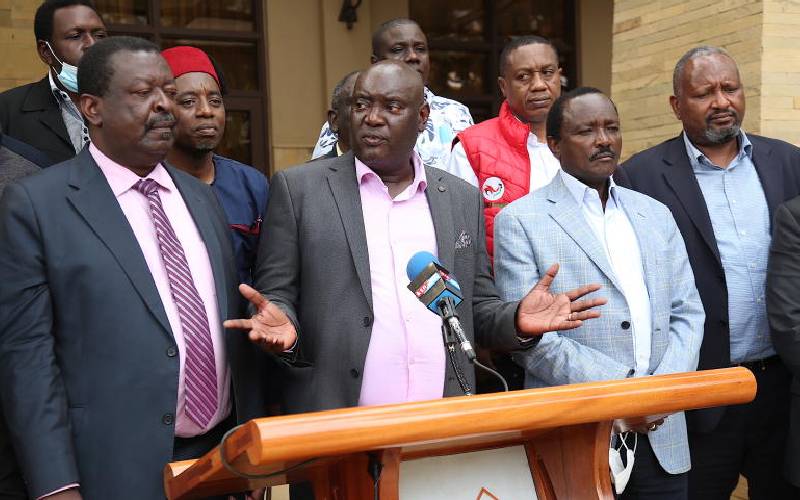 A decision by Kadu Asili to join One Kenya Alliance (OKA) ahead of next year's elections has further complicated efforts to achieve political unity at the Coast.
Fringe parties from the region have, over the years, worked to unite ahead of major elections without success.
Kadu Asili chair Joshua Kombora on Friday said they will soon meet their partners in the region to give details of their decision to join OKA.
Leaders of OKA are Kalonzo Musyoka of Wiper, ANC's Musalia Mudavadi, Kanu chair Gideon Moi and Moses Wetang'ula of Ford Kenya.
Kadu Asili has for the last two years been in talks with Shirikisho Party of Kenya (SPK) and Umoja Summit Party of Kenya (USPK) in efforts to form a coalition of Coast-based political parties ahead of 2022 General Election.
USPK chair Matano Chengo and his Shirikisho counterpart Abdulkadir Mwinyi said Kadu Asili's decision has taken them by surprise.
Chengo and Mwinyi said the decision could undermine efforts to achieve Coastal unity.
"Despite joining OKA, we will continue talking to our Coast partners. We have not closed the door to our partners," Kombora said on Friday.
He said his party will embark on consolidating its support, working with OKA and other like-minded political partners, ahead of the 2022 polls.
"Coast is now well represented nationally as an equal partner ahead of the elections," said Kombora.
Following Kadu Asili's decision, its party leader and former Malindi MP Lucas Maitha is now a principal in OKA.
Maitha said: "My party decided to be part of OKA because its principals can be trusted with the leadership of the country and are humble people who listen to others."
Kanu secretary general Nick Salat congratulated Kadu Asili for choosing to work with OKA, saying it was the most promising political formation ahead of the next elections.
"This demonstrates that ours is a true political alliance and it is growing.
"Our main focus is to take over the leadership of this country in the next presidential polls," said Salat.
The Coast region has an estimated 1.8 million voters. On Friday, Chengo said it would be hard to unite Coast after Kadu Asili joined OKA, especially without consulting its partner parties in the region.
The decision, he says, only served to further compound matters for the elusive Coast unity after Kilifi Governor Amason Kingi bolted out of the unity talks and formed a new party.
"It is becoming difficult to move the Coast region forward politically because of failed unity efforts. We tried to discuss a coalition with governor Kingi and he shut the doors on us and came up with a new political outfit - Pamoja African Alliance (PAA).
"The name he gave his party was the same one we had reserved as the possible one for the coalition we were hoping to finally craft," Chengo said.
PAA is yet to be granted full registration status as Kingi's team rushes against time to meet the criteria.