DP Ruto says handshake derailed Jubilee agenda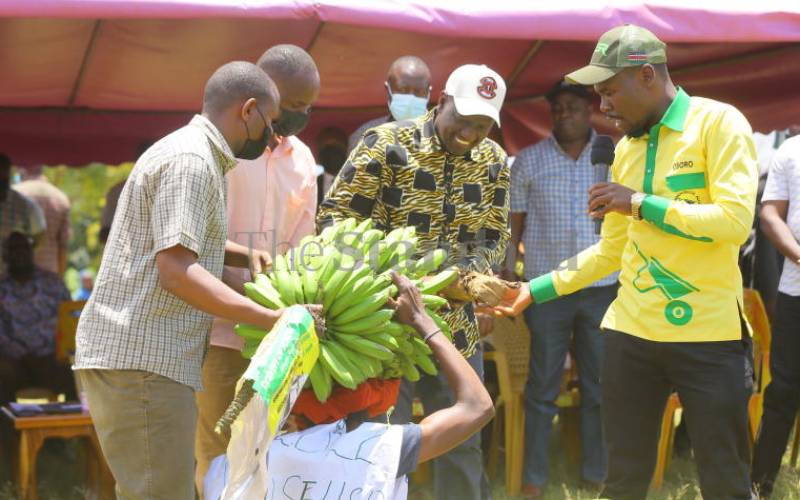 Deputy President William Ruto has said Jubilee development agenda was hijacked by their 2017 opponents who joined government.
Ruto explained that together with President Uhuru Kenyatta they had a plan to boost the agricultural sector by eliminating cartels and expanding market for farmers produce.
He said the Universal Health Care programme failed and the National Hospital Insurance Fund Amendment Bill, which was to be passed in 2018 delayed.
"My competitors should shun divisive and ethnic-based politics and instead focus on how to improve the livelihood of millions of Kenyans living below the poverty line. Our agenda was hijacked by the handshake which brought about disharmony in the ruling Jubilee Party," he said.
"We are having a conversation, let us raise the standard of our politics. The Jubilee Government's second term has been affected. We have not seen peace since 2018. The Big Four plan which was our second term plan is in a mess, the housing plan has collapsed," he added.
Ruto maintained that BBI was an illegality and perhaps the most dangerous project in Kenya's history that could have taken the country 30 years back.
"BBI was a fraud and unconstitutional. There is a huge debate and contest that is being framed by our competitors; that of changing the Constitution. This debate can wait, for now let us put our energies on improving our economy," he said.
Speaking in Kisii yesterday as he concluded his three-day tour, Ruto said his political competitors should prove their track record for the years they have served in Government.
"My competitors have all been in Government, I can defend my record as MP, minister and as Deputy President. My contribution to this administration has my signature in bold. Let them also come with their track record," he said.
He said he was not a stranger in Kenyan politics since he started the journey long ago and has a mission to accomplish.
Speaking at Nyakembene Secondary while handing over a school bus, Ruto said negative ethnicity has always affected the country's politics. "The party we all created got into an accident; we had visitors who had demons and had chased people out of the party," he said.
"We crafted the Jubilee Party in order to unite the country, we were able to achieve much during our first term. In 2013 we put together more than 12 political parties as a way of bringing the country together and ending the ethnic politics we have had in the country for years," he added.
He said to end ethnicity the country needs to craft a political party that will give every citizen equal opportunity to perform at their best.
The DP assured unemployed youth in the country of a better business environment after the 2022 General Election. "I will create a strong financial base for the youth should I ascend to power," he said.
Ruto claimed that youths have had a difficult moment in the hands of a few rich people who want to monopolize every sector of the economy.
"They have created a monopoly in every sector leaving the youth on a borrowing spree. We need not subject our people to suffering".