Elders begin talks to share political seats in 2022 polls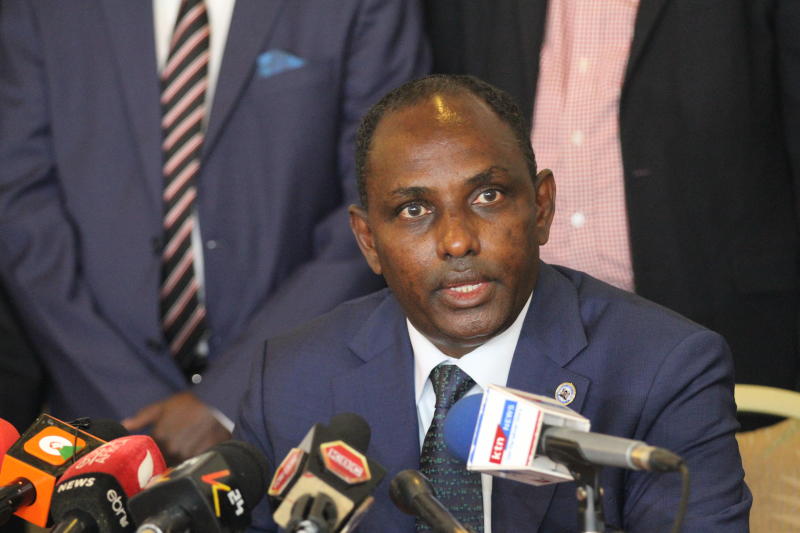 Mandera Speaker Mohamed Khalif upstaged Education Chief Administrative Secretary Hassan Noor in the first round of endorsement by elders under negotiated democracy.
The decision is a major boost to Khalif's bid to succeed Governor Ali Roba.
At least 391 elders from Asare, of the larger Gureh community, made the resolution on Monday following a three-day retreat in Banissa Sub-county
The race to succeed Mr Roba – who is serving the final term – has attracted the Speaker, CAS, businessman Adan Haji Issack and Ali Kiti, a banker.
Hassan, who was endorsed by the elders in 2017, suffered a blow after the governor defied them to be re-elected on Jubilee Party ticket.
The CAS has declared that he will run for governorship on Upya Movement, a new formation in North Eastern, led by National Treasury CS Ukur Yattani.
Khalif told his opponents to give the elders a chance to unite the county through negotiated democracy. "We had 391 elders from all sub-counties and other parts of the country as Asare family. The process was above board and seeks to reduce divisive and expensive political competition so that we have one candidate enjoying grassroots backing," said the Speaker.
"We are reaching out to my able competitor, the CAS Hassan Noor, to come back and talk to elders as a family member. We will talk, but we want to avoid going to the ballot together," he added.
The next phase of negotiated democracy is at Quranyoa level. It will bring on board other contestants, including Mandera Senator Mohamud Mohamed.
Asare is from one of the four main Gureh sub-clans of Ali, Adola, Asare and Furkesha. Ali and Adola together form Tuff section, while Asare and Furkesha together form the Quranyowa section.
Khalif has a political career spanning more than 20 years. He was first elected councillor for Mandera Township Ward in 1998, a seat he held until 2013.
He also served as chairman of the defunct Mandera Town Council.
This comes on the backdrop of a scramble to control North Eastern, which has caused the emergence of two camps, one led by Roba and the other Mr Yattani. The governor has since announced a new party, United Democratic Movement.