KANU delegates endorse Gideon Moi for presidency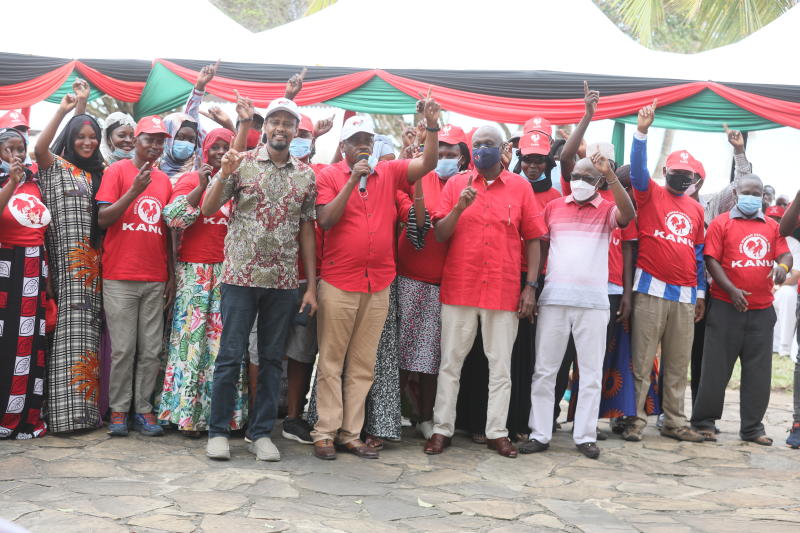 Kanu delegates have endorsed national chairman Gideon Moi to run for the presidency in next year's elections.
More than 300 delegates endorsed the Baringo senator during a meeting in Diani, Kwale County, yesterday.
They said Gideon was a sober leader and best placed to inject fresh blood into governance.
Those who spoke at the meeting said Gideon was a humble and dedicated leader and hence should succeed President Uhuru Kenyatta.
The endorsement comes ahead of Kanu national delegates conference scheduled for September 30 at the Bomas of Kenya.
Gideon told members to be "calm, open their eyes and ears" and wait for a major declaration to be made by the delegates as the party seeks to return to power.
"Delegates will be called to Nairobi to decide the direction Kanu will take in 2022. It is the delegates who will decide and not me on the path that Kanu will take on 2022. Mine is to request that we unite and take a stand in the interest of our people," said the senator.
He said the party has not fielded a candidate since 2002 and hence delegates will chart its destiny during the forthcoming conference.
He said there was need to weed out corruption, create employment and eradicate poverty.
The senator hinted that ODM leader Raila Odinga was close to the One Kenya Alliance (OKA) even as they continue with talks on formation of the next government.
"In OKA we have Kalonzo Musyoka, Musalia Mudavadi and Moses Wetang'ula. But do not think that Raila is far away from us. He is very close and we talk. But our priority is to build Kanu up to the grassroots level. Our final decision on the next election will be made by members," he said.
He said that at the moment OKA partners were strengthening their parties ahead of the elections.
The Kanu chairman told delegates to remain steadfast and refuse to be cheated, saying that they should put the interest of the people first in whatever they do.
He told the delegates to embark on a mass membership registration drive, promising to join them in a campaign on the ground to revamp the independence party.
"Your primary responsibility should be to guard and promote our party Kanu. You should not be intimidated or cheated by anybody. You should remain focused and champion the party interest as the foot soldiers. I am coming to the ground," he told the delegates.
He said he was happy that Kanu had a following in Kwale and across the country to the sub-location and were ready to take the party forward.
The senator is expected to meet delegates at the Wild Waters Centre in Nyali, Mombasa County, today.
He promised to forward the residents' concerns on the ravaging famine in Coast region to the government.
He was flanked by Lamu Woman Representative Captain Ruweida Mohamed, Fafi MP Abdikarim Osma, national organising secretary Abdulrahman Bafadhil, former Lamu West MP Julius Ndegwa, Kwale County branch Kanu chairman Said Kalima, Kwale gubernatorial aspirant Gereza Dena and former councilors.
Mr Bafadhil and Osman said the delegates will troop to Bomas to endorse Gideon as its presidential flag bearer after years of fielding a candidate.
Bafadhil said Gideon promises to bring fresh leadership, saying some of the presidential aspirants have already been tested.
"We are going to endorse Gideon as our presidential candidate at Bomas. Kanu is set to rule for another 50 years," Osman said.
Captain Ruweida urged Coast residents to join the Baringo senator so as to be in the next government.
"We should start grassroots campaigns for Gideon because he is the most promising among the presidential hopefuls. We should be in the next government," said the Jubilee legislator.
Mr Kalima urged the Kanu chairman to support grassroots leaders in spearheading mass registrations and campaigns to ensure Kanu returns to power.