No retreat, no surrender, DP Ruto now tells detractors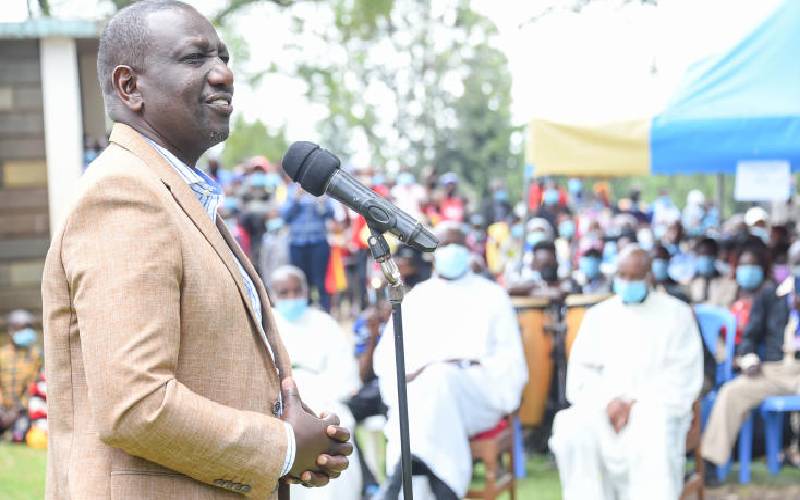 Deputy President William Ruto has criticised his opponents, whom he said are out to derail his journey to State House.
Earlier, rival groups had clashed ahead of the DP's visit in Kieni. At the same time, two churches that Ruto had planned to visit cancelled the invitation.
Speaking at the Full Gospel Church in Kieni today, the DP said those opposing his church meetings are "courting trouble".
"Respect the church," the DP said when he donated Sh1 million to the church.
He said he would visit again this year to further support the church in its projects.
The DP continued to drum support for his bottom-up model, which he said will focus on uplifting farmers and small businesses, among others.
"They can close roads and churches, but that will not stop us … in the journey for the liberation of the ordinary citizen, there is no retreat, no surrender."
On August 24, the DP said he will not be cowed by threats and intimidations from some state officials he claimed were frustrating his campaigns to sell his bottom-up economic agenda in the country.
"I am a man of vision and I have no space to retreat and the luxury to surrender," Dr Ruto told mourners at Rashia village on the outskirts of Taveta town in Taita-Taveta County on Tuesday.
The DP was attending the burial of the Mahoo MCA Ronald Sagurani who succumbed to Covid-19.
Anti-riot police deployed had a hectic time to stop people from accessing the residence of the deceased where the funeral service was going on.
A contingent of police officers from the regular and the General Service Unit (GSU) was deployed at the entrance.
Earlier, pandemonium broke out after police barred residents and leaders from attending the burial ceremony. Some of the Members of the assembly (MCA) were mishandled by the security apparatus as they enforced the Covid-19 health protocols.
In reaction, Dr Ruto told mourners that the funeral was disrupted because some "people" did not want him to attend.
"I came to bury my friend who campaigned for the President and me during the two successive elections. It is unfortunate and shameful that my supporters and those of the deceased who came to bury him were blocked from attending his burial ceremony.
Time for chest-thumping, intimidation and humiliating others will soon come to an end," he told the mourners.
At the same time, Ruto told his competitors that Kenya cannot and will not be a preserve of certain leaders. "They should understand that I am a person who cannot surrender and I have decided to change the economy through the hustler movement and bottom-up approach.