Bunge Chronicles: Waheshimiwa bothered chicken more precious than all of them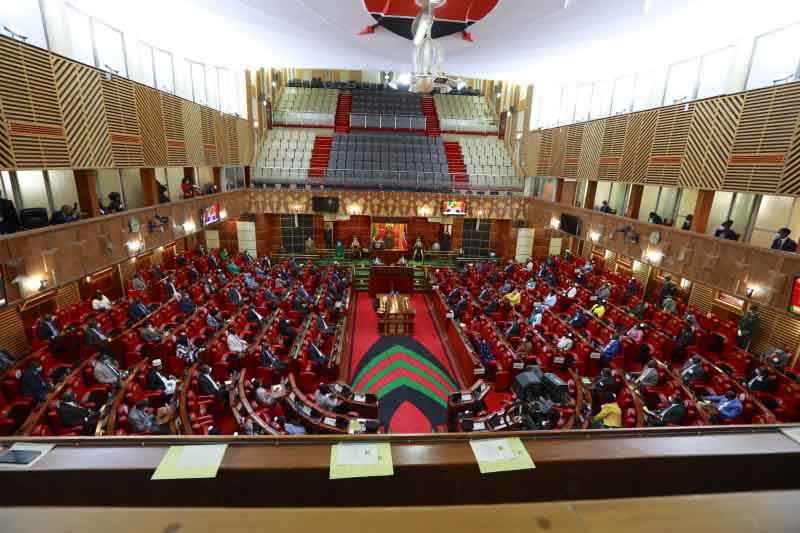 After playing first-class citizens, our wahesh must have been scouting for ways to transform themselves into chickens on Wednesday, following revelations they could have four highly trained police officers at their beck and call.
Of course, they would love to be the hustlers whose chickens are guarded. But the rules only allow one hustler at a time, and any mhesh with such ambitions may have to wait long in line before their time.
But forget about how the occupants of Bunge had their jaws dropping at the possibly scripted events of Wednesday's sitting of the watchman committee. Who would have thought that our wahesh would light up that bright upon seeing a Bwana Waziri notorious for allegedly snubbing such sittings?
Bubbly doesn't come close to describing how they were when they saw the two blue-eyed boys from Harambee House in matching red ties, white shirts, flanked by the boys in blue. Who wouldn't be fascinated by such a scene?
Word has it that no one expected Waziri Fred Matiang'i would show up before the committee, and when it was revealed that he was around Bunge, some — including non-members of the committee — rushed to the venue.
MPs walked out of a similar session the last time the Interior CS was before them, protesting his chronic snubbing of Bunge's watchman committee. For consistency purposes, it was expected that the wahesh would skip last week's sitting, too.
But as the men and women of old counselled, absence makes the heart grow fonder. And our wahesh were dying to see the big boss once again. It had been long since he lectured them on national TV. None of them would dare skip the chance to be among the few lectured by the de facto PM.
All the MPs who got the chance to probe the Interior CS fell over themselves, competing on whom was more grateful to the super CS for honouring the lecture. At the start, they asked different questions regarding the reorganisation of Hustler's security. But Matiang'i dismissed some for "trivialising" the serious matter at hand. Noticing that not all questions got answers, the wahesh repeated those that their colleagues had asked. One such frequent question was on the ratio of police officers to civilians, to which the CS answered in all instances "1:600".
Surprisingly, no one asked the ratio of police officers to chickens. The response would come the next day outside Bunge, courtesy of the hustler-in-chief who claimed to own 200,000 chickens, meaning that the ratio in such an instance would be one police officer for every 50,000 chickens. That being the case, perhaps our wahesh went back on their plans to quit humanity and join bird-life. Turns out humans are better guarded than what those in western Kenya refer to as "mboga".