Raila Odinga gets Meru leaders' backing for 2022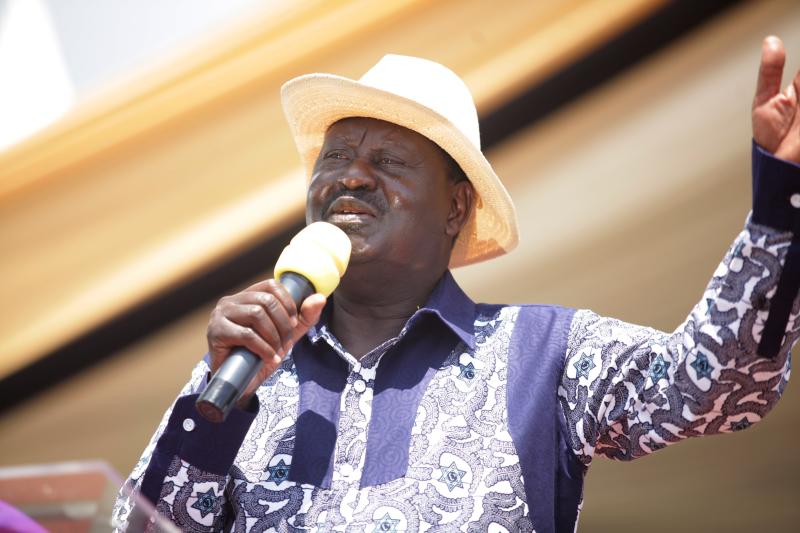 ODM leader Raila Odinga yesterday made a major political breakthrough in his uphill quest to win over vote-rich Mt Kenya region after Meru leaders endorsed his bid.
Riding on his rapprochement with President Uhuru Kenyatta, the former premier's sustained political forays in the region appear to have gained traction ahead of 2022.
Key political figures led by Meru Governor Kiraitu Murungi hosted Raila in Nairobi where they declared their support. The politicians vowed to dismantle political propaganda used against Raila for years in the region that has always voted against him to the last man.
The governor led the leaders in confessing how part of their strategy in the past against Raila has been to demonise him among the more than six million registered voters.
He sought to demonstrate that Raila has no ill intention against the region, and revisited the 2002 famous "Kibaki Tosha" declaration by the former premier that swept the retired president to power.
He recalled how Raila took charge of the campaigns after Kibaki's road accident. "Kibaki became president when Raila declared "Kibaki Tosha". It is Raila who carried on with the campaigns when Kibaki got injured. He said the match had to go on even when the captain was injured," said Kiraitu.
He said since Raila had always been their main challenger, part of their scheme during the 2007, 2013 and 2017 elections was to paint the opposition chief "black".
"We are the ones who demonised Raila for Kibaki to win; we are the same people who demonised him for Uhuru to win," he said.
He went on, "But now things have changed. Kibaki and Uhuru are not running; so the lies have no place. Raila is now a hero of the 'handshake'."
The leaders tasked Raila to ensure their interests are taken care of for them to back his presidential bid next year.
In a swipe seen as targeting Deputy President William Ruto, Kiraitu said they would not allow certain political leaders to glorify poverty in the region.
He said the region was interested in leaders seeking solutions to make people rich in future.
Similar views were shared by National Assembly Deputy Majority Whip Maoka Maore, former assistant Minister Kilemi Mwiria, Nairobi Deputy Governor Anne Kananu and a host of other leaders present.
Raila revisited the stalled Building Bridges Initiative (BBI), which he said would have ensured more resources are sent to the counties.
He talked of how to improve livelihoods of the people by supporting coffee, tea and miraa production.
He said apart from seeking an alternative market after the ban in Europe, there was need for value addition to the produce.
"Ameru are part of Kenya but there are issues specific to the people. The region is a high yielding area. But there have been challenges facing tea, coffee and miraa," said Raila.
He told Kiraitu he was ready to negotiate with other friendly African countries to provide a market for the produce.
"But we can also think out of the box by having value addition. Reforms have been carried in the tea sector to break the monopoly. Avocado is the new gold that also needs to be promoted. Dairy farmers also need to be assisted. What is most important is value addition," the opposition chief added.
He said some challenges would have been resolved by proposals in the BBI including a seven-year tax holiday for small enterprises, ward development fund as well as an increase from the current 15 to 35 per cent allocations to counties.
He said the current executive was more expensive compared to the structure proposed in the BBI. BBI had proposed a prime minister and two deputies. It had also proposed that ministers be picked from among MPs. Raila said he was yet to declare his interest for the top seat, but would continue consulting in readiness for the 2022 General Election.
His elder brother Oburu Oginga and Siaya Senator James Orengo said propaganda had been used against the former premier, and asked the leaders to help win over the region.
"We really appreciate the Meru people because when Jaramogi Oginga was being demonised in Mt Kenya, the region stood with him. Kiraitu was great friend of Jaramogi. Kiraitu was also Raila's lawyer when he was charged with treason," said Oburu.
"The notion that Raila cannot climb Mt Kenya should be buried once and for all. Raila is a businessman and there is no way he will punish businesses," he added.
Orengo said propaganda was dangerous and capable of destroying a country.
"In politics, propaganda plays a role but if it is done overboard, it can destroy a country. Even Kiraitu here was demonised during the Kanu days. We should really watch out. This is a great movement and with God on our side we can't go wrong," said Orengo.