How President Uhuru responded to various issues affecting his administration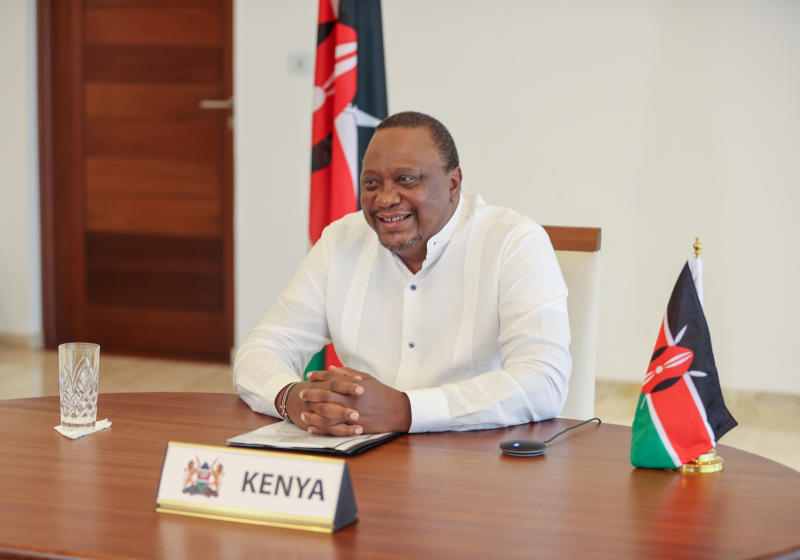 It is most unfortunate people have forgotten why we were looking at this and, for short-term political gain, have decided to deny Kenyans what is legitimately in their interest.
It was not about who was going to be president or who was not going to be. How many times have I told you people, I am very grateful to the Almighty God and the people of Kenya for the opportunity they've given me? I am more than happy to serve out my time and finish my programme.
We have a ruling, we obey, and we move on and continue to consult with people who think the same as we do.
I am not the only proponent of these changes. I will not give up, I always believe that one must fight for those things that he believes in, whether in office or out of office, I will continue to fight and advocate for those things that I believe in.
I have not lost anything, just the feeling of sadness that we could actually, for political reasons, deny our own people something that would have not only improved their lives and livelihoods, but made Kenya a more cohesive society.
And it is my hope and my prayer that like-minded people who believe in these fundamental principles, and who believe and see Kenya long into the future and not within the context of their political life, will continue to advocate for these things until we have a much fairer and more just society.
Why him and Ruto are at cross purposes
The issues that we have been trying to achieve with the BBI are the same issues that brought me and him together.
On CDF inequity
So when you have a Member of Parliament receiving Sh100 million and another one also receiving Sh100 million. One distributes Sh100 million to 50,000 people. Another is distributing Sh100 million to one million people, is that equity? That child in Mathare or Kibera, will he ever have an opportunity of going to university, if the highest bursary he can ever receive is Sh5,000?
Who does he think should succeed him?
It is not my duty, nor is it my responsibility to tell people or to tell Kenyans how or where they should vote. But it is my duty to remind Kenyans that they need to look at who they vote for, and why they are voting for that particular person, and like, I'm saying, it is unfortunate that within among us there are those who will sacrifice interest over personal political agendas, and I believe these are the things that Kenyans need to look for.
Fight against corruption
We have done the best we can, even if you actually look at the situation as it exists, new cases of corruption are few and far in between if you look at it over the years. The key problem that we have today is not tackling corruption as much as handling the cases that are still pending.
It (fight against corruption) is in the hands of other independent institutions who, as you have seen you, cannot say that I am objecting to them when they have ruled against my election, twice against something that I have been pushing. So, you can't say that I am the one who is holding them back.
Covid-19 vaccines inequality
When vaccines came online, the developed countries exercise what we are unashamedly calling vaccine apartheid. Because despite all the arrangements, and agreements that we had in place, vaccine nationalism came into effect, they decided to hoard and look after themselves and ignore the rest of the world.
Vaccinations
We are hopefully now going to start getting a steady supply of our own vaccine, and hopefully, we may be a month or two months late, but be able to meet our 10 million target of the most vulnerable, which will be a key indicator for us now fully opening up the economy, and we are hoping to achieve that in the shortest possible time.
I call upon my fellow Kenyans, as the vaccines become available, and I reiterate, especially for that vulnerable group, it is important that we trust the science and get vaccinated because available evidence shows that those who get vaccinated are resisting and are surviving better, especially within that bracket.
The economy
We must first acknowledge that we have had a very difficult two years and this is not just Kenya. It is a global phenomenon occasioned by this plague that has hit us and necessitated a slowdown of the global economy as we have seen. Therefore, I must admit I am not where I would have preferred to be under normal circumstances had we been in a position to continue our agenda.
We are now going through very difficult times, especially because all these Covid-19 issues have slowed down a lot of the programmes and plans that we have, but I am very hopeful, and encouraged by the fact that despite all those challenges, if we compare ourselves with many countries, Kenya has fared very well.
Download the BBI Judgement by all seven Judges - Civil Appeal No. E291 of 2021